Update:
Please note that 2Miners delisted Akroma on July 31.
What is Akroma (AKA)?
Developers claim that Akroma is "a smarter cryptocurrency," meaning that it's not only a cryptocurrency but also an EVM-platform for application development. To keep it simple, we are going to skip the complicated description of the coin given by its developers.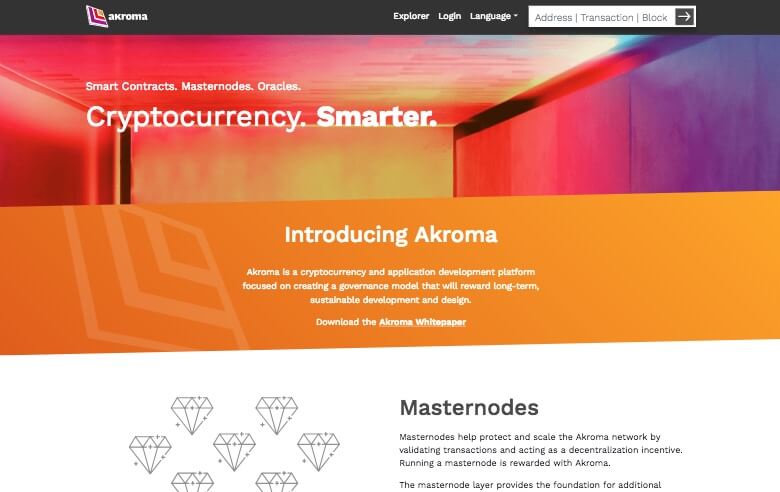 According to the official website of the project, the masternodes in the Akroma network help validate transactions and ensure system decentralization.
You need 5001 AKA to launch a masternode. There are 1,272 active masternodes in the network, and they already brought 1.81 million AKA to their owners. Not bad.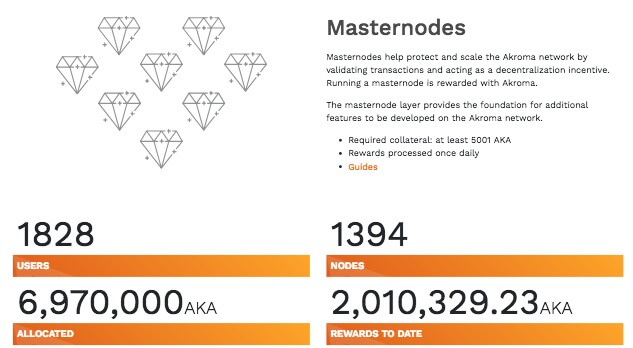 Akroma's masternodes goals are the same as those of VIVO, GoByte, and $PAC. Looking for masternode shares and hosting? Check this out: 2Masternodes
Akroma network also features decentralized oracles that ensure access to intelligent, smart contracts by providing them with data from outside the network. The platform promises to offer Akroma-based decentralized applications with intelligence.

Akroma Specs
CoinMarketCap doesn't feature AKA, so it's hard to find information about the coin. As of now, 1 AKA costs $0.083, and its price increased only by 2.56% from the day before, this means we can consider it as the average value. Developers plan to issue around 100 million coins.
Where to Buy Akroma
There aren't many exchanges to choose from: BiteBTC, stocks.exchange or Graviex. 24-hour trade volume on Stocks Exchange is 46 thousand coins, on Graviex – 897. It's clear that Akroma is still far behind Litecoin, Ripple, and other significant cryptocurrencies.

Wallet for Akroma (AKA)
You can only use the Android app, Chrome extension, or Web wallet. What if you have an iPhone? Well, enjoy your bug-free system and smart Siri!
Akroma Mining
AKA mining algorithm is Ethash, also known as Dagger-Hashimoto, just like Ethereum, Callisto, Expanse, Pirl, Musicoin, and others. Block time – 14 sec., the block reward is 6 AKA.
Akroma Mining Hardware
You can use the same hardware that works for ETC, ETH, and other Ethash-based coins – 3GB+ Nvidia or AMD graphics cards.
In theory, you can also try Ethereum ASIC-miners. There is Antminer E3 by Bitmain or the brand new A10 ETHMaster by Innosilicon.
It is not possible for you to mine AKA if you have the A9 ZMaster or the Antminer Z9/Z9 mini. Have a look at this article to know what you can do: Innosilicon A9 ZMaster vs. Antminer Z9 Mini – Profitability Comparison and Setup Guide
Akroma (AKA) Mining Pools List
You will find suitable pools listed here.
AKA Mining Difficulty
AKA is not so popular with miners yet. Its difficulty is 1,35 Т, which means that you can SOLO mine even if you have only one rig.
Akroma Mining Profitability
Let's say you have a rig with 250 MH/s. With standard luck value, you would get $7 per day.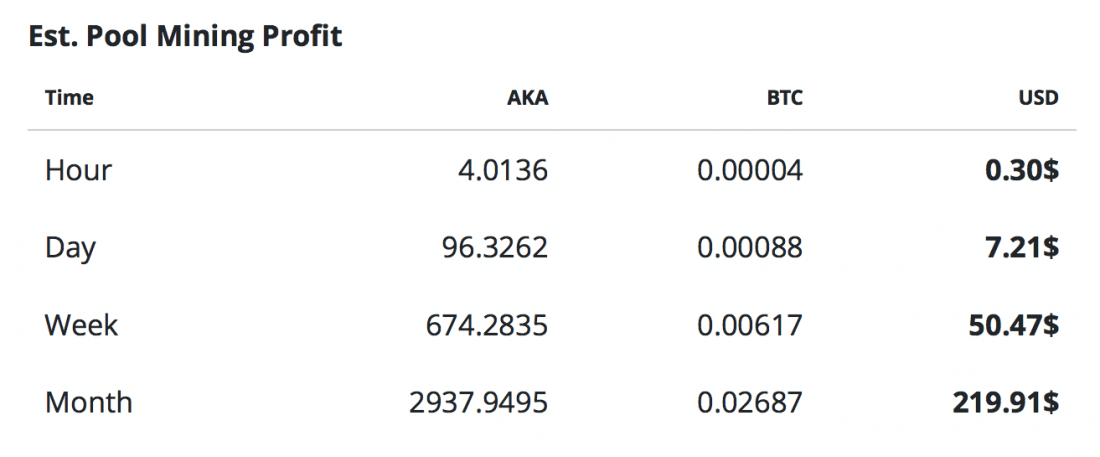 Your monthly profit would be $219. If you have four rigs, then the profit would be $28 and $879 respectively.
How to Start Mining Akroma
First, you should download the latest version of the miner here. The password is 2miners.
Then find the bat file and edit it so you can direct your profits to your wallet.
Change WALLET_ADDRESS. Example: 0x0073Cf1B9230cF3EE8Cab1971B8DbeF21eA7B595.
Change RIG_NAME to whatever you want, but use only latin letters, numbers, underscore ("_"), and hyphen ("-"). The name can't contain more than 32 symbols.
Launch the bat file. If you did everything correctly, the process will start right away.
Here is an example of a working bat file.
setx GPU_FORCE_64BIT_PTR 0
setx GPU_MAX_HEAP_SIZE 100
setx GPU_USE_SYNC_OBJECTS 1
setx GPU_MAX_ALLOC_PERCENT 100
setx GPU_SINGLE_ALLOC_PERCENT 100
EthDcrMiner64.exe -epool aka.2miners.com:5050 -allcoins etc -allpools 0 -eworker RIG_ID -ewal 0xb4d34c107abdc45cf8f437cbca2578ed30bcab75 -epsw x
If you have any questions, you can ask them in our 2Miners Telegram chat.
Please make sure to read our articles about other cryptocurrencies. We have tutorials for ZEN, BTG, BTCP and many other coins.