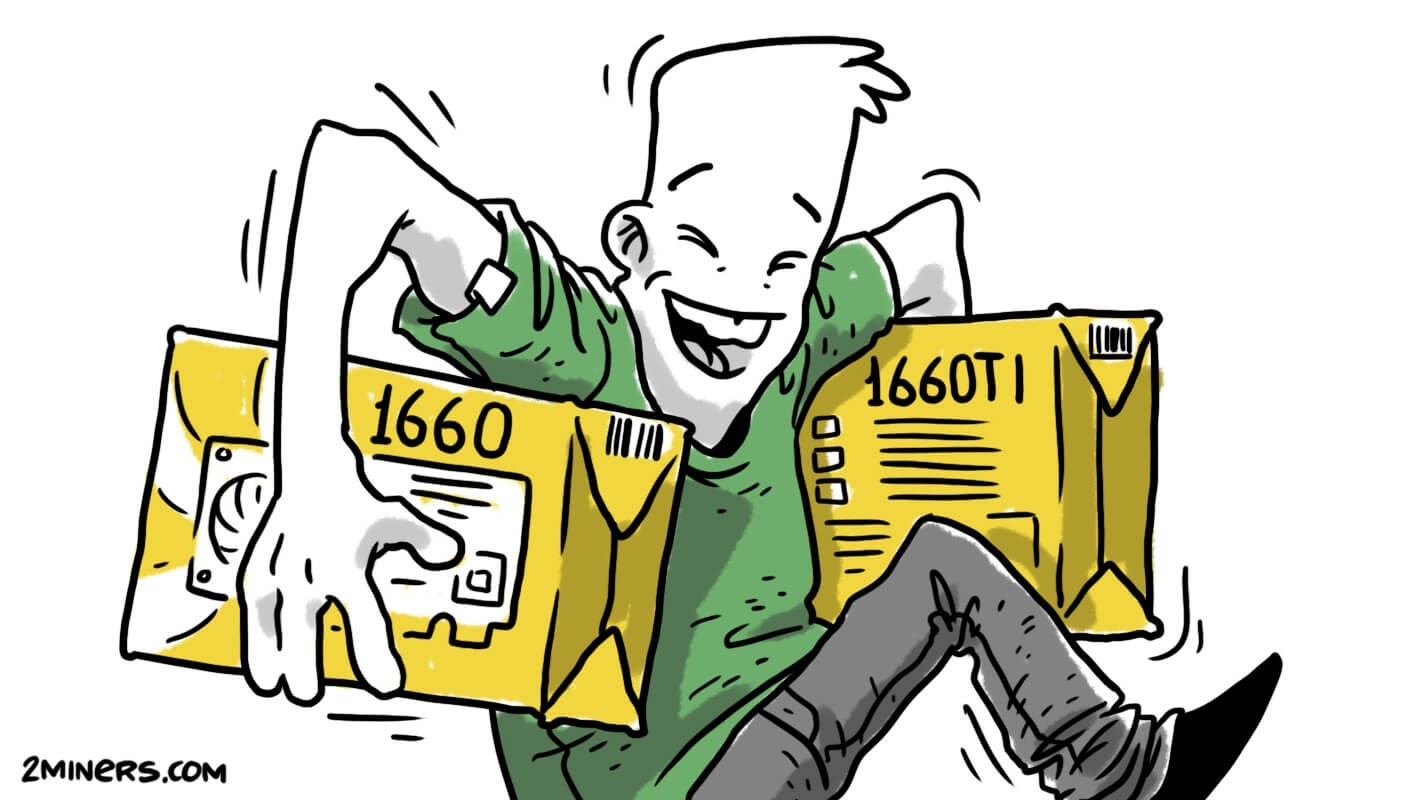 It seems like mining is thriving. For example, on Sunday, Bitcoin miners earned the equivalent of $25 million. This is a huge success – such results hadn't been seen since the beginning of March last year.
Bitcoin is expanding, while altcoins in BTC pairs are going down, but the dollar rates are growing. Mining is much more exciting now than a month ago.
Read more: The Best GPUs for Mining in 2019. Expert Tips and the Profitability of Nvidia and AMD GPUs.
Let's see how much GPUs make at the current rates. First, we enter the relevant hashrate to the 2CryptoCalc mining calculator and get the result. Then you are ready to start mining on the 2Miners pool.
We don't make calculations for Equihash algorithm as it has been successfully taken over by ASIC miners – Antminer Z9 on Equi has been released in July 2018.
Important note: Lately, a few coins have been launched on new algorithms with decent profitability — for example, Grin and Aeternity. Today GPU mining is much more than just Ethereum and Zcash.
Nvidia GeForce GTX 1060 Profitability
GTX 1060 is a budget Nvidia model. In spite of its considerable age, today this GPU can earn more than $1.00 a day. At the moment, the most profitable variant is Aeternity that brings $1.32 a day, excluding electricity expenses. The Grin on Cuckaroo29 would also be the right choice. Cuckatoo31 is unavailable on this GPU because it requires at least 11 GB RAM.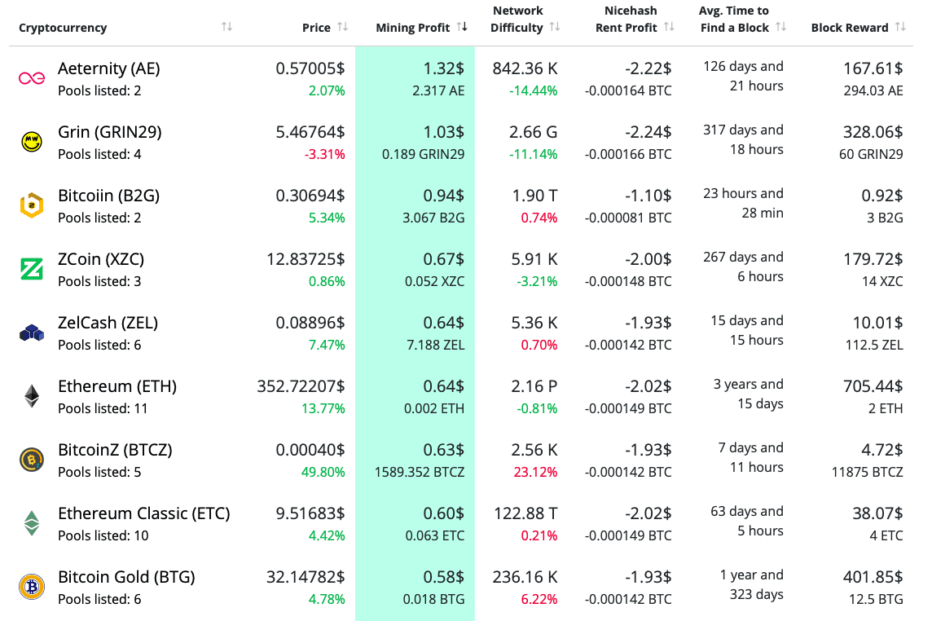 By the way, Zcoin is an excellent cryptocurrency. It has been on the market for quite some time, it is listed on many exchanges, and its developers are efficient. It's a good option in the long run. Available on 2Miners.
Nvidia GeForce GTX 1070 Profitability
Same for this GPU – Aeternity should be your first choice. Then we recommend Grin on 2Miners. But first, make sure to have a look at current rates and mining profitability.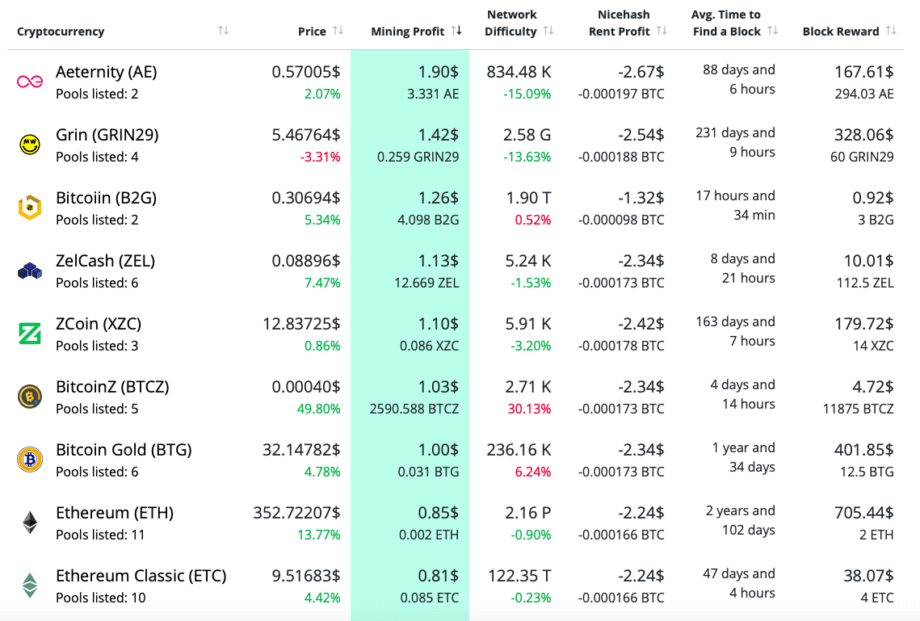 Nvidia GeForce GTX 1070ti Profitability
No surprises here – the top three coins are the same, while profits are slightly higher.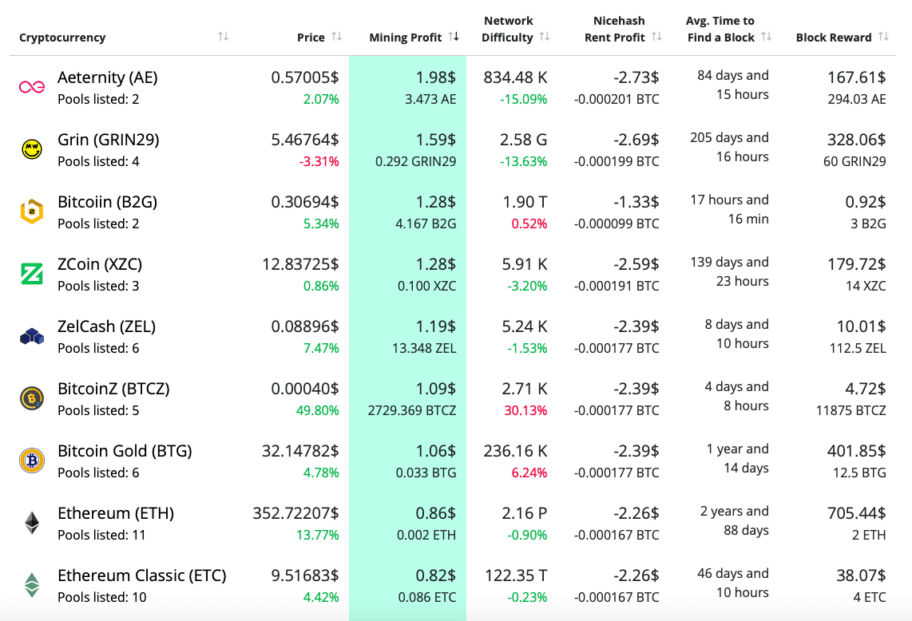 Nvidia GeForce GTX 1080 Profitability
GTX 1080 is also predictable. It's nice that Aeternity mining profitability is over $2.00 a day.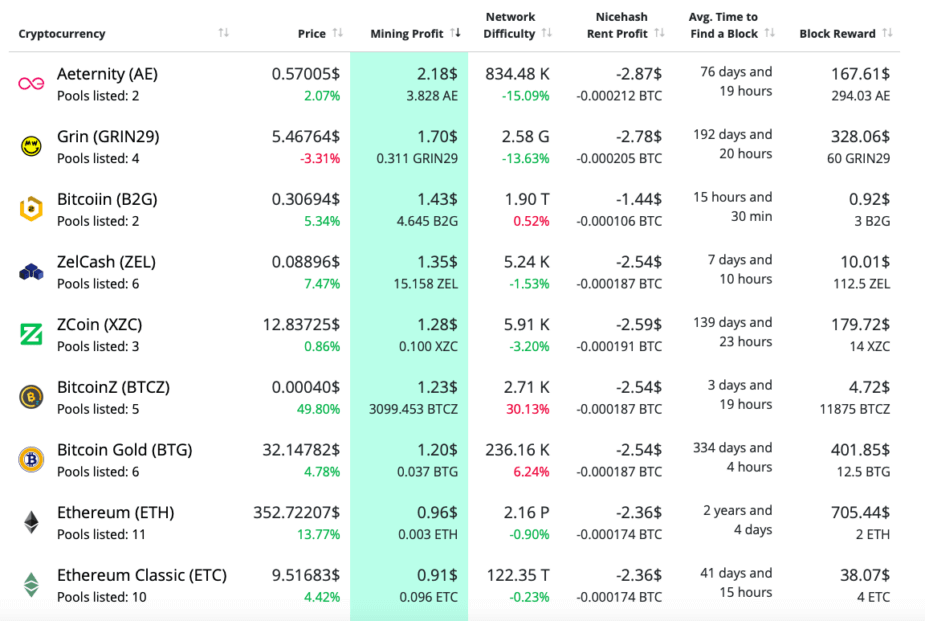 This video will get you started with Aeternity mining.
Nvidia GeForce GTX 1080ti Profitability
GeForce GTX 1080ti has 11 GB RAM, so Grin31 is available on this card. By the way, it's the most profitable coin that brings almost $3.00 a day. Aeternity comes second.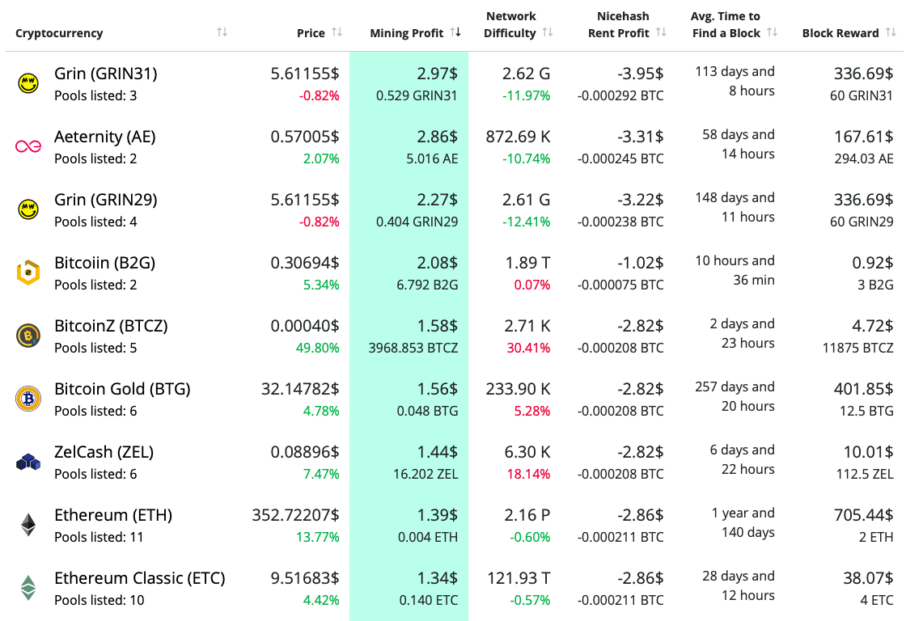 Nvidia GeForce RTX 2060 Profitability
RTX 2060 is an entry-level model in the updated Nvidia lineup. It's similar to GTX 1070 Ti. Zcoin is the third most profitable coin.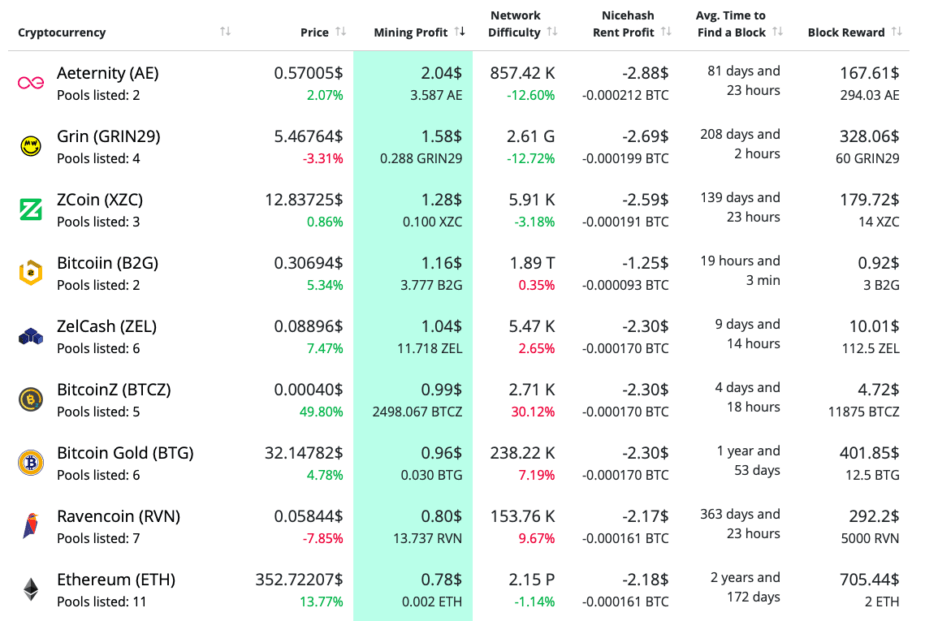 Nvidia GeForce RTX 2070 Profitability
The top seven coins are the same as for RTX 2060. But the profits are significantly higher.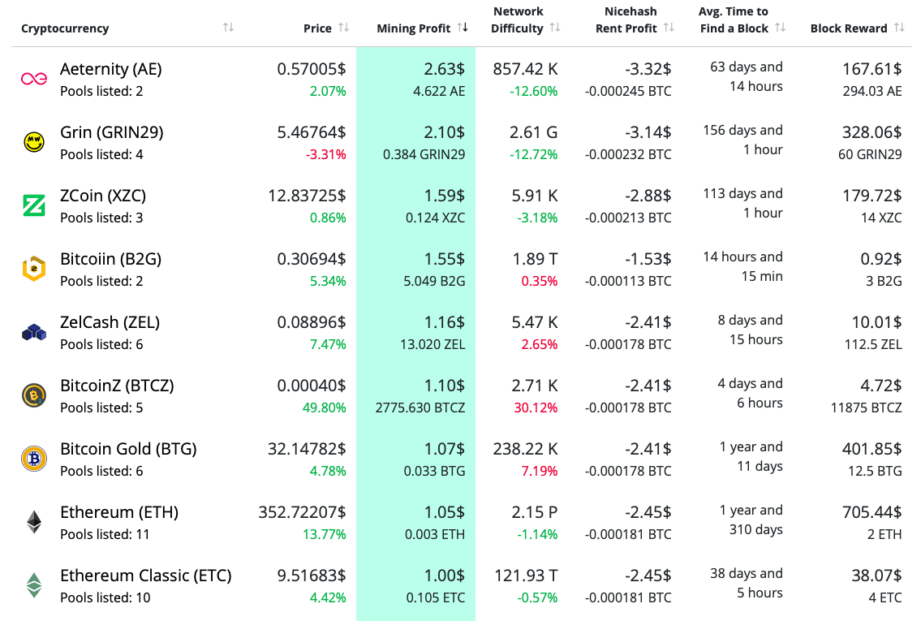 Nvidia GeForce RTX 2080 Profitability
Aeternity is the most profitable coin, ZelCash is in fourth place. Don't forget that it's about to be hard forked. On June 2 the developers will switch to the ZelHash algorithm.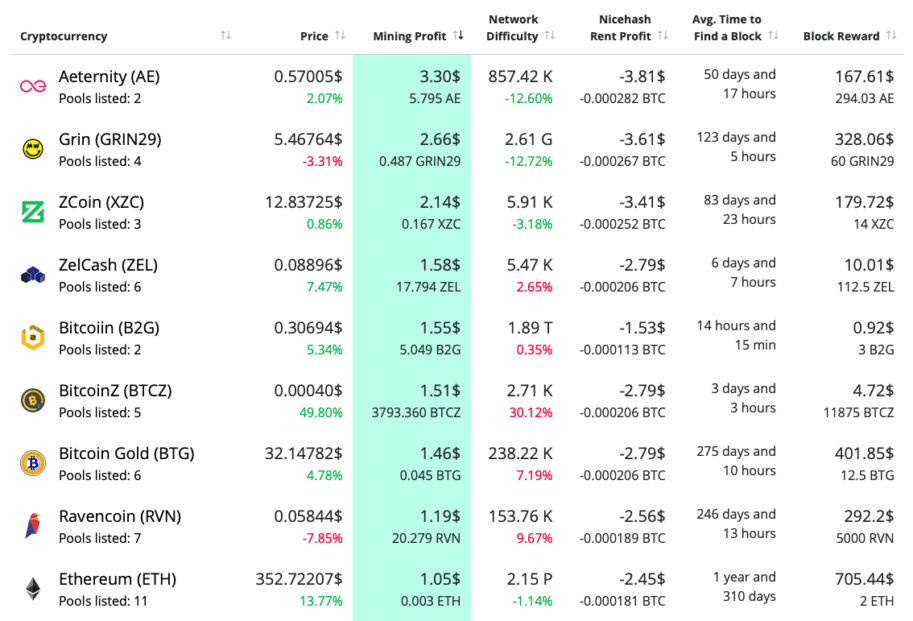 Nvidia GeForce RTX 2080 Ti Profitability
The flagship Nvidia graphics card shows impressive results: on Aeternity it brings almost $4.00 a day. It is as much as $122 a month.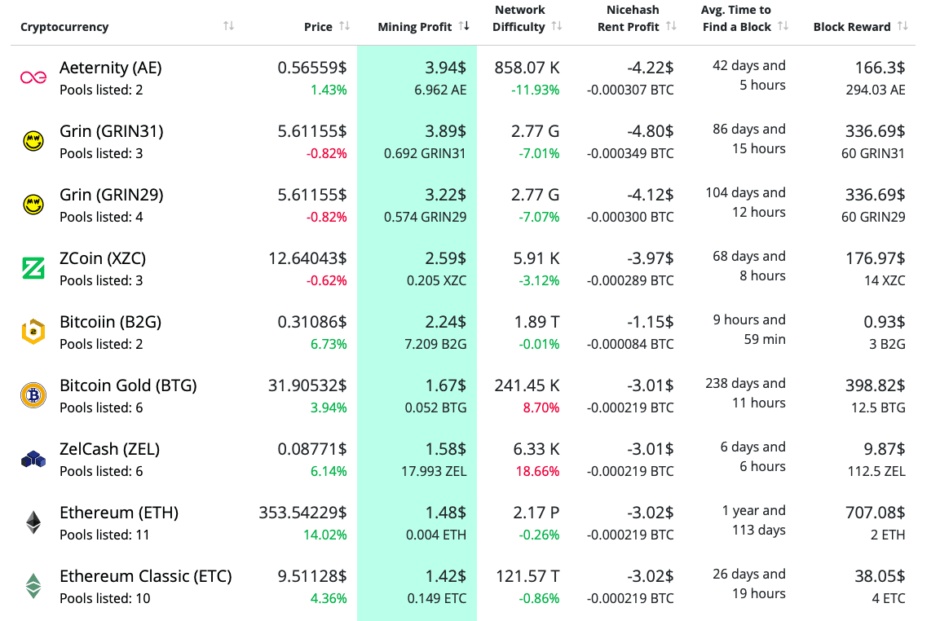 AMD Radeon RX570 Profitability
Red cards have different priorities. For example, RX570 works best with Bitcoiin B2G. If you prefer something more reliable, then go for Ethereum and Ethereum Classic.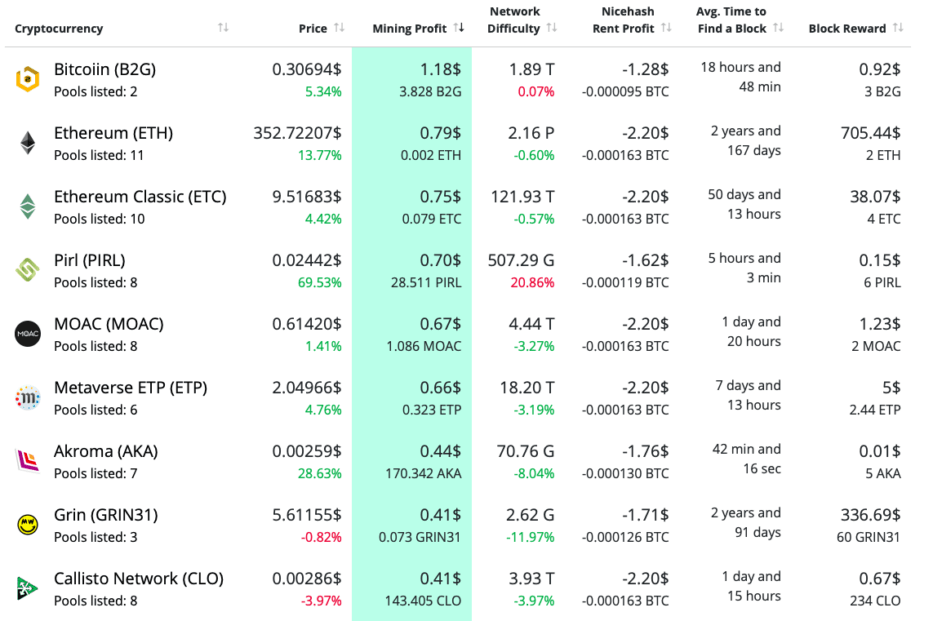 AMD Radeon RX580 Profitability
Same thing with RX580. We do recommend Ethereum or Ethereum Classic.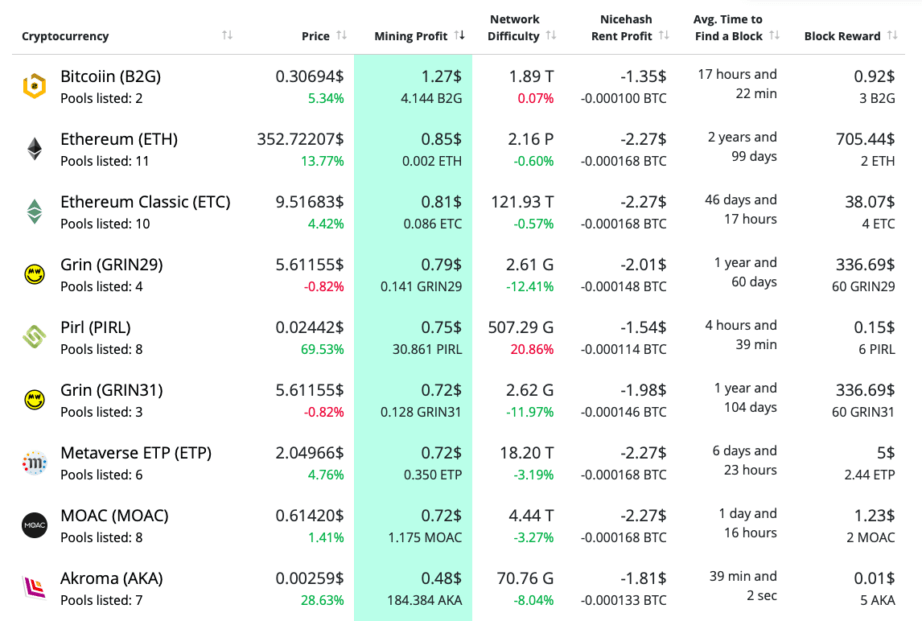 AMD RX Vega 56 Profitability
If you have Vega 56, consider Grin – the card has enough memory to make a profit from the MimbleWimble blockchain. In case it doesn't work out, there is always Ethereum that brings a little over $1.00 a day.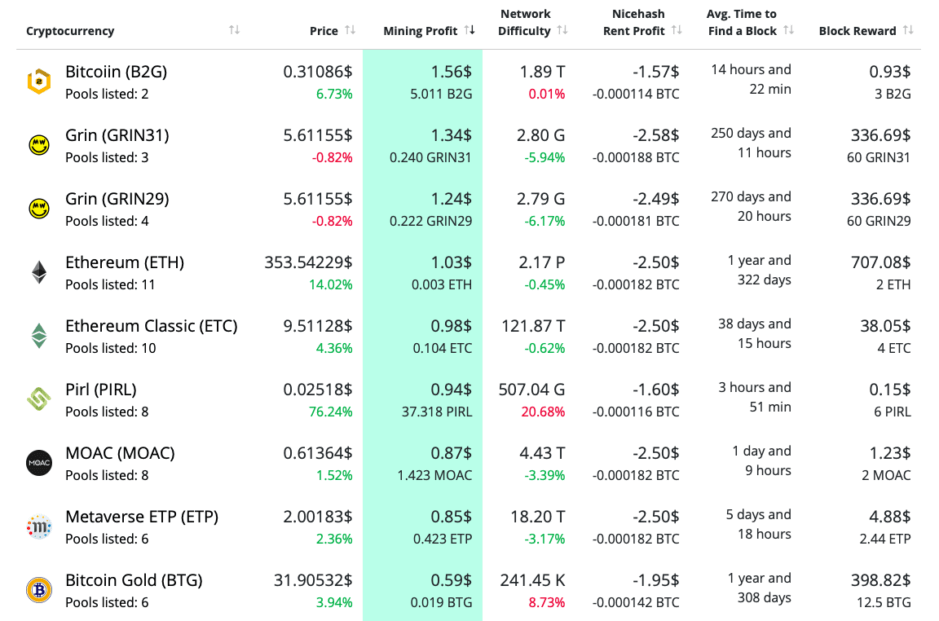 Conclusion
If you have Nvidia, you'd better go for Aeternity – today it's the most profitable cryptocurrency for mining. You can read the AE mining tutorial by clicking on this link. Grin is also a great option – the mining tutorial is here. If you have AMD, go for the most reliable variant – ETH, ETC, especially considering the current rise in rates.
We recommend mining cryptocurrencies on the 2Miners pool. It offers stable payouts, requires no registration, and has real physical servers. And remember: the further increase in rates will only make mining profits higher.