Let's start with a short video.
What Is Aeternity (AE)
Aeternity is a project created in 2017. On the homepage of the official website, you will find information about the main idea put into the project by its developers. It is about scalable smart contracts for interaction with real-world data. Decentralized apps are also in the field of focus.
Developers believe in the evolution of systems and society, so they want to create innovations. The ultimate goal is to make the blockchain user-friendly and useful to people.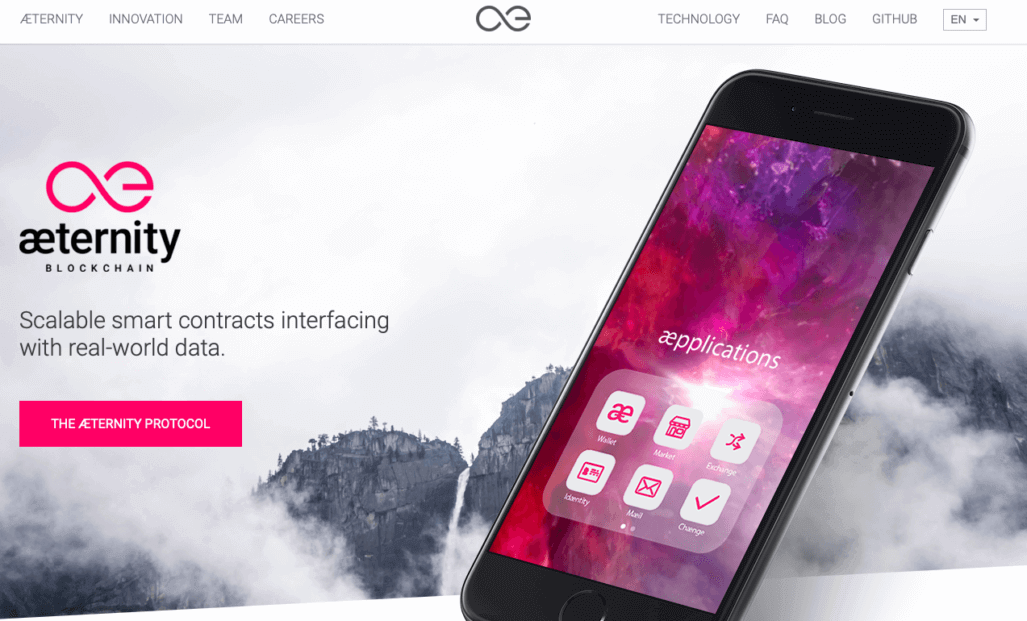 Aeternity Features
On the official website, developers specify how their project is different. They believe that æternity is the answer to all of the existing challenges of the blockchain industry.
Its main features are as follows.
Turing-complete smart contracts

– for the execution of credible transactions without third parties and intermediaries.

Consensus

– achieved thanks to a hybrid Cuckoo Cycle Proof-of-Work (PoW) and Proof-of-Stake (PoS).

State channels

– for running smart contracts off-chain. The blockchain uses the code only in case of disagreement between the parties.

Oracles

– for connection of real-world data with smart contracts. Developers say that they are truly first-class objects on the blockchain.

Governance

is

in the hands of the network stakeholders. Miners, token-holders and other parties have a say in decisions on proposed changes.

Aeternity (AE) Specs
Today the price is $0.58. The market cap is over $154 million, the trading volume is $43 million. The circulating supply is 266 million AE.

AE rank in the world chart is past fifty. The highest rate of $5.86 was registered on April 29, 2018.

Where to Buy Aeternity
AE is traded on a number of exchanges. The most significant is ZB with its 60% of share in trade. There are also OKEx, Binance, Huobi, and Coinbene.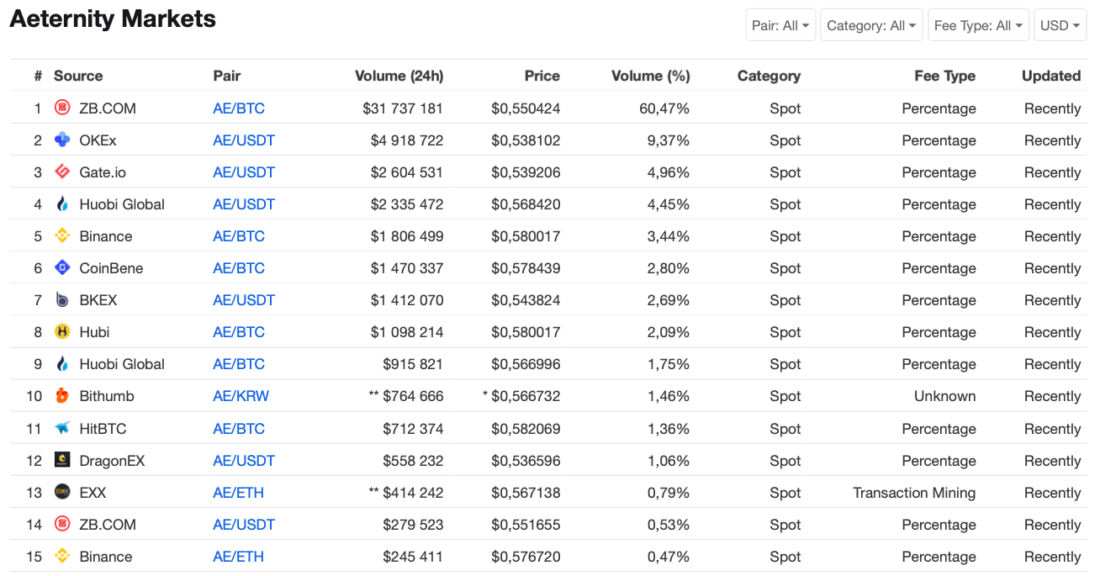 Trading pairs with USDT prevail, but you can also find BTC, ETH, BNB, etc.
Aeternity Wallet
Aeternity wallets differ from solutions of other cryptocurrencies. Users need two apps. First one is for private key storage, the other is for transactions.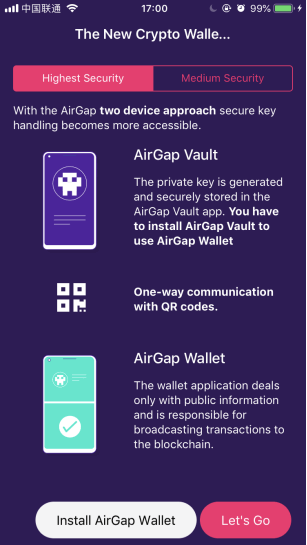 First, you need to install AirGap Vault. There are iOS and Android versions. The links are also available on the official website.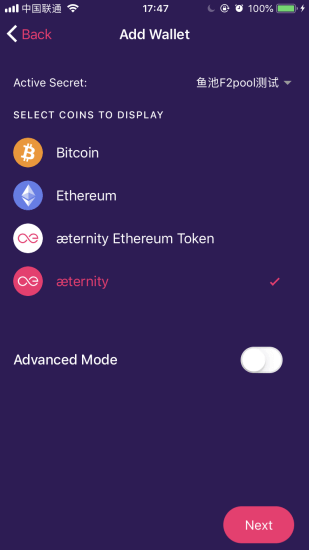 The task of Vault is to store keys and sign transactions. That's why for extra safety the developers recommend using a separate smartphone for this app that doesn't go online. But if you don't have a spare smartphone – no worries. You can use one for everything.
The other app is AirGap Wallet. This one is for transactions and can go online anytime. The two apps are linked through QR codes.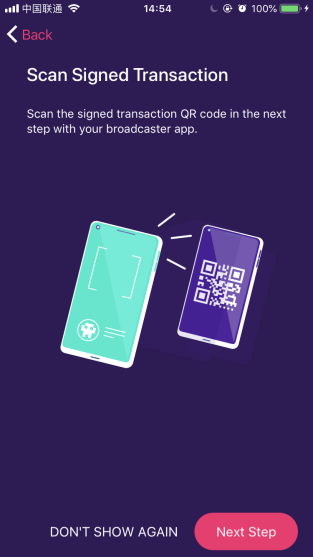 For example, to make a transaction, you need to make a request for it in AirGap Wallet, sign the transaction in Vault, and then scan the verified transaction inside the Wallet and confirm your identity by entering your password or fingerprint.
Top-level security. You can download Wallet for Android here and for iOS here.
Aeternity Mining
Aeternity (AE) mining is based on Cuckoo Cycle algorithm and uses Bitcoin NG protocol. There is an important difference – the latter consists of two components:
key block

is created every 180 seconds and doesn't contain transactions. It requires a solution to a PoW task.

micro block

is created every 3 seconds, contains transactions and doesn't require solution by PoW. Instead, such blocks obtain crypto signature which makes them valid.
So it takes only 3 seconds to make a transaction. The last AE is expected to be mined in 2134. All in all Aeternity supply and inflation will develop in the following way.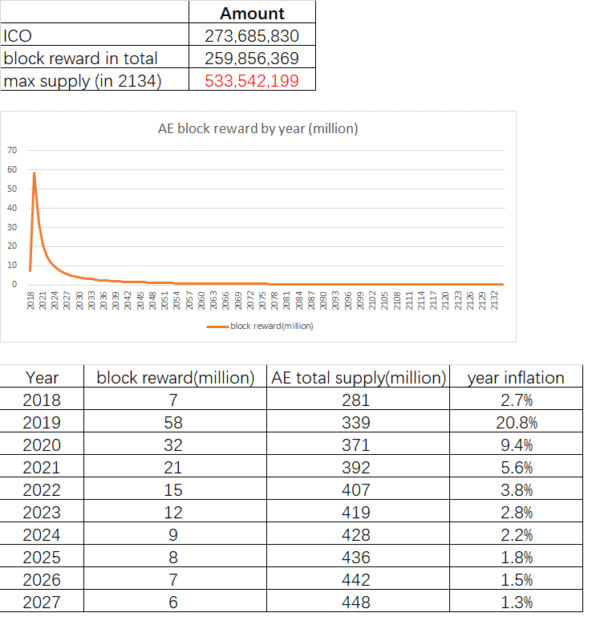 Miners get a reward for two types of operation:
key block mining

– it increases the overall number of tokens according to the Phillips curve;

integration of transactions into micro blocks

– this is a fee for transactions. The fees are distributed at a 40:60 ratio between miners of the previous and the following blocks respectively. Micro blocks don't affect the overall circulating supply of tokens.
Current block reward is 352 AE.
What to Use for Aeternity Mining
Cuckoo Cycle supports Nvidia and AMD cards with no less than 4GB memory. To download miners, click on the link and download the archive. The password is 2miners.
GPU Hashrates for Aeternity Mining
Nvidia graphic cards  manage the following hashrates:
GTX 2080ti — 11,00 sol/s;
GTX 2080 — 8,30 sol/s;
GTX 1080ti — 6,90 sol/s;
GTX 1080 — 5,30 sol/s;
GTX 1070ti — 5,20 sol/s;
GTX 1070 — 4,37 sol/s;
GTX 1060 6ГБ — 3,15 sol/s;
P106-100 — 3,10 sol/s;
GTX 1050ti — 1,80 sol/s.
Where to Mine Aeternity. AE Mining Pools
We recommend mining Aeternity on 2Miners pool: we have both PPLNS and SOLO. First, edit the bat file from the archive and enter relevant information. Replace YOUR_ADDRESS with the wallet that starts with ak_.
i.e.: ak_seGPwMQ4c9LnkKLKpZCkgrDFB7SqoLiWzKfV8JLo2LD8e1Qcm
Also, replace RIG_ID with your rig name – it will be displayed in the miner stats. This field is optional, but in case you decide to fill it, you can only use 32 symbols, Latin letters, numbers, as well as "-" and "_".
Bat file for bminer mining software looks like this:
bminer -uri aeternity://YOUR_LOGIN.RIG_ID:

x@ae.2miners.com

:4040

You could always find all the required information for Aeternity mining on 2Miners Help page.
Aeternity Mining Setup for NiceHash
Aeternity pool is compatible with mining power rental services. Here are settings for Nicehash:
ALGORITHM: CuckooCycle
POOL HOST: ae.2miners.com:4040
WORKERNAME: YOUR_ADDRESS
PASSWORD: x
Aeternity Mining Profitability
We will use WhatToMine to calculate AE profitability. We are going to take eight Nvidia 1080 Ti cards as an example – in theory, they give out 59.2 h/s. Power consumption is 1520 W, the cost of 1 kWh is $0.05.

As a result, we get a profit of $6.74 per day. By the way, it is higher than the profit of Ethereum or Ethereum Classic.

Conclusion
Aeternity is another worthy blockchain project. The coin has an unorthodox approach to the network operation and works efficiently. High mining profitability is especially important. It makes AE stand out against the background of such a legend as Ethereum.