This month was full of different pool upgrades and updates. The first hardfork of Grin has finally happened. The cryptocurrency changed the mining algorithm from Cuckaroo29 to Cuckarood29. ZelCash has changed the algorithm as well. Equihash 144.5 has been substituted by Equihash 125.4. The SSL connection is now available for all the pools we have. Akroma and Musicoin pools are not supported anymore by 2Miners. We've created some video guides on YouTube on how to start mining. Nicehash hashpower rental service has forced the migration to their new platform.
Mining Video Guides
We've created video guides to help new miners start mining as quickly as possible. The two main topics are How to start mining and How to register on Crypto Exchange. These video guides explain in 2-3 minutes how to start mining if you have a mining rig or a PC with just a single GPU running Windows OS.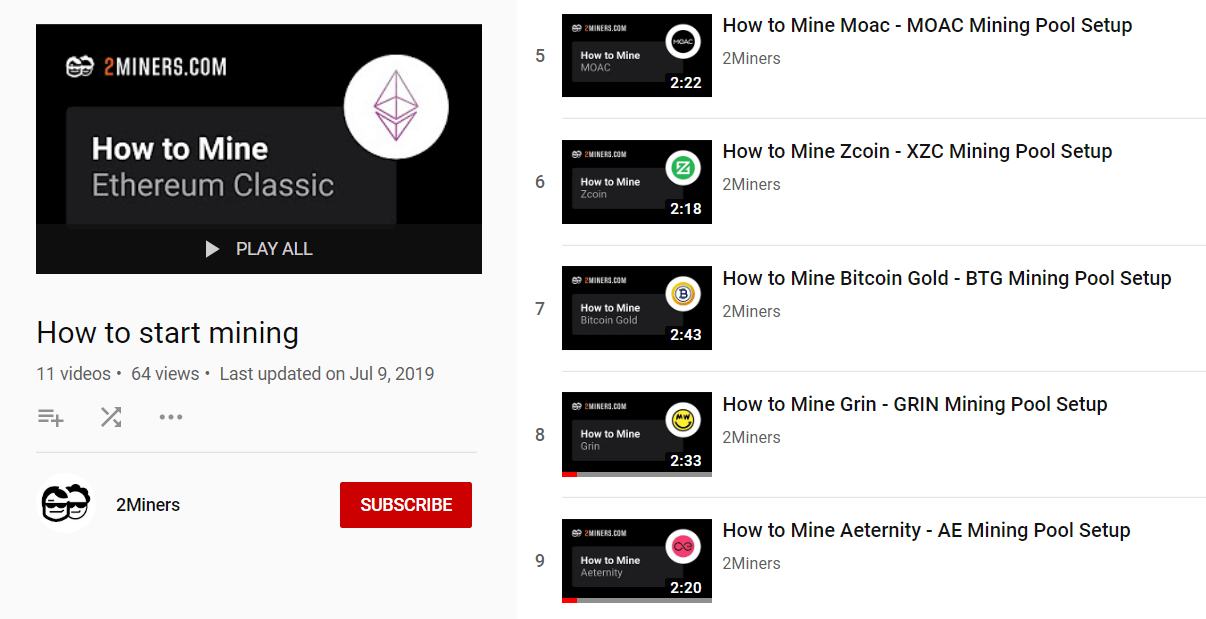 We've already made 16 video guides. All of them are available on 2Miners YouTube channel. Mining has never been easier. All you have to do is to select the most profitable coin for your mining hardware using 2CryptoCalc.com mining rewards calculator, watch the 2-minute video for this coin, and voila, you're the miner now.
Mining Pool SSL Connection
We got now Secure Sockets Layer (SSL) connection available at 2Miners pools. To find the SSL port go to the bottom of "How to Start" page of the coin you mine. Check Ethereum How to Start page for example. At the bottom you find the list of the SSL ports:

Please note that the mining software settings could be different. We recommend you to use PhoenixMiner for Ethereum. We've recently written PhoenixMiner: Step-by-Step Guide for Beginners which is worth reading. Bat file for SSL connection should look like this:
PhoenixMiner.exe -epool ssl://eth.2miners.com:12020 -wal YOUR_ADDRESS -pass x -worker RIG_ID
If you don't know what is SSL connection and how to set it up, use the standard settings. For more information on SSL connection and mining software settings for SSL, check our Knowledge Base article.
New Nicehash Platform
Nicehash, which is the most popular service to rent the hashing power, has launched the new platform. Now the so-called transition period has started while you could use both old and new platforms. Obviously, in the beginning, miners were still using the old platform. However, now Nicehash has increased its commission from 3% to 5% on the old platform to force the miners to use the new one.
The New Nicehash platform only has a new algorithm for Grin cryptocurrency mining – Cuckarood29. It is not available on the old platform, and most likely, it will never be available there.
First, the new platform had problems with the mining pool validator (it was not working correctly) and with the Cuckarood29 hashrate (which was doubled). Thanks for the Twitter discussion these problems are now successfully solved.
Nicehash, can you please fix pool validator on the new platform.

Thanxxx!@NiceHashMining pic.twitter.com/4OU0qye5g2

— 2Miners (@pool2miners) July 28, 2019
If you want to know more about the Nicehash rental possibilities we recommend you this article: Solo Mining Pools – How to Catch Your Luck.
From now on we recommend you use the new Nicehash platform. You could use this link to register.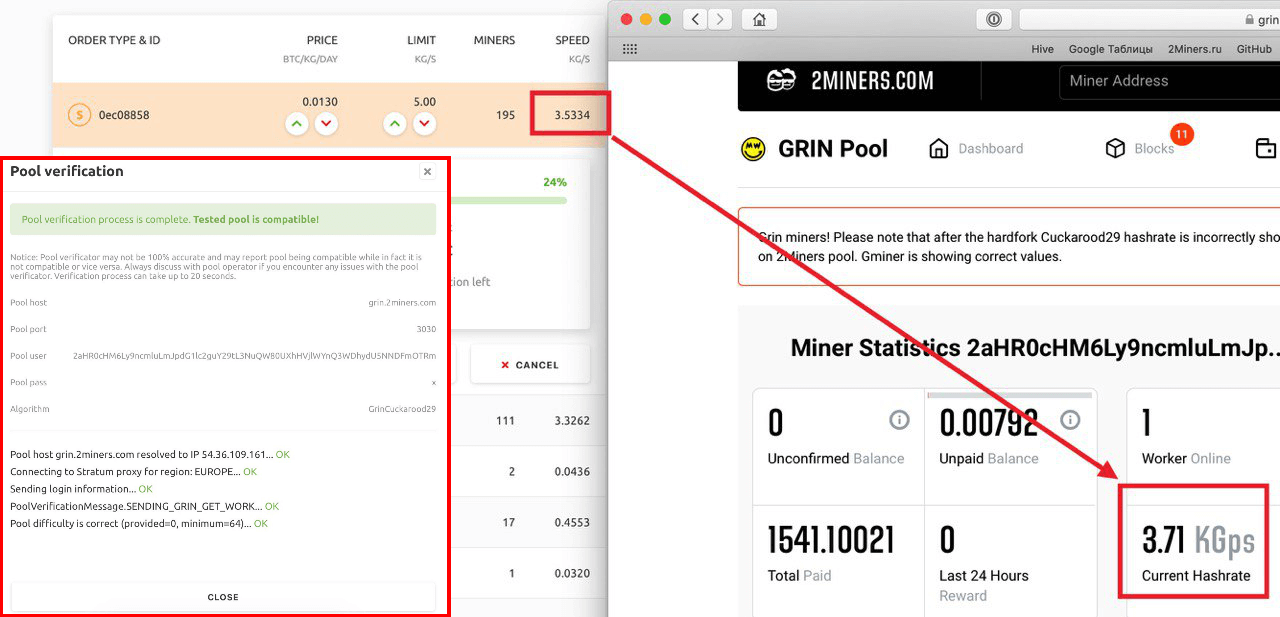 Akroma and Musicoin Delisting
Unfortunately, some cryptocurrency projects are not developing anymore. Their price is continuously dropping. This year we've already delisted such coins from 2Miners like ANON, WHL, HUSH, BTCP, YOC, and ELLA. On July 31st we stopped the Akroma (AKA) and Musicoin (MUSIC) mining pools.
We had a significant hashrate for these coins (sometimes up to 50% and more) but nearly no profit. 2Miners made about $20 a month from each of these pools which is too low to host and support them.
Musicoin was traded on a very popular Bittrex cryptocurrency exchange, but Bittrex has delisted MUSIC from their platform in July as well. Sad but true.
Grin Coin First Hardfork
Grin fork was successfully performed on July 17th. We've already discussed this matter in detail Grin First Hardfork: What Will Change and How to Prepare?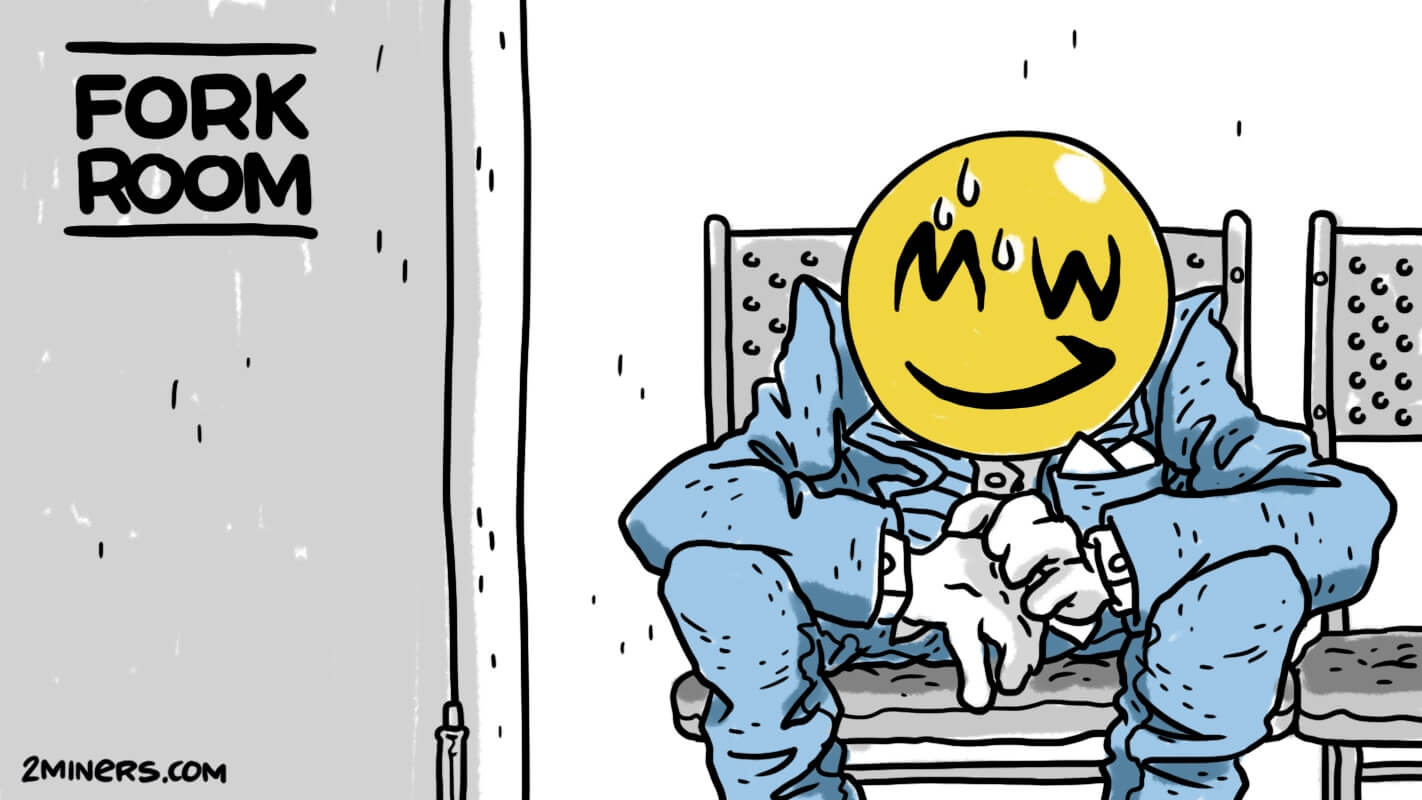 2Miners Grin wallets have been updated from version 1.x to 2.0. Grin money transfer is done using p2p principles between nodes directly, nodes not using the same version (1.x vs 2.0) is not compatible with each other and cannot perform transfers. If you still have not updated your wallet, then we recommend you to do this. Anyway, the funds will be withheld until you will do so, and there is nothing to worry about. Hopefully, the blockchain data always remains the same, so nothing was lost during the migration process.
We remind you that you need to install the latest Gminer version to mine Grin. Download it from GitHub or use our Quick Start Archive. The archive password is 2Miners. Please note that Grin still operates using 2 different mining algorithms: Cuckatoo C31 and Cuckarood C29 (previously Cuckaroo C29).
ZelCash Hardfork and New Mining Algorithm
ZelCash is an anonymous cryptocurrency and the primary transaction tool in the ZEL ecosystem. ZelCash hardfork, called Kamiooka v3.2.0, has been performed on July 4th (Read more).  The mining algorithm has been changed from Equihash 144.5 to Equihash 125.4.
Equihash 125.4 is not supported by Nicehash, so the network is entirely "free." Moreover, this algorithm is for sure, ASIC-resistant at the moment. After the hardfork, ZEL is nearly always leading the 2CryptoCalc.com cryptocurrency list in terms of mining profitability.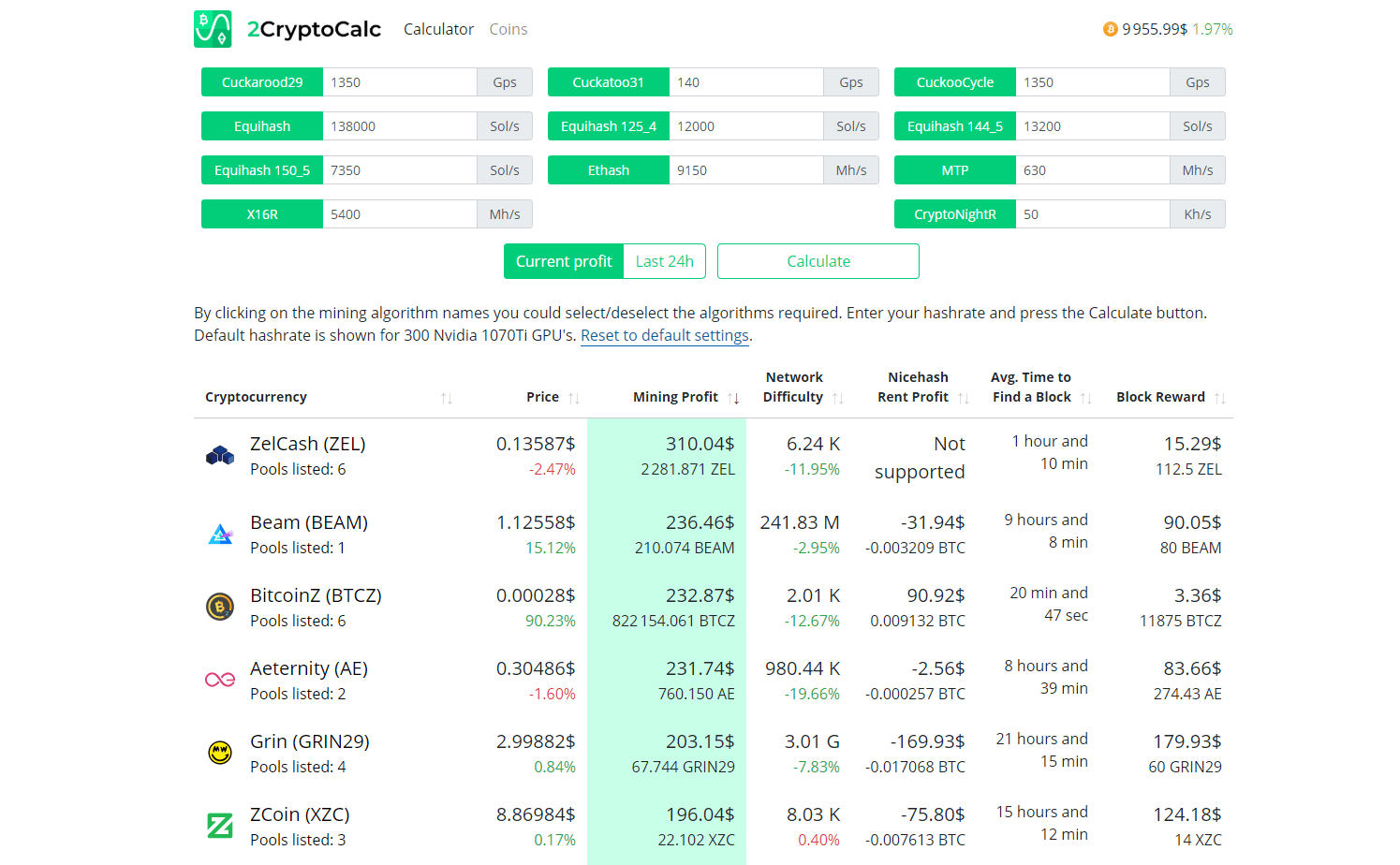 ZEL is mined using any NVIDIA GPU including low-end like 1050 Ti. The best miner is Gminer. If you want to start ZEL mining, we recommend you to watch our ZelCash Video Guide.
Ethereum Node Update
All Ethereum 2Miners pools have been updated to the latest version of node software – Geth v1.9.0 (Read more on Ethereum Blog).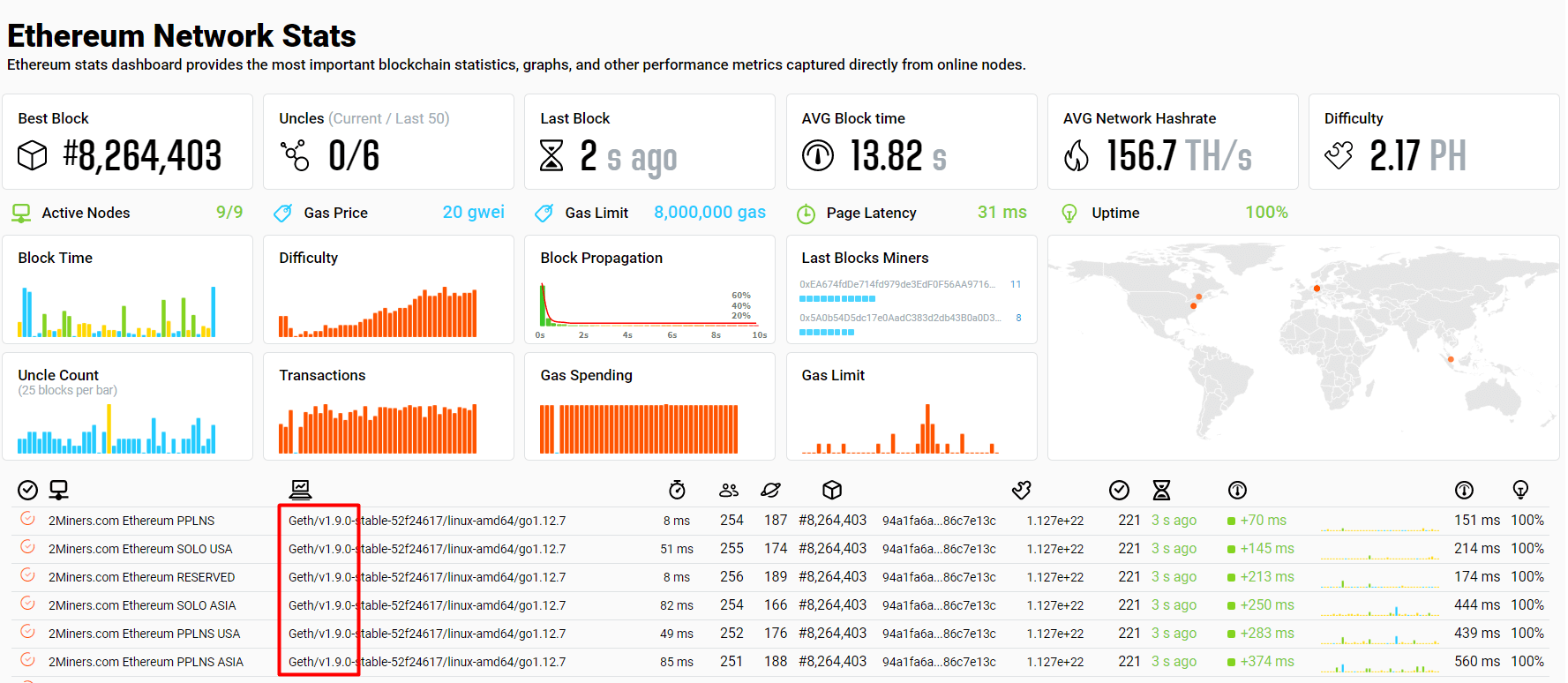 2Miners – The Most Profitable Ethereum Classic Pool
Ethermine mining pool company Bitfly has recently started the new service Poolwatch. It compares rewards on different mining pools using the same hashrate. Week by week 2Miners ETC mining pool is outrunning other pools.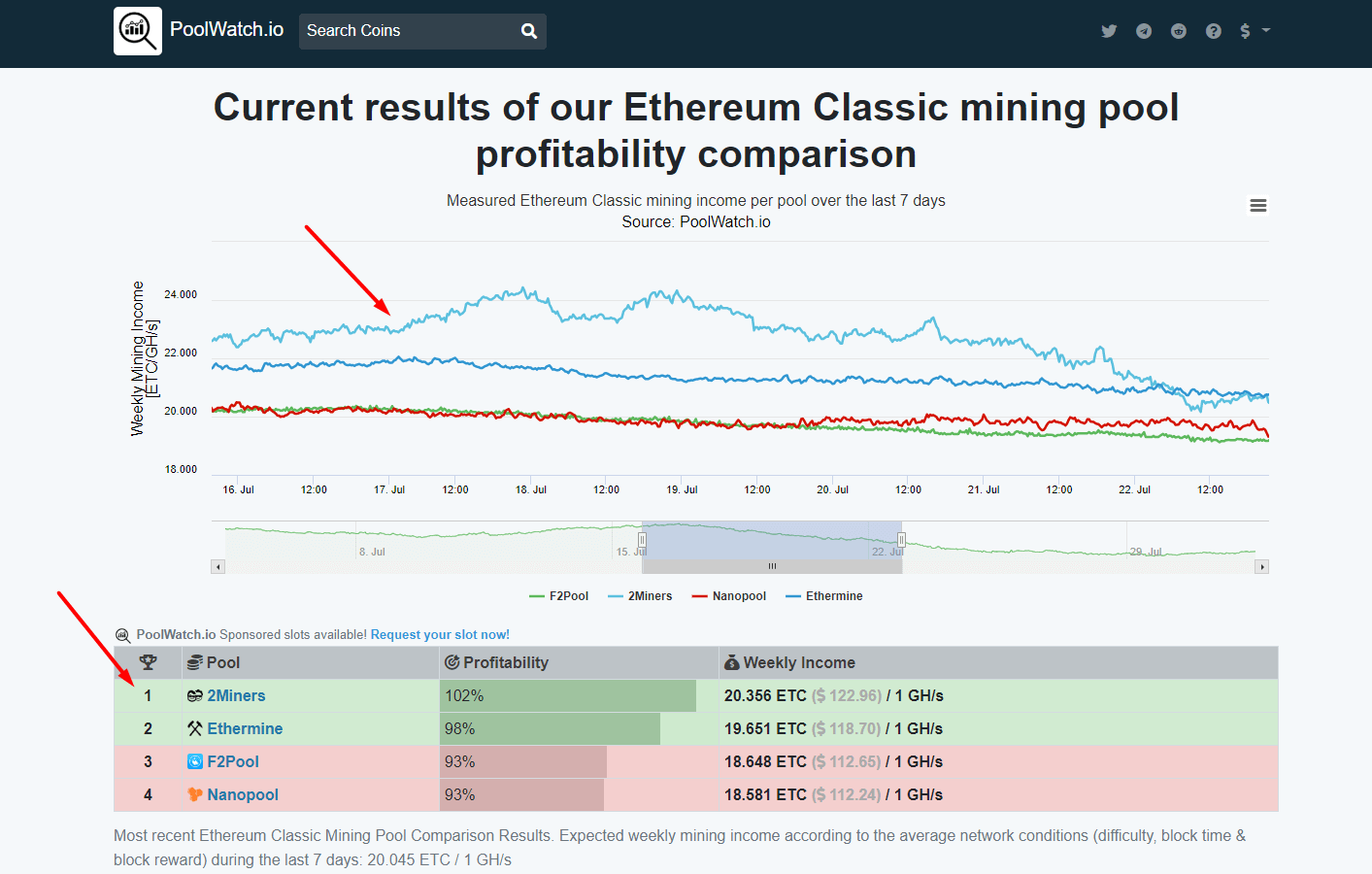 Cryptocurrency Mining Daily Profit
Are you curious about how much money miners earn daily worldwide? This is the question we wanted to answer with our Infographic.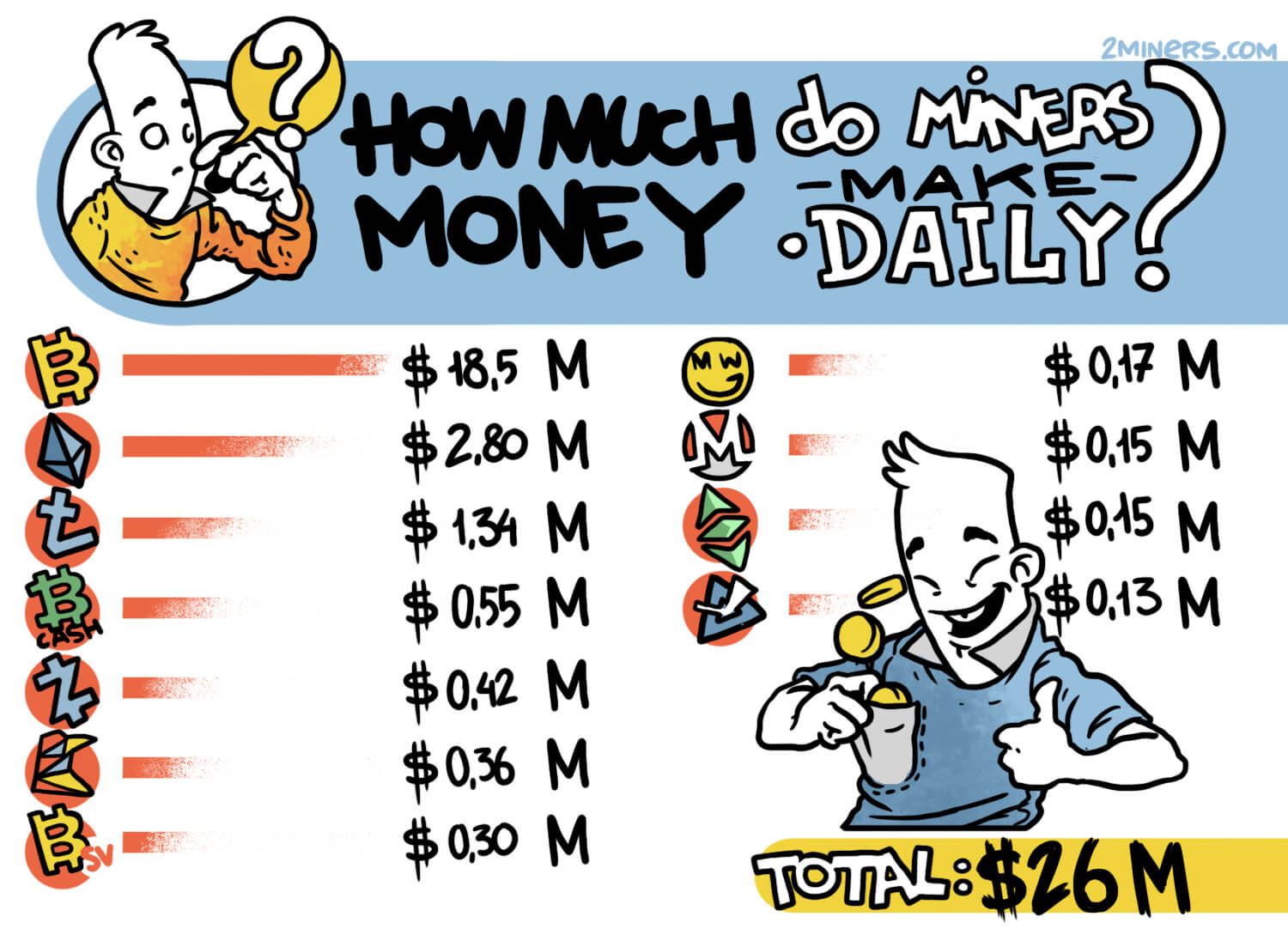 Make sure to follow us on Twitter. You are always welcome to join our Telegram Chat if you have anything to discuss.