Ravencoin appearance was the most important event of April. We've managed to get to the Hashrate Top-10 of the RVN pools straightaway. We already have 7 different mining algorithms at the pool plus the ProgPoW. The work on this Ethereum update is still continuing.
Ravencoin (RVN) Mining Pools
We are glad to finally have the Ravencoin (RVN) mining pools at 2Miners. RVN is one of the most popular coins for GPU mining this year. The coin ranks 43rd in the coinmarketcap's top-100. Requirements for mining are quite low so RVN could be basically mined with any GPU. The mining algorithm is X16R.
We have PPLNS and SOLO pools for RVN.
Ravencoin pools at 2Miners are fully compatible with mining rig rental services including Nicehash and Miningrigrentals.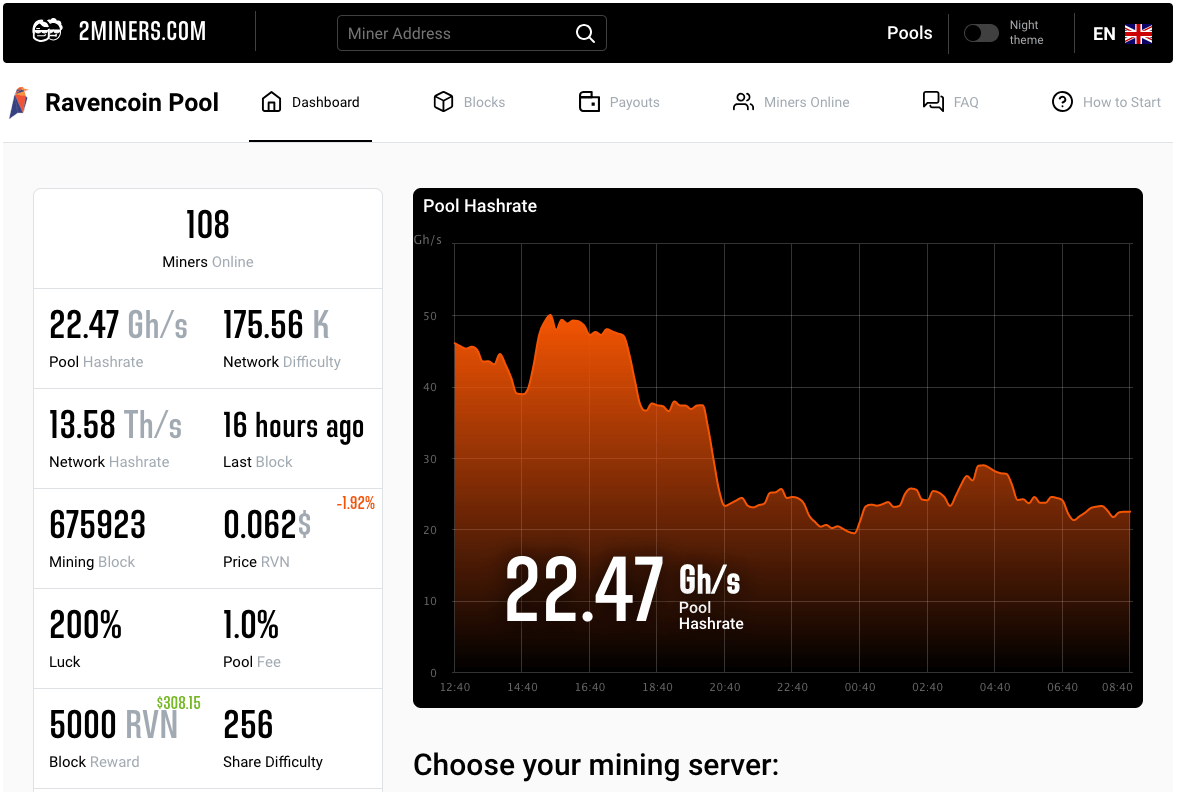 If you want to try RVN mining you could go to our Help page and download Ready-to-go Archive. All you need to do is to change your wallet address. If you wish to know more about RVN and RVN mining check out our Definitive Guide on How to Mine Ravencoin.
2Miners Landing Page Makeover
The pool is growing. When 2Miners has started back in 2017, we had just 2 mining algorithms: Ethash and Equihash. Now we already have 7 algorithms implemented: Ethash, Equihash, Equihash 144.5, CryptoNight R, MTP, Cuckoo, X16R. At first, we had a big hashrate chart on the landing page with a color specified for each algorithm. However, the amount of algos was doing this chart unreadable. That's why we've redesigned our landing page to make it simple and clear.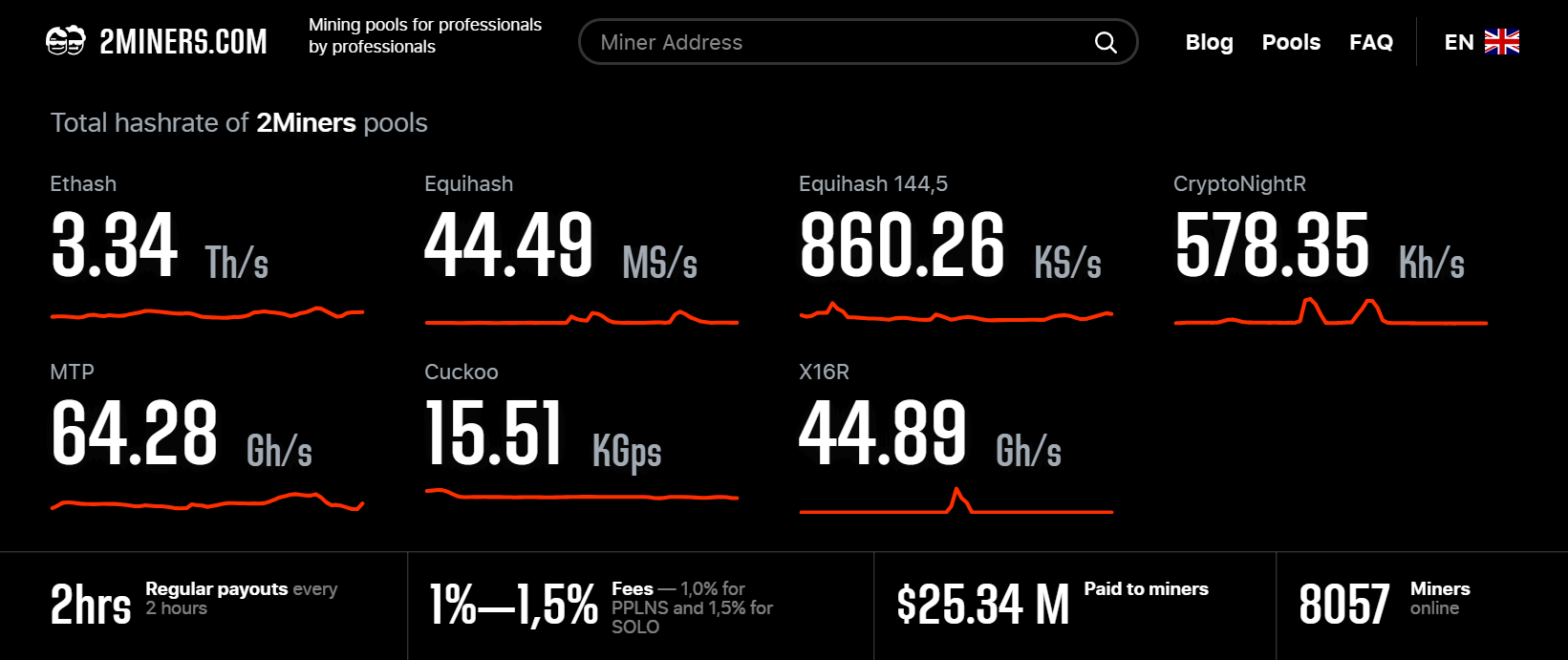 Yocoin (YOC) and Ellaism (ELLA) Delisting
Cryptocurrency industry is relatively young. Some projects are actively developing, some are being forgotten. We have delisted from 2Miners ANON and WHL in February, HUSH and BTCP in March. This month we have stopped YOC and ELLA pools.
Unfortunately, there was nearly no profit for us from these pools. We've decided to free some server resources for the new coins.
Aeternity vs Beam
We've made a poll at our social media, which is the best coin to be added next to the pool: Aeternity or Beam?
The community has chosen Aeternity. However, Beam also had a lot of votes. We've decided to add both of the coins to 2Miners. Aeternity will go first though. We expect it to be added in May.
And the winner is @aeternity 👏👏👏
Coming in May at https://t.co/FDeMuCGlCy Mining Pool.

— 2Miners (@pool2miners) April 15, 2019
Please remember to follow us on twitter. 2Miners Telegram chat is also very strong.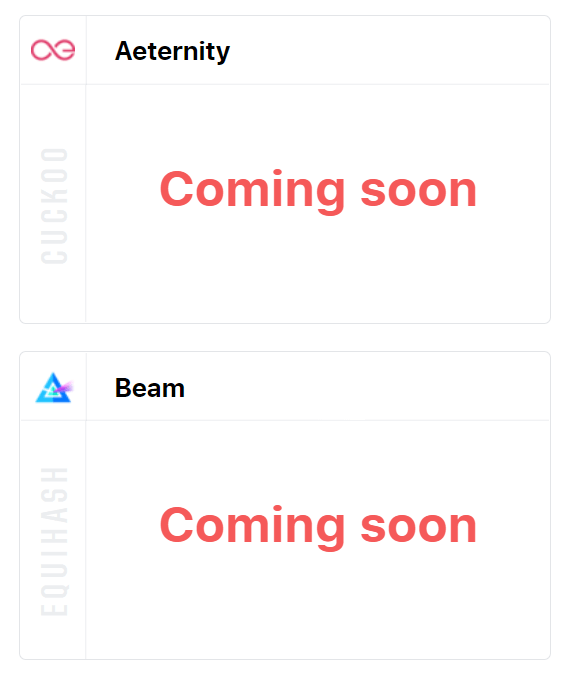 Pirl Network Problems
Pirl Network was experiencing problems for over a week. Pirl devs take no responsibility for the pool operation so we were forced to increase the block confirmation time and stop the payouts.
Obviously, we didn't want to confirm the blocks from the wrong chain (chain split) and loose money. We didn't want to perform the payments to the wrong chain (chain split). Sometimes it was just impossible to perform the payouts with lack of peers working properly.

Later, Pirl devs have released a patch for their nodes (and masternodes) so the network seems stable now. The payouts are performing properly and the STEX exchange has enabled deposits and withdrawals for Pirl.
If you want to mine Pirl we have both PPLNS and SOLO pools.
Ethereum ProgPoW Update
ProgPoW is a mining algorithm for Ethereum network designed as a PoW successor. We do support ProgPoW project. If you want to know more about it read our article Ethereum ProgPoW Explained. More than 2 months have passed since we've started the ProgPoW pool on the testnet. Many of you are wondering what is going on with this project and when ProgPoW will be implemented.
Ethereum Cat Herders want the ProgPoW code to be audited first. Experts must make sure that the transition to the original algorithm won't compromise the security of the Ethereum network. We've prepared a special post with all the ProgPoW updates to date. Please read Ethereum ProgPoW Update