At the end of March, we selected cryptocurrencies for mining on Low-end GPUs. We filtered coins by specific GPUs and by mining difficulty. Ravencoin falls under the latter category – it's a relatively new and quite profitable project.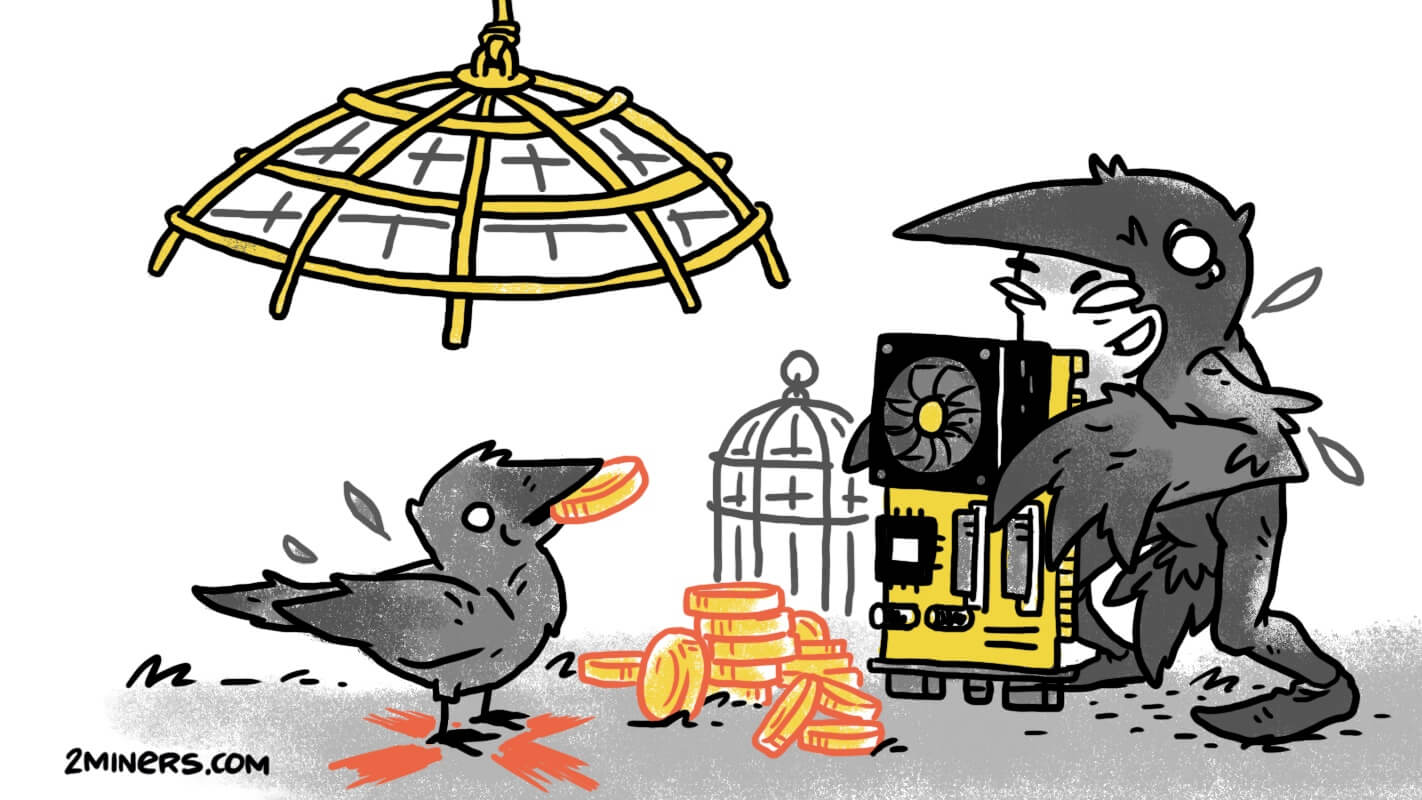 Let's start with a short video guide.
What Is Ravencoin
Ravencoin is a digital decentralized network with native cryptocurrency RVN. The developers aim at creating real use cases of the blockchain application.
The project was launched on January 3, 2018, as a Bitcoin fork. The date coincides with the ninth anniversary of Bitcoin, so the choice of timing was definitely intentional. Unlike some of their competitors, the developers didn't use ICO as initial funding. There are also no masternodes, and software is open-source.
Why was it named "Raven"? The creators love "Game of Thrones" and wanted to create an analogy with the world of the series.
In the fictional world of Westeros, ravens are used as messengers of truth. Ravencoin is an application-specific blockchain that verifies the ownership of a certain asset.
So if there was Ravencoin network at the times of the Seven Kingdoms, the characters' lives would have been so much easier. For example, Baelish couldn't have driven a wedge between the Starks and the Lannisters using Catelyn's letter in the first episode. The blockchain might have even saved Ned's life.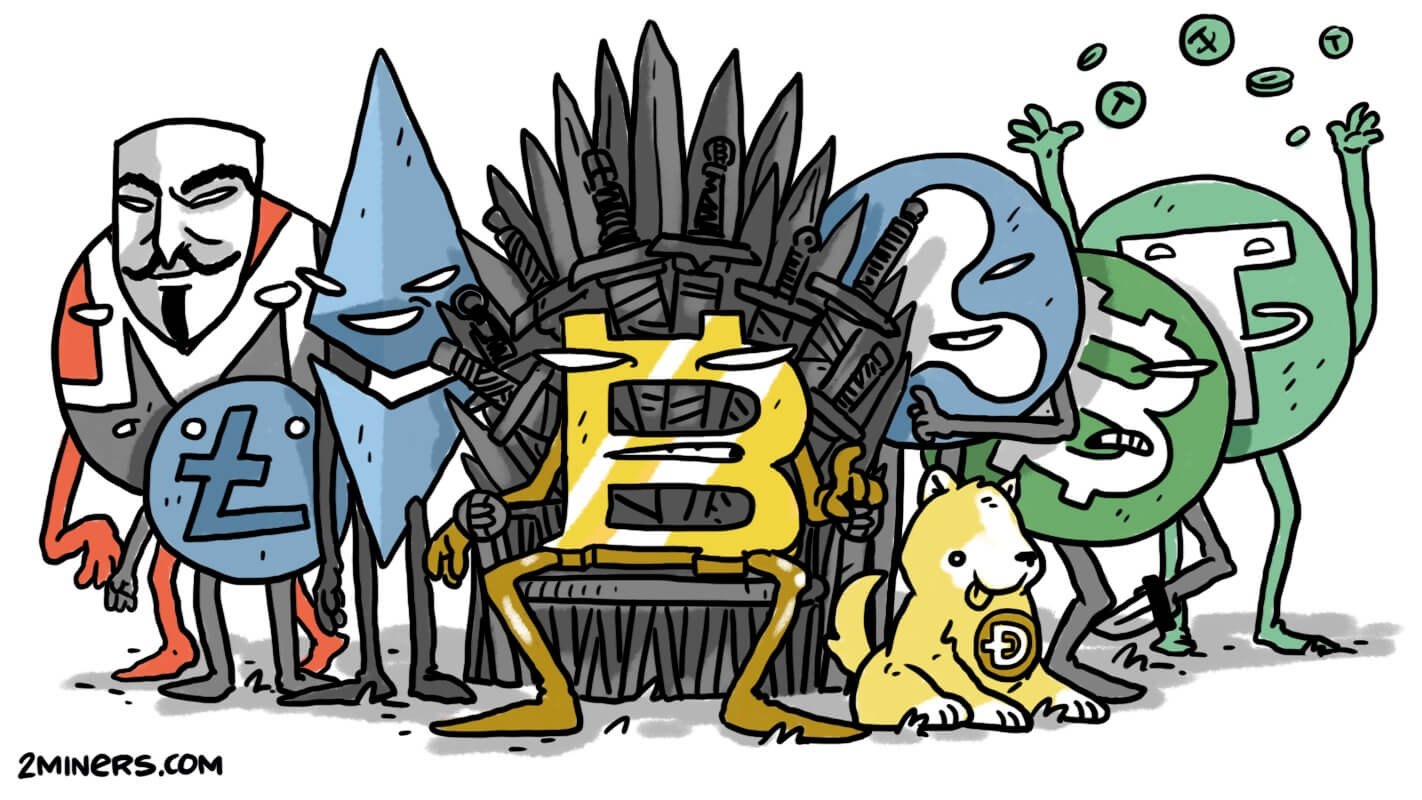 Ravencoin Features
Ravencoin is a Bitcoin fork, but it has a few differences. There are four of them:
block reward is 5,000 RVN;
block time is 1 minute;
maximum coin supply is 21 billion;
mining algorithm is X16R.
Other unique features of the project are as follows:
the network is ASIC-resistant, which secures it against potential centralization;
the coin was launched in a fair manner – no premining and ICO;
the developers don't hold the coins fund and don't get a percentage from emission;
the loyal community and the open source code.
Ravencoin Performance
Today RVN is worth $0.05. The coin is actually doing better than most of its competitors. According to CoinGecko, Ravencoin reached its peak price of $0.073 on March 27, 2018.

According to CoinMarketCap, RVN was worth $0.072 on April 7. In comparison with other altcoins that decreased in value by at least 80%, Ravencoin stays pretty strong.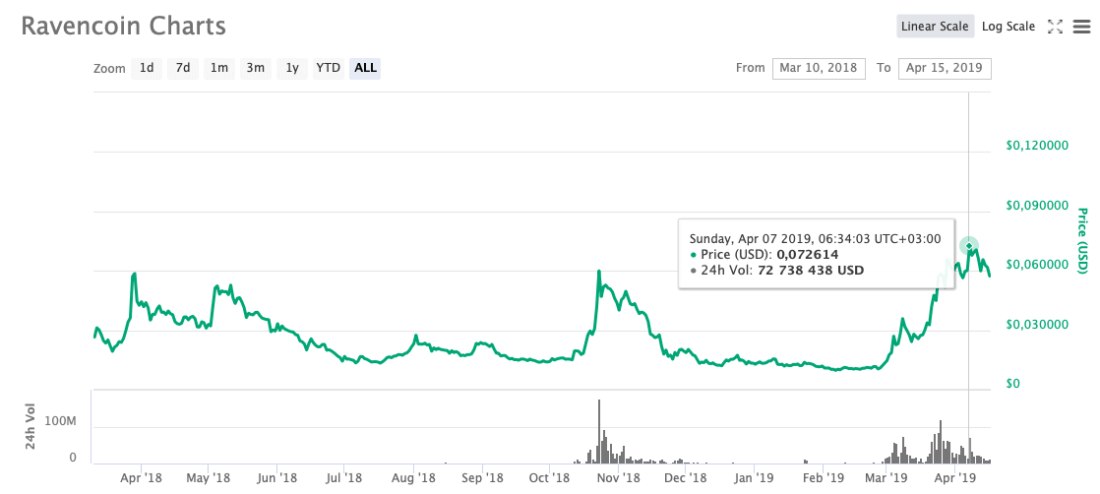 The circulating supply is a little over 3.33 billion RVN. At the current exchange rate, the market cap is $191 million. The coin ranks 37th in the world chart.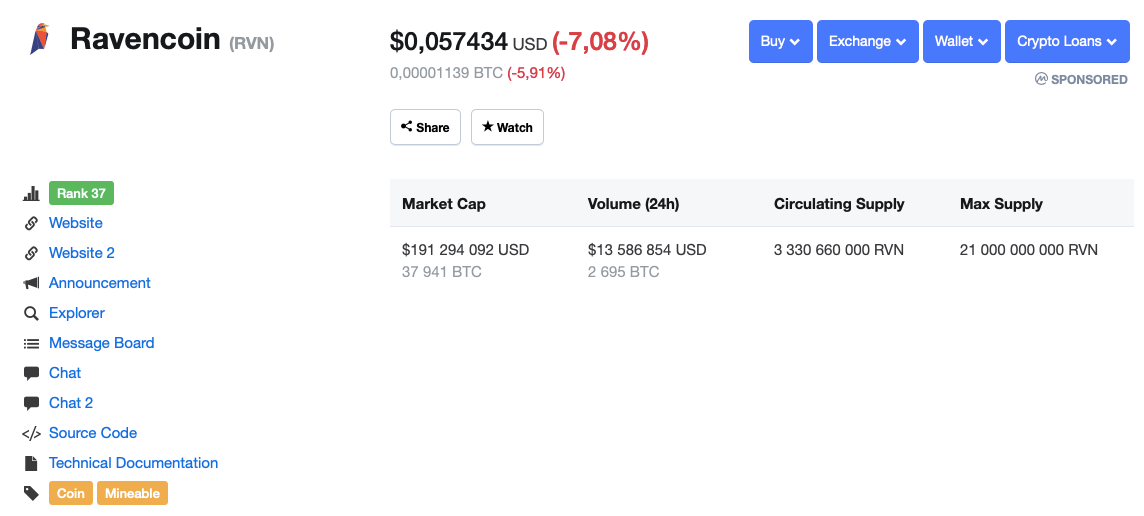 Where to Buy Ravencoin
The trading volume in the last 24 hours is $13.58 million. Binance accounts for a 1/3 of the market – a little over $4.72 million.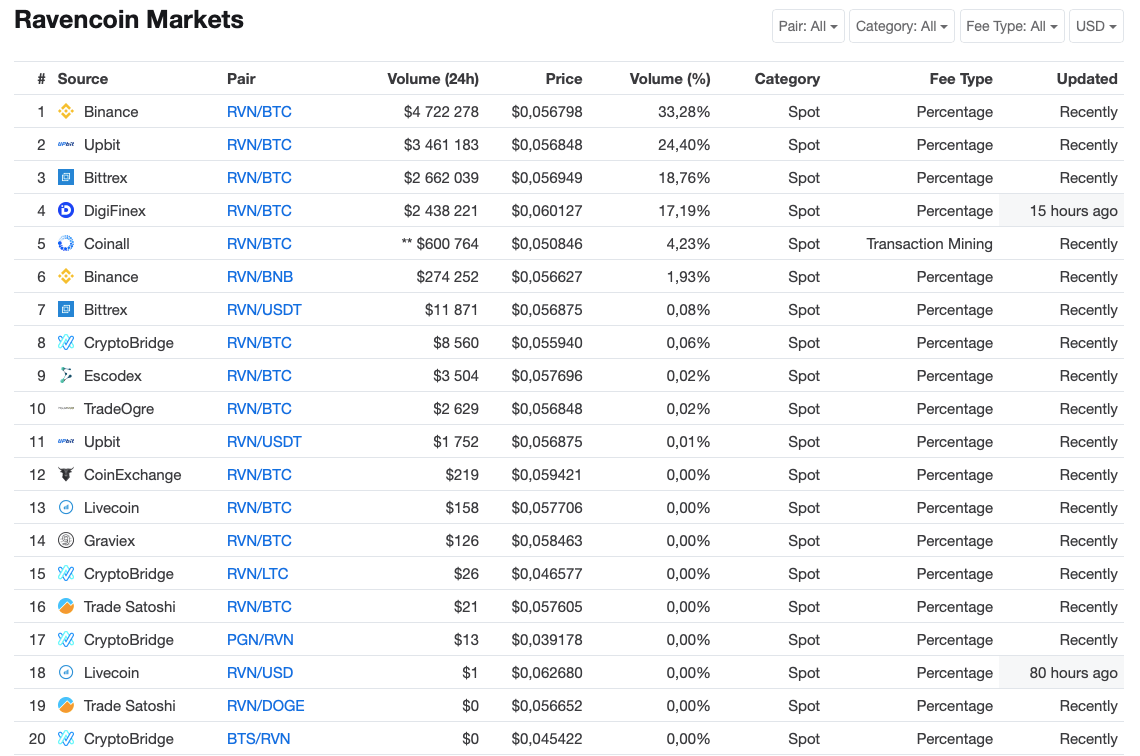 Upbit, Bittrex, DigiFinex and Coinall are also on the list. Other exchanges trade insignificant volumes.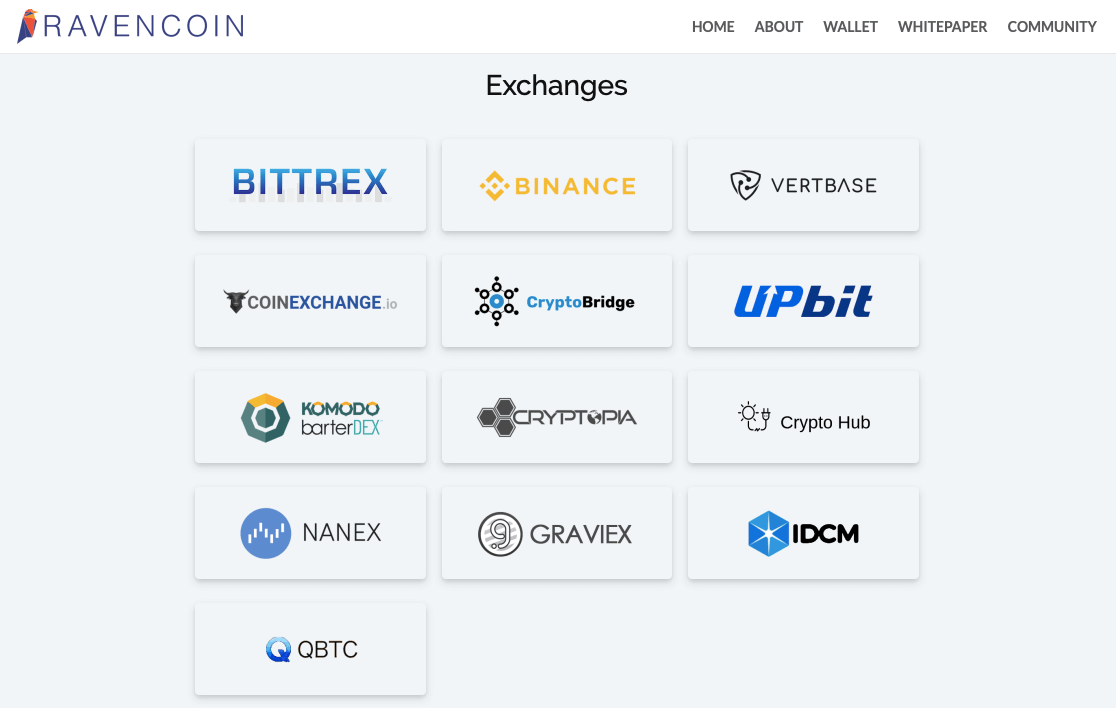 These exchanges are listed on the official website.
Wallet for Ravencoin
There are many wallets for RVN. Here you can download software for Windows, MacOS, and Linux, as well as for mobile platforms – iOS and Android. And finally, there are paper wallets by Penfold and MSFTserver.
Ravencoin Mining
RVN mining is based on X16R algorithm. It's not unique: it is also used by Gravium, Hilux and other less known coins. The algorithm has a very important feature – ASIC resistance.
In theory, the fixed order of hashing algorithms doesn't obstruct ASIC development. X16R creators came up with a different strategy: they alternate X15 and SHA512 algorithms, and the order is defined by the hash of the previous block. So ASIC miners are nearly impossible to build.
What to Use for Ravencoin Mining
RVN can be mined with Nvidia and AMD graphics cards. Use this link to download the archive with the miner. The password is 2miners.
T-Rex is for Nvidia cards, and SGMiner is for AMD. Requirements are quite reasonable. Even Nvidia GTX 1030 can mine RVN, so you can use practically any GPU.
Where to Mine Ravencoin
We recommend mining Ravencoin on 2Miners pool – we have both SOLO and PPLNS.
T-Rex settings for X16Rv2:
t-rex -a x16rv2 -o stratum+tcp://rvn.2miners.com:6060 -u YOUR_ADDRESS.RIG_ID -p x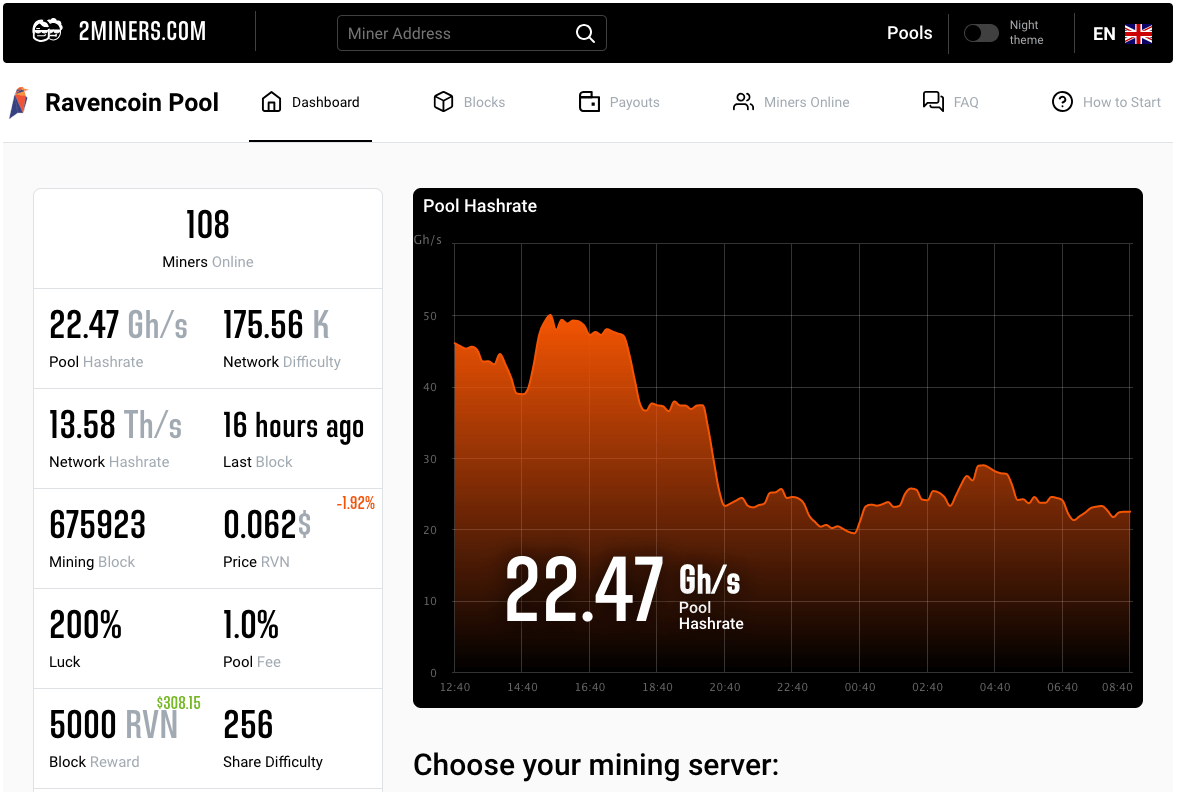 Just edit the bat file from the archive and enter your data. Replace YOUR_ADDRESS with your wallet.
For example, RHUC17zAVjNqXDtkqwLPRvQ2XgoRZsXeeG.
Replace RIG_ID with your rig name – it will be displayed in the miner statistics. This field is optional, so you may as well leave it blank. Otherwise, use no more than 32 symbols that can be Latin letters, numbers, as well as symbols "-" and "_".
For example, rig-1.
After you run the bat file and mining starts, you will see the following.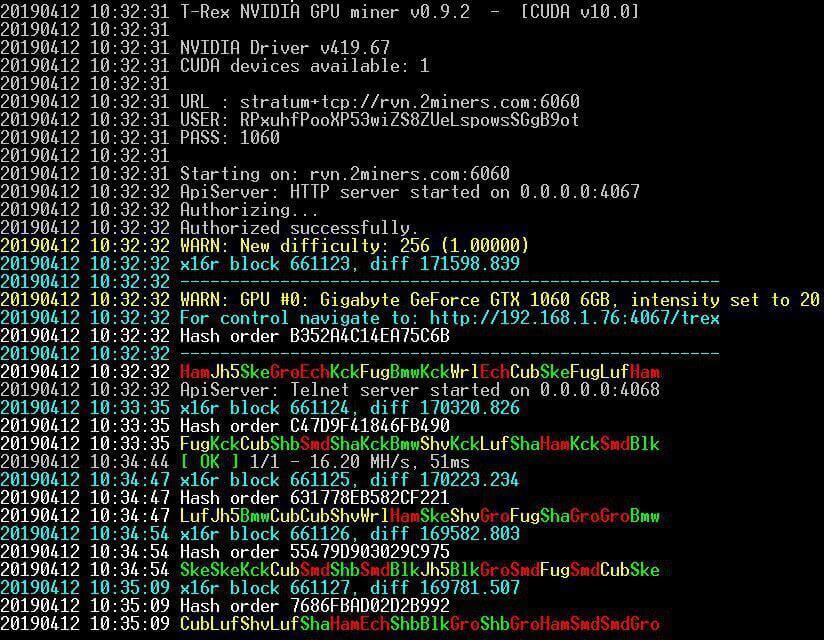 Ravencoin Mining Setup for NiceHash and MiningRigRentals
RVN pool is compatible with mining rental services. Here is a setup for NiceHash.
Algorithm: X16R
Pool Host: rvn.2miners.com:6060
Workername: YOUR_ADDRESS
Password: x
And this is a setup for MiningRigRentals.
Algorithm: X16R
Pool Host: rvn.2miners.com:6060
Workername (-u): YOUR_ADDRESS
Password (-p): x
Ravencoin Mining Profitability
As usual, we are using WhatToMine to estimate the potential profit. Let's take eight Nvidia 1080Ti cards as an example. On X16R algorithm they give out 232 Mh/s and consume 1520 W.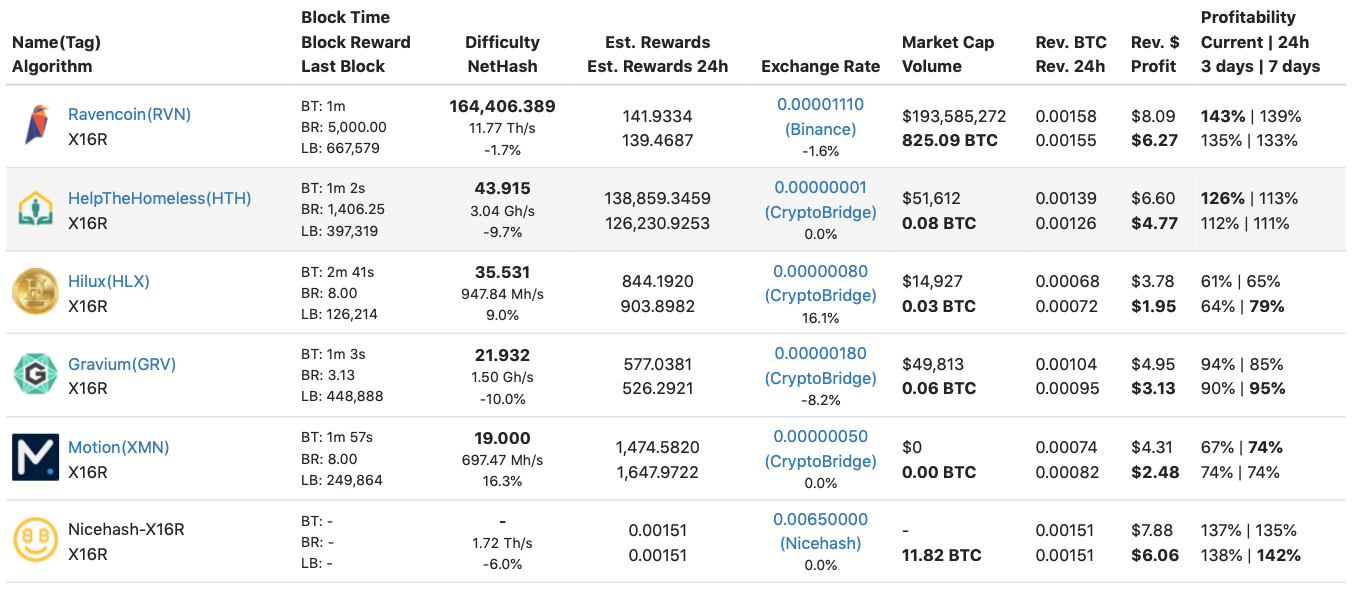 At the electricity cost of $0.047 per kWh, we get a little over $6.00 per day. This is a good result, considering that Ethereum mining with the same equipment brings 1.5 times less – only $4.00.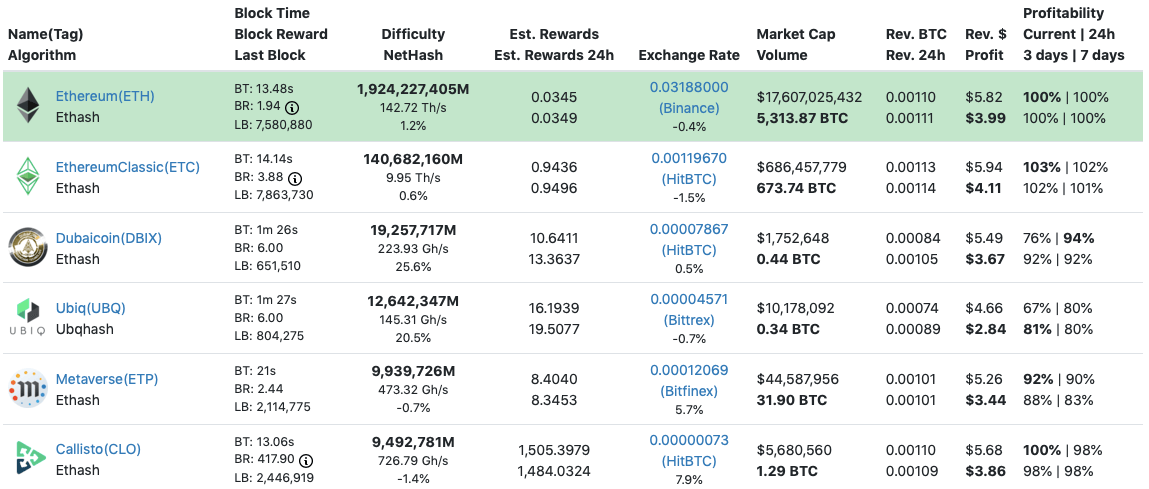 Conclusion
Ravencoin is a new project that won over the members of the mining community. First of all, miners like the coin because it brings a good profit. Also, the coin price is not bad – it is expected to reach its peak value very soon. As for now, we believe in its developers. We hope that Ravencoin will keep going strong, and there will be even more practical cases of RVN application.