Email Notifications
We've added email notification feature for all of the 2Miners pools. Go to your miner statistics and click the "Notifications" tab.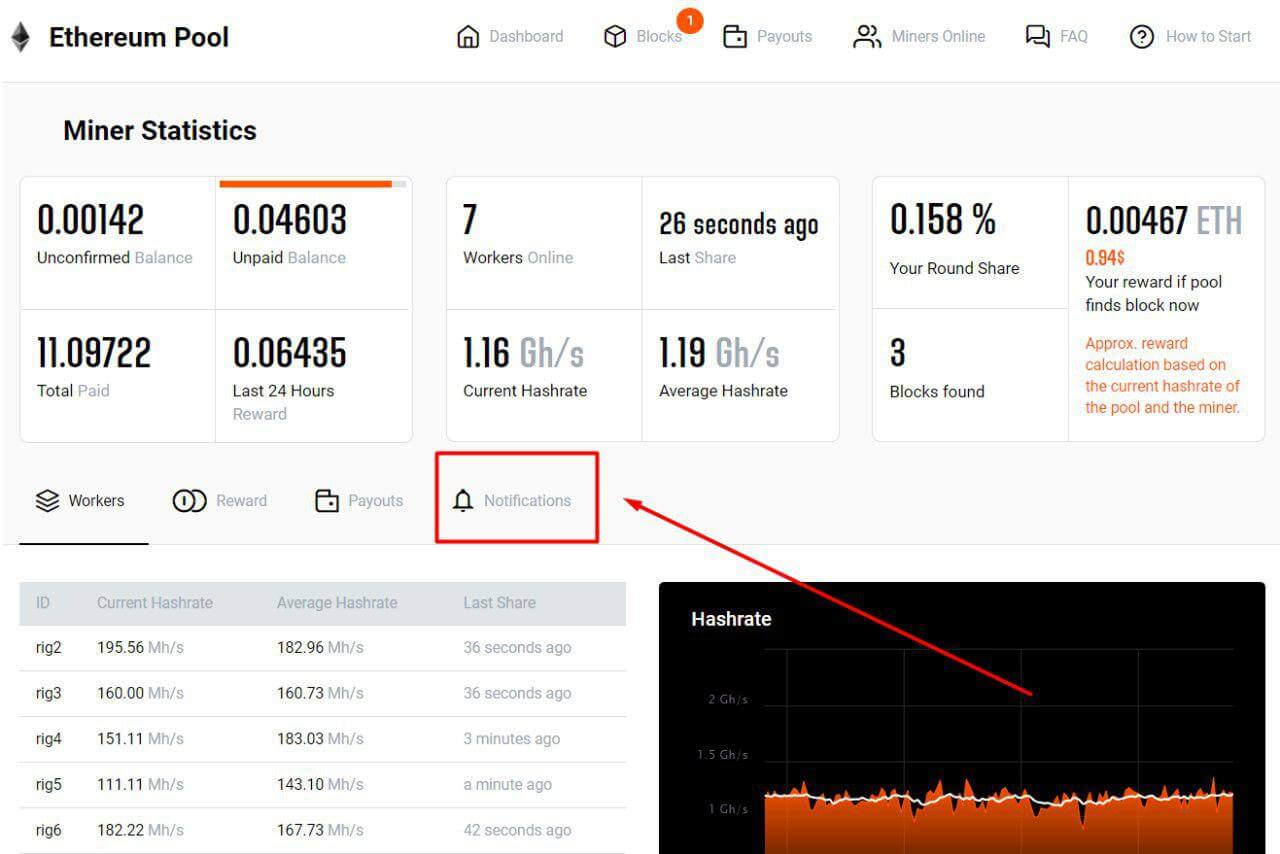 Notification interval is customizable. Set it up and press Save. The confirmation email would be sent to you. Click the link in the email to confirm the notification settings.
Monitoring Bot New Features
Telegram Monitoring Bot @Pool2MinersBot was upgraded. We've implemented a couple of new functions.
First, you could toggle monitoring for a particular address. Sometimes you do the rig maintenance, and you don't want to overflow with messages that the rig is offline. You could simply switch off monitoring for a particular time. That is extremely helpful when you are using the bot from mobile device. Thus you don't need to enter your wallet address again. Just turn back on monitoring in the bot Settings, after that.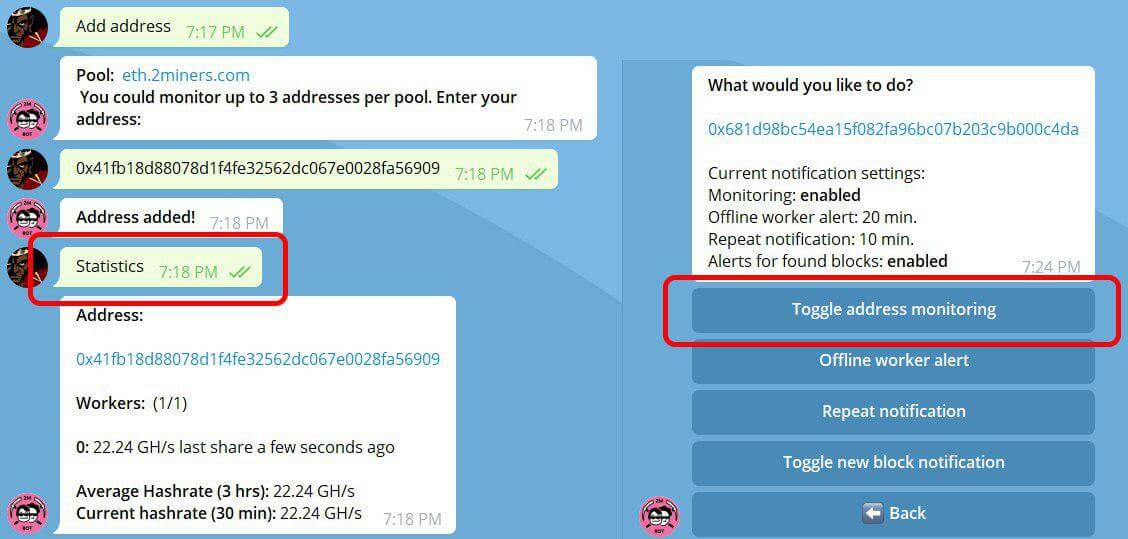 Second, if you have only one address registered in the bot, you don't need to specify it all the time anymore. The bot remembers your address and shows the settings and statistics for this address only.
Minimum Payout Increase
The minimum payout for BTG, ANON, ZEN, ZCL, BTCP, HUSH is set now to 0.1 coins.
The minimum payout for MOAC is set now to 3 coins.
These changes have been done for multiple reasons including the cryptocurrency exchanges requirements. A lot of miners are mining directly to the crypto exchanges wallet addresses. 2Miners pools are absolutely fine with that. However, these exchanges sometimes have the minimum reqired deposit amount which was higher than our minimum payout.
Old High Diff Ports Are Closed
We've closed the following high difficulty ports at PPLNS pools. These ports were not used for a long time.
We've removed Callisto (CLO) port 3232 -> Please use 3030 instead.
We've removed Bitcoin Z (BTCZ) port 2222 -> Please use 2020 instead.
We've removed Bitcoin Gold (BTG) port 4141 -> Please use 4040 instead.
Equihash 144.5 Miner Updates
A lot of the Equihash 144.5 mining software was updated in October. If you are mining BTG, ANON, BTCZ, please don't forget to update! For example, the latest versions of the EWBF (ver. 0.6) and lolMiner (ver. 0.5) software are indeed faster than the previous ones.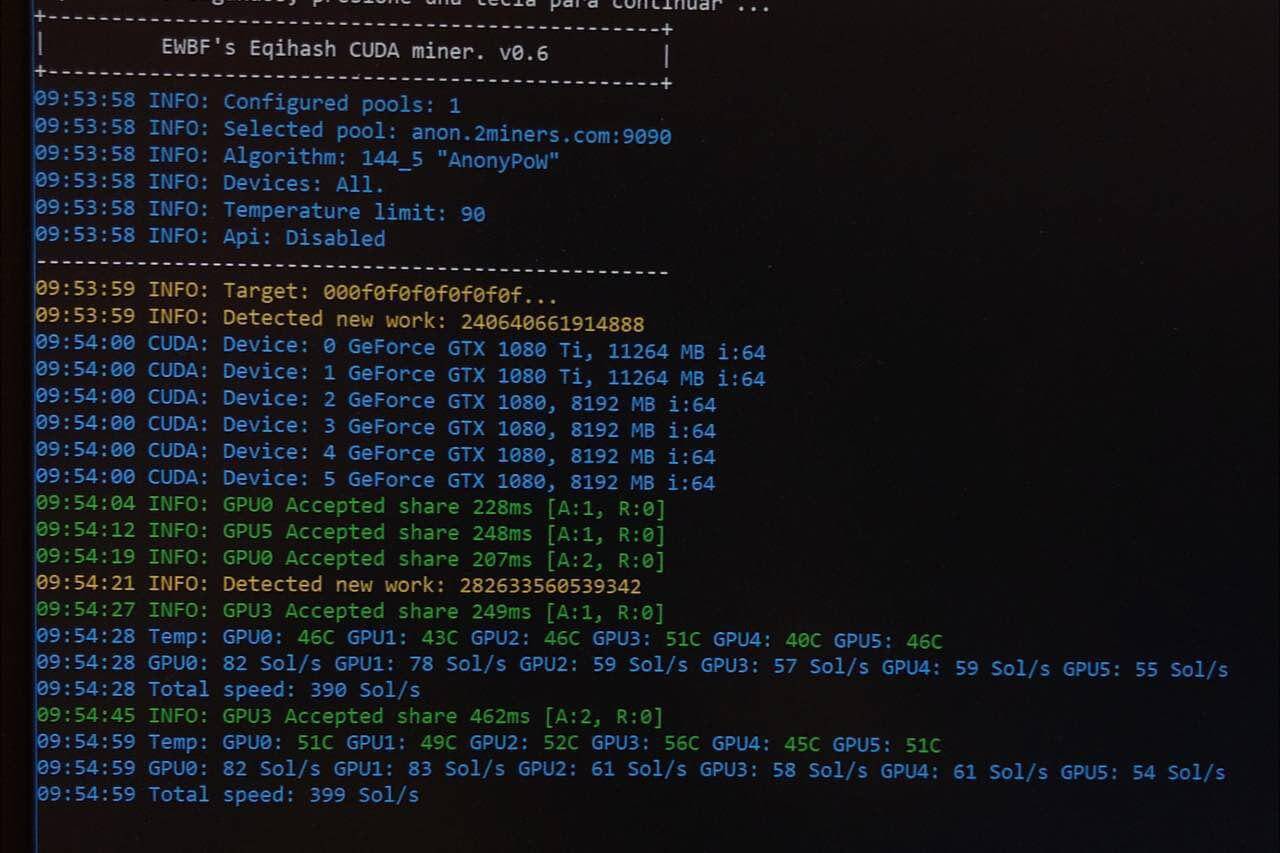 Please remember that you could always set up your miner in a couple of clicks. Go to the How to Start section of the mining pool and download our ready-to-go archive.
Here's the archive, archive password – 2miners
All you need to do is to replace the wallet address in the bat file with yours.
Callisto Network Under Attack
Callisto (CLO) network had some severe problems in October. Hopefully, the cryptocurrency network is stable now, and you are welcome to mine CLO at 2Miners. Our blockchain engineers have provided logs and recommendations to Callisto developers. Based on this information they have updated the node's software tonight. We have successfully upgraded all our 6 Callisto nodes, and we highly recommend other pool owners to do so.
ZCash Sapling Protocol
ZCash (ZEC) team has updated the network on block 419200.
The new Sapling protocol significantly improves Zcash's performance and function of encrypted transactions.
We already got Sapling Blocks at 2Miners. Welcome to mine ZEC: