What is Zcash
Zcash is an open-source cryptocurrency that ensures high-level privacy. Encrypted transactions conceal the sender, the recipient, and the amount being transferred in the blockchain, so it's almost impossible to track down the transactors.
Here is a fun analogy between ZEC and BTC that developers came up with: Bitcoin is http for money, while Zcash is https with an extra layer of protection.

They introduced this currency at the end of October 2016. It reached its peak rate at the same time, which amounted to $4,293. As of now, one coin is worth $290.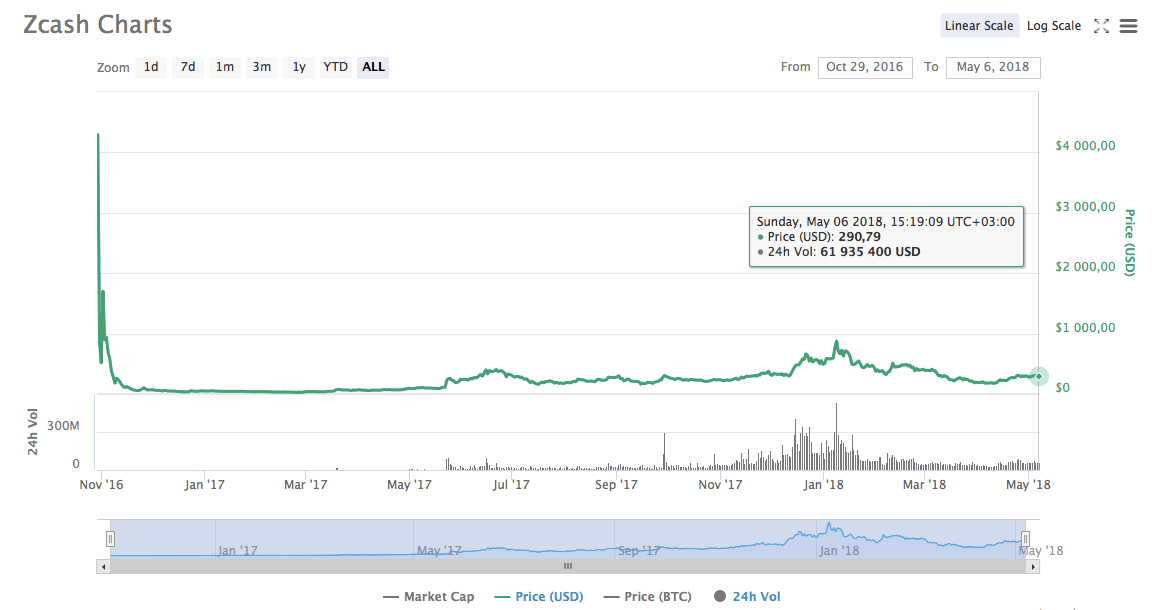 Its market capitalization is 1.121 billion dollars. It ranks 25th in the CoinMarketCap cryptocurrency chart, and every day as much as 61 million dollars' worth of ZEC is traded. The circulating supply is 3.85 million ZEC.

Where to buy Zcash
Even though Zcash is anonymous, you can easily buy it. There are around 98 platforms to trade. The top platform is Lbank which in the last 24 hours accounted for 7.6 million dollars' worth of Zcash exchanged for bitcoins, and 5.3 million dollars exchanged for Ethers.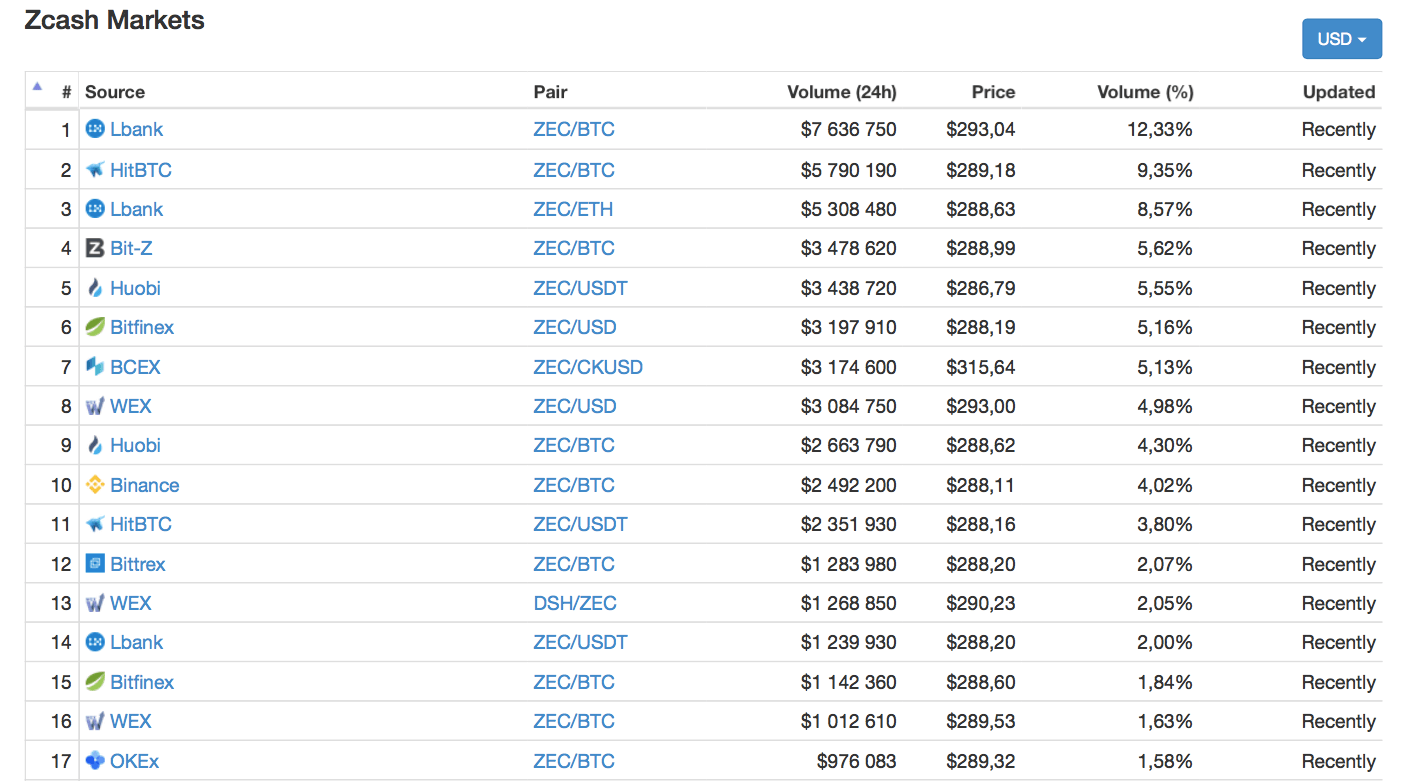 Zcash (ZEC): Future plans
At the beginning of March, the developers announced the first Zcash fork. The upgrade called Overwinter is due to take place on June 25, 2018. It includes a new feature of transaction expiry, replay protection, and other significant improvements.
Overwinter will also pave the way for the Zcash Sapling upgrade scheduled for the end of 2018.
Zcash Wallet
The small amount of Zcash may as well be kept on exchanges but, if you want more protection for your funds, then you should download and install the local wallet with the entire blockchain to your computer.
On Zcashcommunity you will find the full list of all the software programs including those that work on the Zcash Client.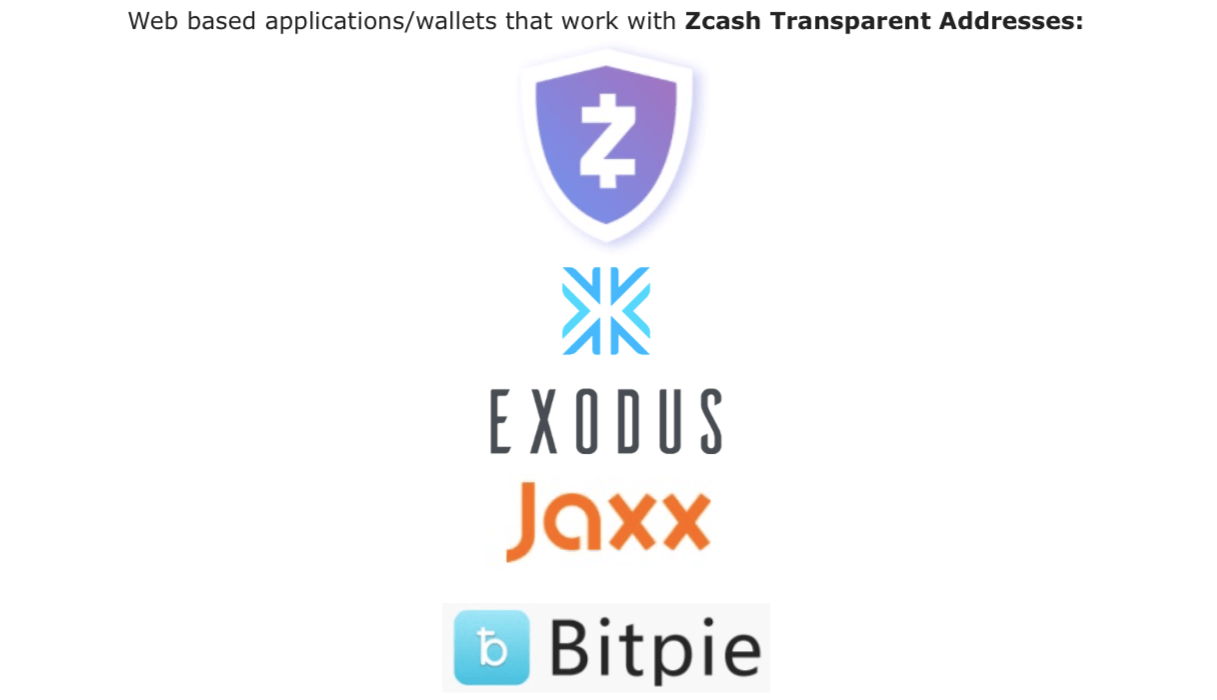 Zcash Mining Hardware
We recommend Nvidia graphics cards for Zcash mining. AMD cards also work, but their performance quality is not as good. Since Zcash is Equihash-based, the same rigs that mine Bitcoin Gold, Bitcoin Private, Zclassic, and other similar coins will also work for Zcash.
Zcash Mining Profitability
You can use WhatToMine to calculate the profitability of any coin. For example, let's say, your hashrate is 6000 sol/s which corresponds to a rig with 8 Nvidia 1080Ti graphics cards.

As of May 6, it will bring $21 a day, or $630 a month.

Zcash Mining Difficulty
Difficulty is an essential parameter for network operation. When the number of miners grows, the challenge gets higher. Difficulty helps to maintain block find time at the select level and ensure network stability.
For example, you mine Zcash for 1 count at $10 a day. If that coin price increases to $20 a day it is because there are twice as many miners as before (difficulty x 2) and you would get 0.5 counts a day. However, it would still be 10$ a day.

At the time we wrote this article when the difficulty rate amounted to 9.93 MS. Read more about difficulty here.
Claymore for ZEC Mining
As of now, the block reward is 10 ZEC or a little more than $2,900. The block finding time is 2 minutes 28 seconds.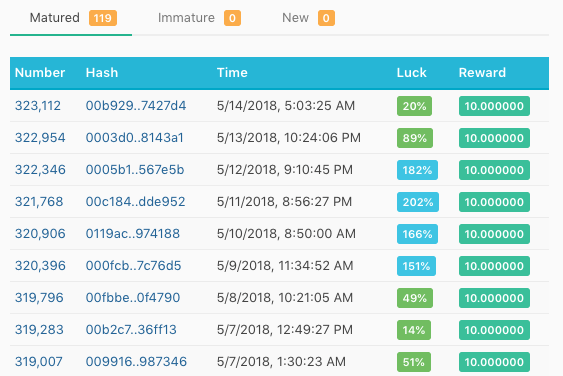 But even with 5 mining rigs and 8 Nvidia 1080Ti cards on each of them, you won't find more than one block a month, which makes mining rather pointless. Find out the bets of mining on your rigs here.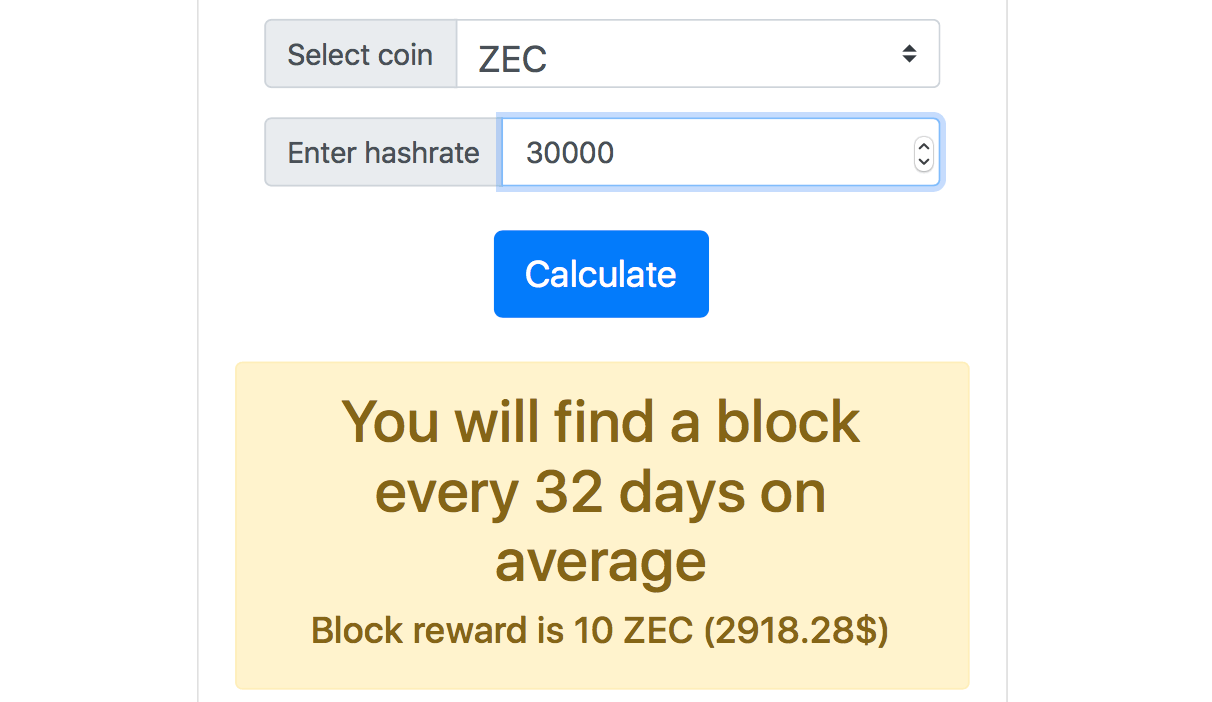 We can recommend solo mining only to those who have great mining power. If this is not the case, you should mine ZEC on pools.
Zcash Mining Software
For Nvidia, download the latest version of EWBF's CUDA Zcash miner and for AMD the – Claymore's ZCash AMD GPU Miner.
Click here to download the pre-configured bat files for cryptocurrency mining on our ZCash Mining Pool. The password is 2miners.
Don't forget to change the wallet address to your own in the file /EQUIHASH/AMD/zec-pool.bat or /EQUIHASH/NVIDIA/zec-pool.bat. You can use Notepad or any other text editor.
Then you can run the bat file and connect to the pool. Over 5,000 miners mine with us simultaneously, and paid rewards amount to millions of dollars.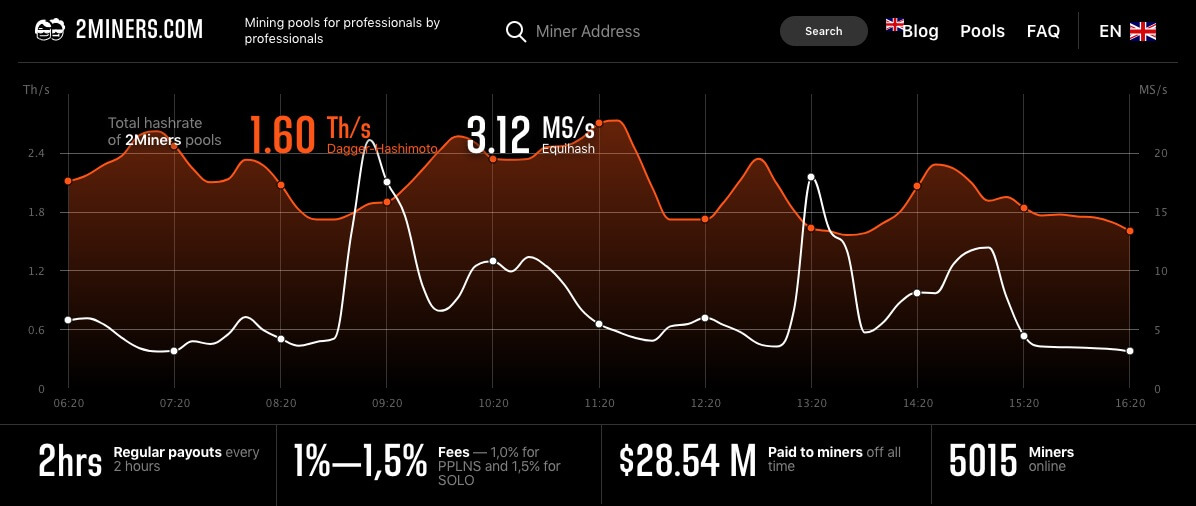 Q&A Section
Is Zcash (ZEC) mining profitable?
Yes, it is. Every 2.5 minutes miners get 10 ZEC or $2,900. So an hour of Zcash mining brings to rig owners $69,600. Not bad at all!
What should I mine on GPU?
Virtually you can mine any cryptocurrency on GPU. Here is our advice: put your resources into perspective and if you don't have enough mining power, don't rush into solo mining. The right choice of graphics cards is also important. Nvidia works better with Equihash, AMD – with Ethash.
Is it possible to solo mine Zcash on Windows 10?
Yes, it is, but only if you are a dollar millionaire. You should have a lot of mining rigs – no less than 250–300 if you want to solo mine Zcash. For obvious reasons, you can't do it at home.
How to start mining Zcash?
Get a ZEC wallet and generate the address. Download the mining software. Then edit the bat file and run it. 
How to mine Zcash on a Mac Pro?
There is no way to do it. Sell your Mac, use the money and buy a decent mining rig.
Make sure to read our posts about other cryptocurrencies. We have tutorials for Musicoin, Calisto, HUSH, and Pirl.