Unfortunately, 51% attacks continue on Ethash (Dagger Hashimoto) coins. There is a chance of receiving
Orphan blocks
during these attacks -> less daily rewards. Our own good looking Ethereum Netstats service has been started. Ethereum community is busy with ProgPoW discussion and Constantinople upgrade.
2Miners Ethereum Network Stats
You could now easily monitor the node's performance of any Ethash coins presented on 2Miners. Click the "Network" tab at your dashboard.

Network statistics page will show up. It is available in both Day/Night modes just like the dashboards. The netstats is available now for coins: ETH, ETC, CLO, MOAC, EXP, MUSIC, PIRL, DBIX, ELLA, YOC, AKA. More coins to come soon.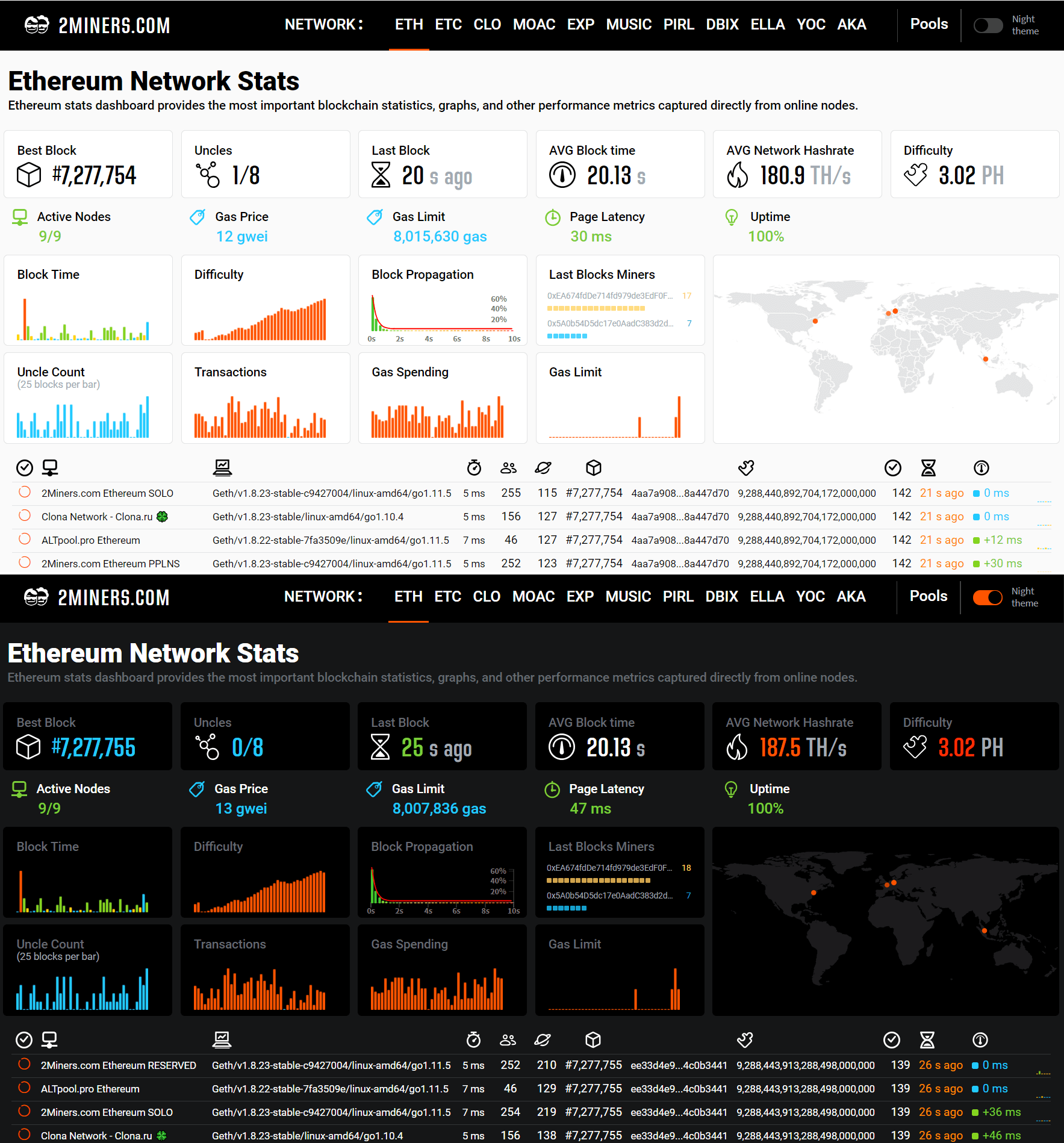 You could connect your own nodes too. How to add your node? Please feel free to contact us if you need any support.
MOAC Compensates the 51% Attack Loss
We've already stated that MOAC was under attack at the end of January. Thanks to MOAC developers they have decided to compensate the rewards for all the blocks rejected during the 51% attack. MOAC developers have transferred us the coins for 50 rejected blocks on PPLNS pool and 22 rejected blocks on SOLO pool. We've proceeded with the payout to our miners according to this list. Thanks to our team 12 more pools (not only 2Miners) have received the compensation for 114 rejected blocks. We hope those pools have distributed the coins among their miners in a fair way.
Callisto Network Issues
Callisto Network has suffered from multiple 51% attacks in February. The blockchain has been split many times. Even the Callisto Block Explorers were showing the different chain state and blocks. Sometimes our monitoring system was halting the miner's payouts to wait until the network stabilizes.
The attacker was playing with Extra Data in the blocks. Sometimes the attacker pretended to be a 2Miners pool. The other blocks he wrote, "28.02.2019 Binance Listing" in Extra Data field.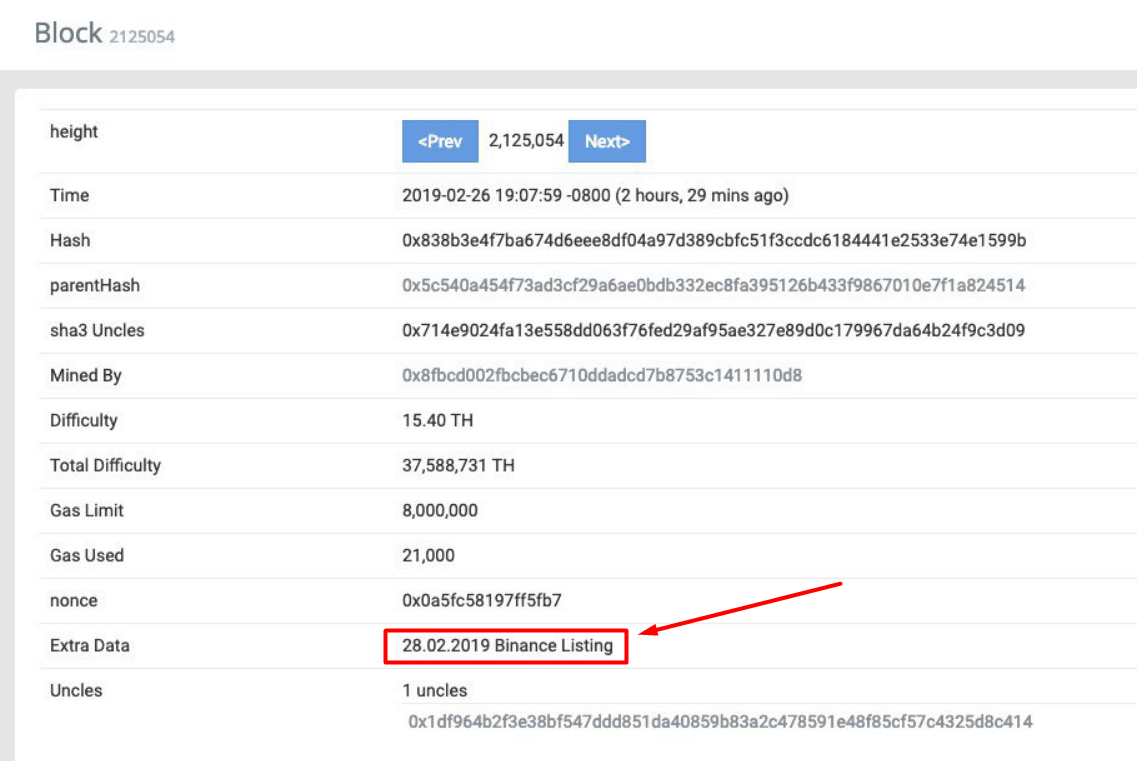 We always stand for our miners. First, we've lost $800 that CLO team has refused to compensate. They've just advised us, 12 hours later after the attack, to increase the block confirmation time to 300 blocks. Unfortunately, that didn't help. The attacks were so massive that we've lost $1000 more on Orphan blocks confirmed in chain split state.
CLO has called the emergency hard fork on block 2 160 000 (approx. March 5) to integrate the PirlGuard protection system. Then the hard fork time has been shifted to block 2 135 000 (February 28). 2Miners pools have already been updated to the latest version of the CLO nodes. We hope that this hardfork will solve the Callisto Network stability problems.
We Support ProgPoW
ProgPoW is a mining algorithm designed by IfDefElse team as a PoW successor. The Ethereum community is currently considering implementing this algorithm on the Ethereum network. 2Miners pools are publicly speaking in favor of ProgPoW algorithm. Starting February 12th, we added "PPYE(S)" to all blocks found in our pool.
We created a special sticker "We support ProgPoW", and we encourage all mining pools in favor of ProgPoW to use it. All you need to do is to insert the logo of your pool into a white circle on the GPU cooler. Please find all the logos here.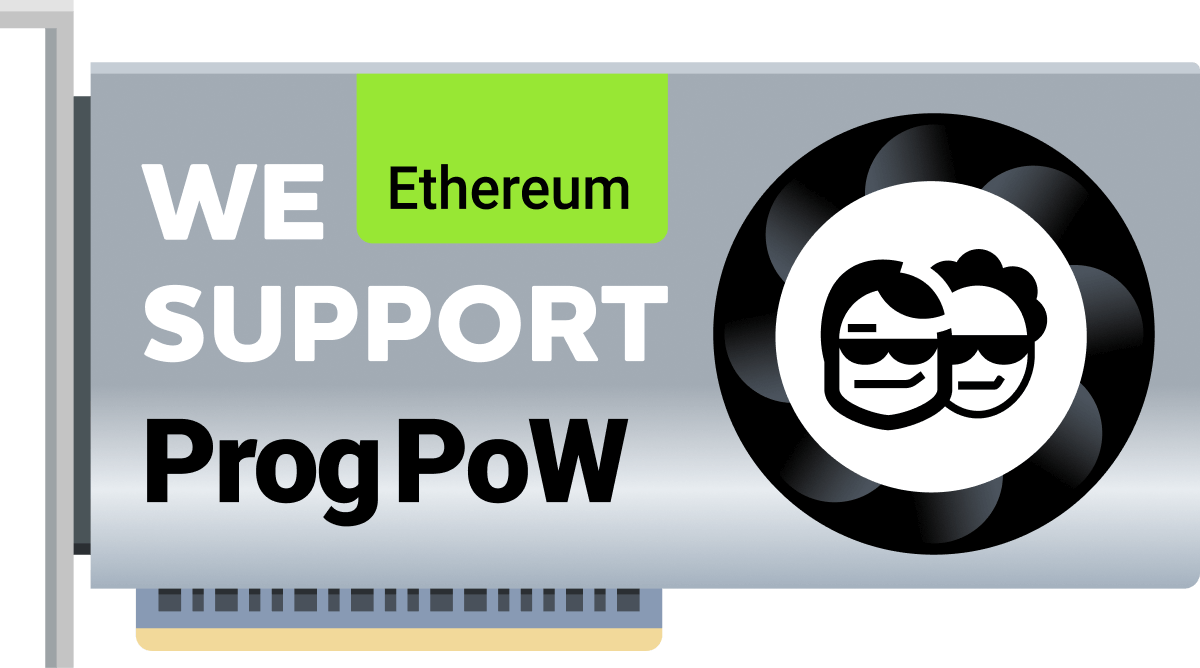 2Miners has successfully launched an Ethereum ProgPoW test network. The ProgPoW pool is online, so anyone can try mining ProgPoW Ether on the test network.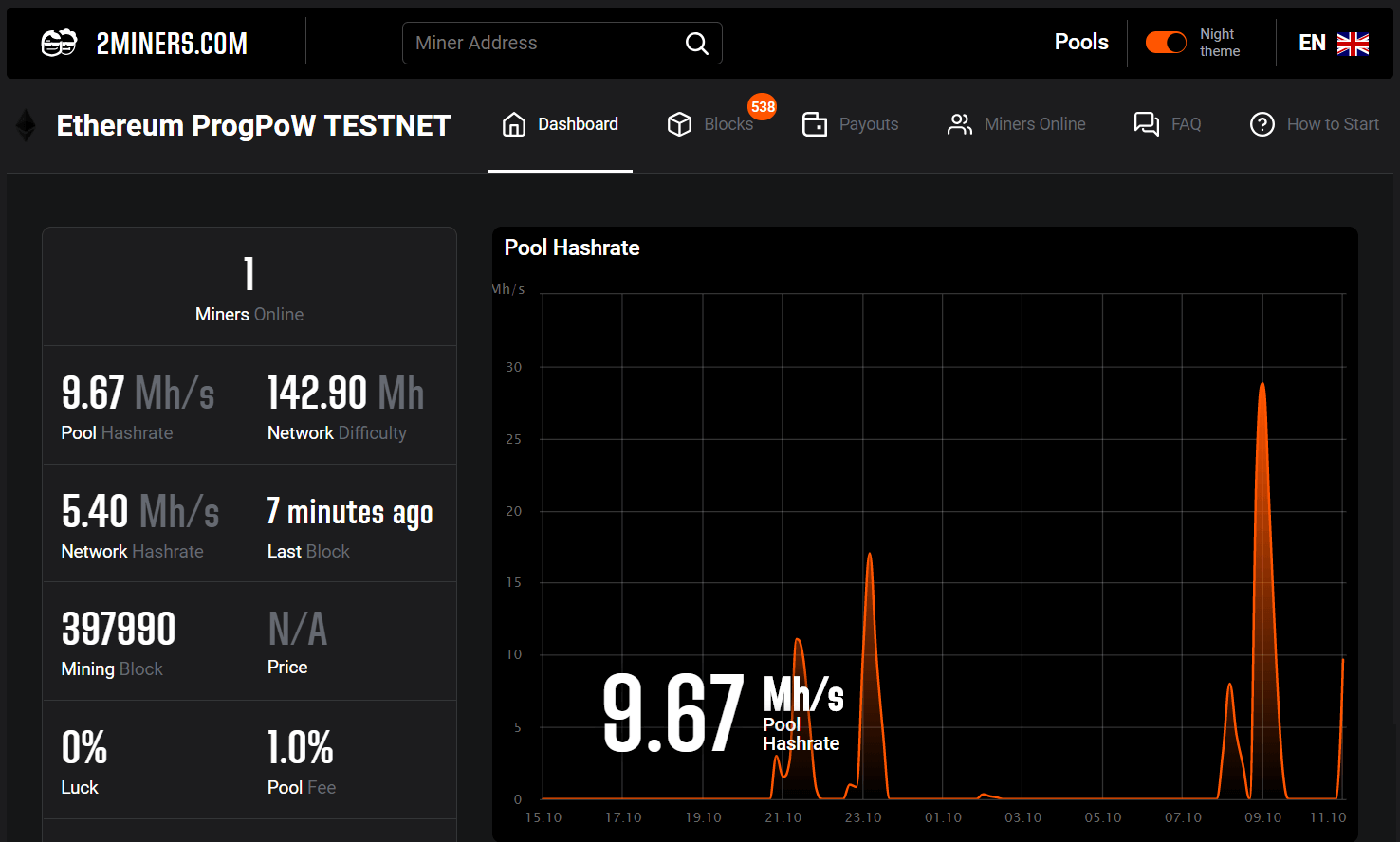 ProgPoW voting results from could be found here. More than 50% of network hashrate are voting. All of them say"YES" to ProgPoW. Please read our article Ethereum ProgPoW Explained if you want to sort out all the details of the ProgPoW.
Constantinople/St. Petersburg Ethereum Upgrade
Constantinople/St. Petersburg Upgrade on Ethereum (ETH) network has been successfully performed at block 7 280 000 on the last day of winter – February 28.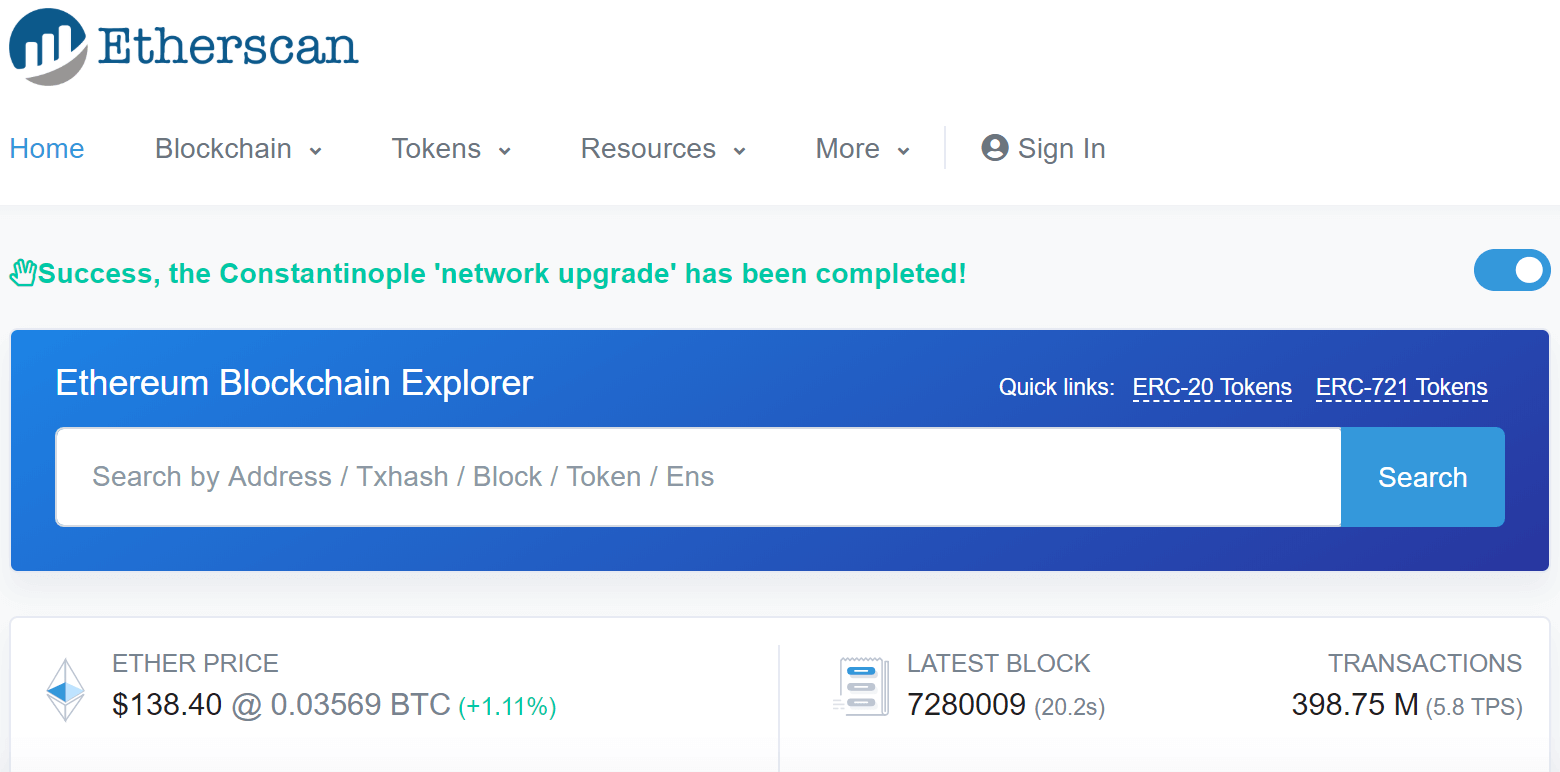 The block reward is now reduced from 3 ETH to 2 ETH. The difficulty bomb is delayed for 1 year (the block time would be reduced from ~20 sec to ~14 sec). The total amount of Ethereum mined every day is now ~5% less.
2Miners pools run the latest version of the Geth node 1.8.23. The upgrade has gone smoothly. Our miners should not perform any actions.
Please note that the switching to ProgPoW algorithm has not been included in this update. ProgPoW is still being audited and discussed by Ethereum community.
Zclassic Sapling Update
Sapling update has been activated at block 476 969 for Zclassic (ZCL) on February 24.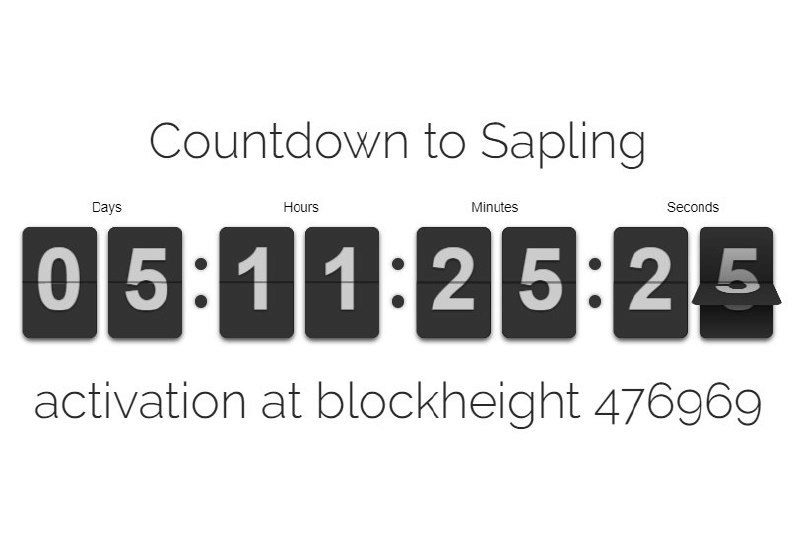 2Miners SOLO and PPLNS pools have been successfully updated.
We must note that it is the first update for Zclassic network for a long time. We hope that new Zclassic Community Edition Team will go on with the development of the ZCL coin.