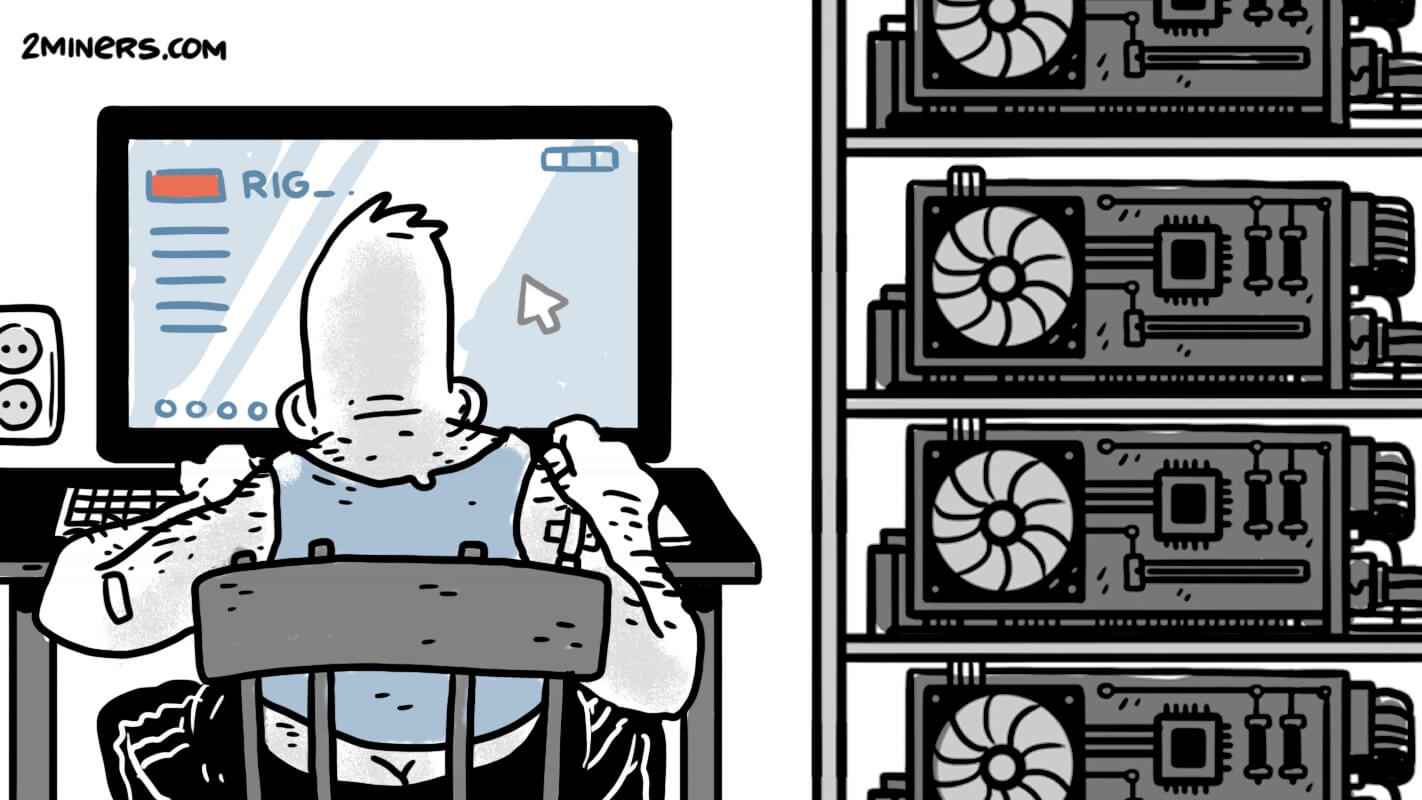 How to Setup and Launch lolMiner?
In July ZelCash developers performed Kamiooka hardfork. The upgrade brought the new ZelHash algorithm and protection against ASICs and FPGAs. Since then ZEL mining has remained profitable at all times which is confirmed by 2CryptoCalc calculator. ZelCash is still the most profitable coin for mining even today. The screenshot below shows daily performance for 300 Nvidia 1070 Ti cards. ZelCash outdoes Beam, Zcoin, and Ethereum. That's why we chose it as an example for the review.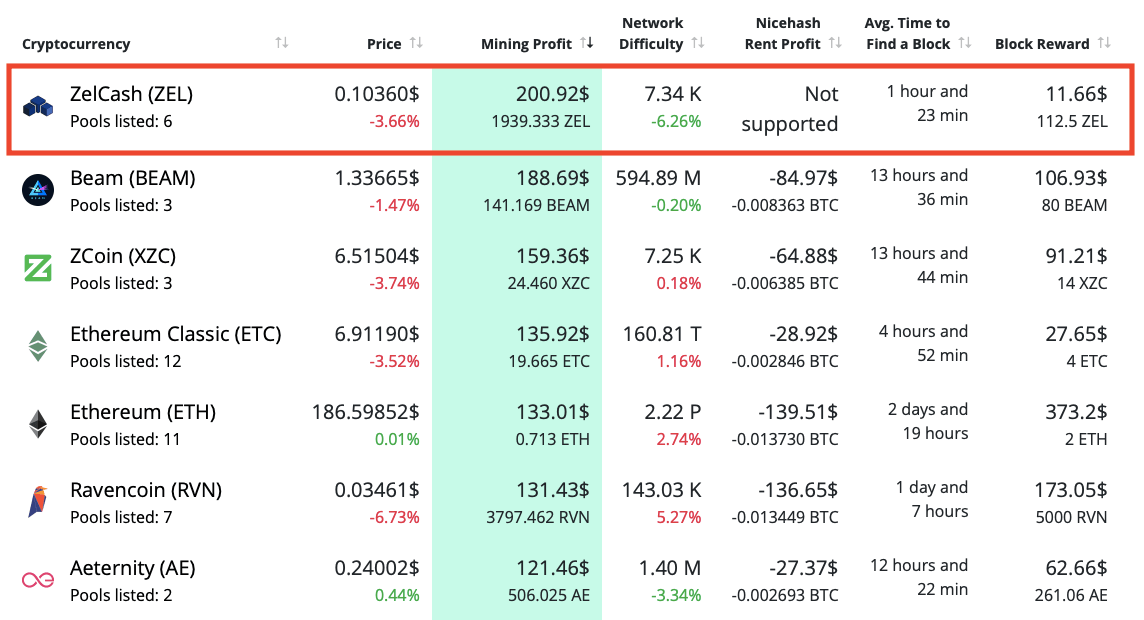 What is lolMiner
lolMiner supports Equihash and Cuckatoo algorithms. The program was developed for AMD graphics cards. Most of Nvidia cards are supported as well, but their operation stability and speed on lolMiner is questionable. Developers themselves warn about it on the project page on BitcoinTalk.
As usual, developers charge a fee. It is 1%, which means that your hardware will work for developers a bit over 14 minutes every day.
What To Mine On lolMiner? Available Algorithms
The miner supports several algorithms. Here is the list with recommended GPU memory based on the latest version – 0.8.8.
Equihash 96.5

–

MinexCoin

–

1.3 GB
Equihash 144.5

–

Bitcoin Gold

,

BitcoinZ

,

SnowGem

–

1.8 GB
Equihash 125.4

–

ZelCash

–

2.9 GB
Equihash 150.5

–

Beam

–

2.7 GB
Equihash 192.7

– Zero, Genesis Network –

3 GB
Equihash 210.9

–

Aion

–

1 GB
Cuckarood 29

–

Grin

–

3.8/5.5 GB
Cuckatoo 31

– Grin – 3.8/7.8 GB
The miner is actively supported by the developers and its updates are always on time. For example, in the latest update, the developers deleted BeamHash I algorithm that became outdated after Beam hardfork. They also improved the performance of Nvidia cards when working with Beam. However, for Beam we recommend using Gminer – regardless of GPU brand.
GPU Hash Rate on lolMiner
We tested Nvidia cards on lolMiner. Here are the results.
Nvidia GTX 1060

– 15 sol/s

Nvidia GTX 1070

– 23–25 sol/s

Nvidia GTX 1070 ti

– 26 sol/s

Nvidia GTX 1080

– 21–24 sol/s

Nvidia GTX 1080 ti

– 40 sol/s
Hash rate is not very stable. So it is best to use lolMiner as intended – for AMD. Here are the results for "red" video cards.
AMD Radeon RX 480 4 GB

– 15–16 sol/s

AMD Radeon RX 570

– 14.5–15 sol/s

AMD Radeon RX 580 8 GB

– 26 sol/s
Important note. Ethereum and Ethereum Classic are the most profitable coins for mining with AMD. It may happen that some other coin performs best (like ZelCash), but generally, Ethereum is a safe bet. 2CryptoCalc calculator can help you choose the most profitable cryptocurrency at any time.
Where to Download lolMiner
You can download the program from the official page on BitcoinTalk. Or you can choose the easier way and download 2Miners Quick Start archive with all necessary files inside. The archive password is 2miners.
Read more: Mining on Nvidia GTX 1660 and GTX 1660 Ti. Profitability and Payback Period.
How to Setup lolMiner
As an example, we are showing lolMiner settings for ZelCash mining on 2Miners pool. Here is a bat file.
setx GPU_FORCE_64BIT_PTR 1




setx GPU_MAX_HEAP_SIZE 100




setx GPU_USE_SYNC_OBJECTS 1




setx GPU_MAX_ALLOC_PERCENT 100




setx GPU_SINGLE_ALLOC_PERCENT 100
lolMiner.exe --coin ZEL --pool zel.2miners.com --port 9090 --user YOUR_ADDRESS.RIG_ID --pass x
Remember to replace YOUR_ADDRESS with your real wallet address, so that you could receive coins.
For example, t1JKRwXGfKTGfPV1z48rvoLyabk31z3xwHa.
Then goes RIG_ID – the desired rig name. Giving unique names is a good idea if you have several rigs. You can use 32 Latin letters max, numbers, as well as symbols "-" and "_".
For example, rig-1.
Check out this video to see the whole process.
After you finish with the setup and launch the bat file, you will see the following.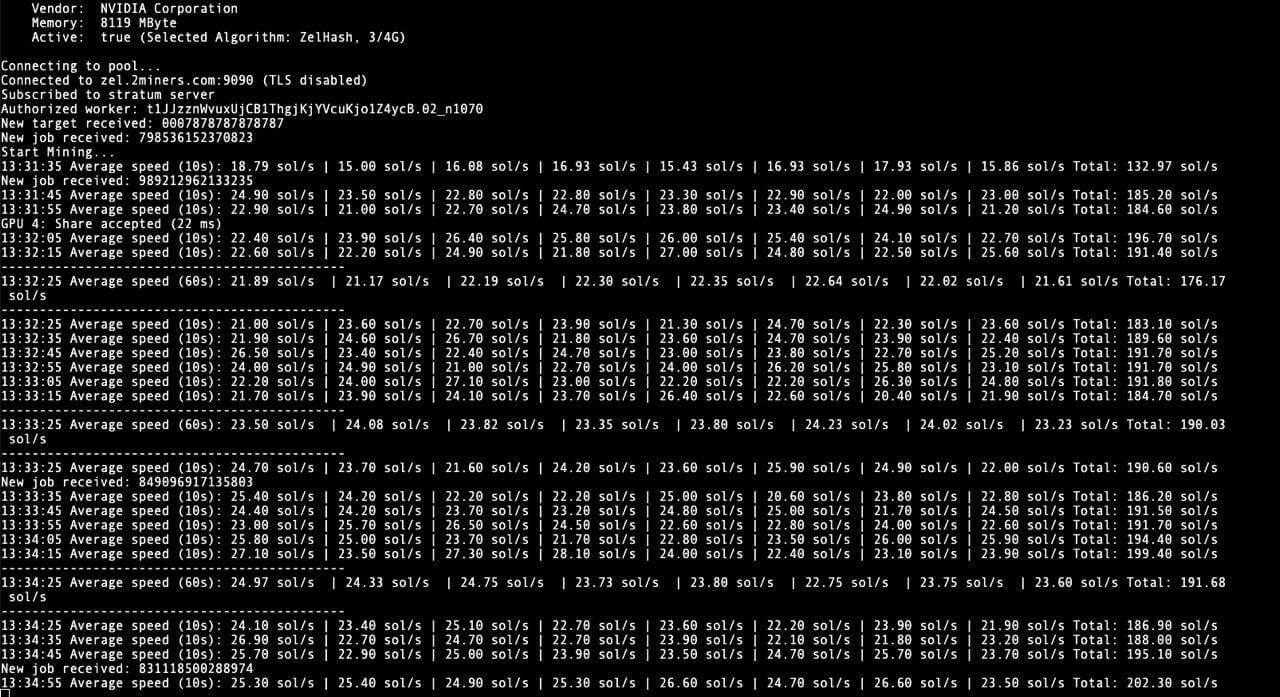 Then you can find yourself in Miners Online tab.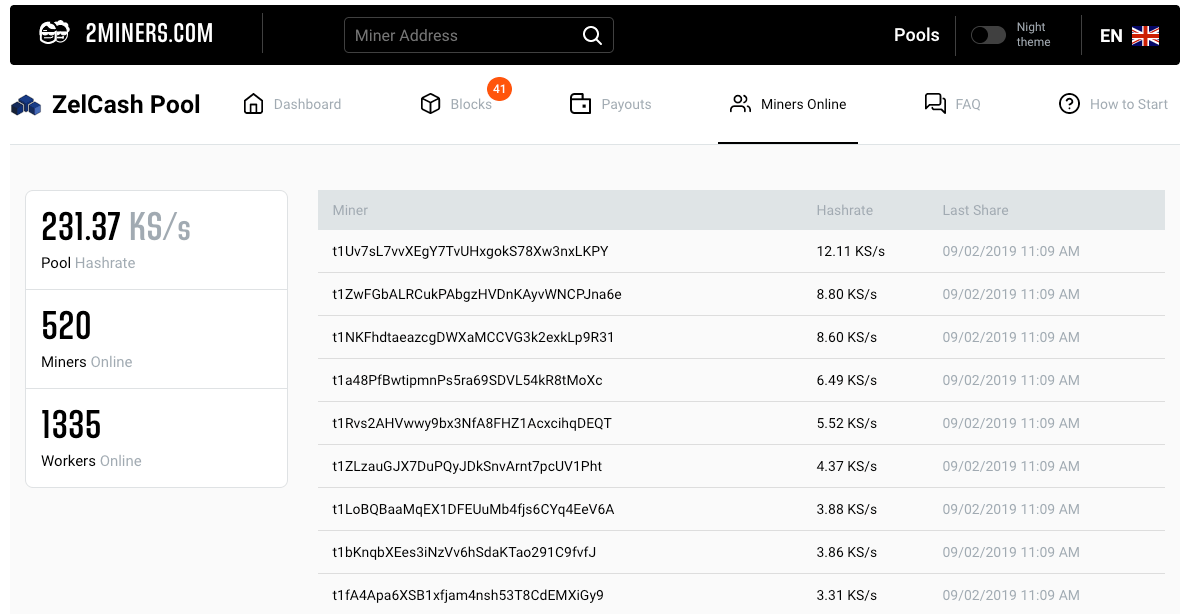 The last step is finding your address in the Payouts window. The coins will be added in a short time.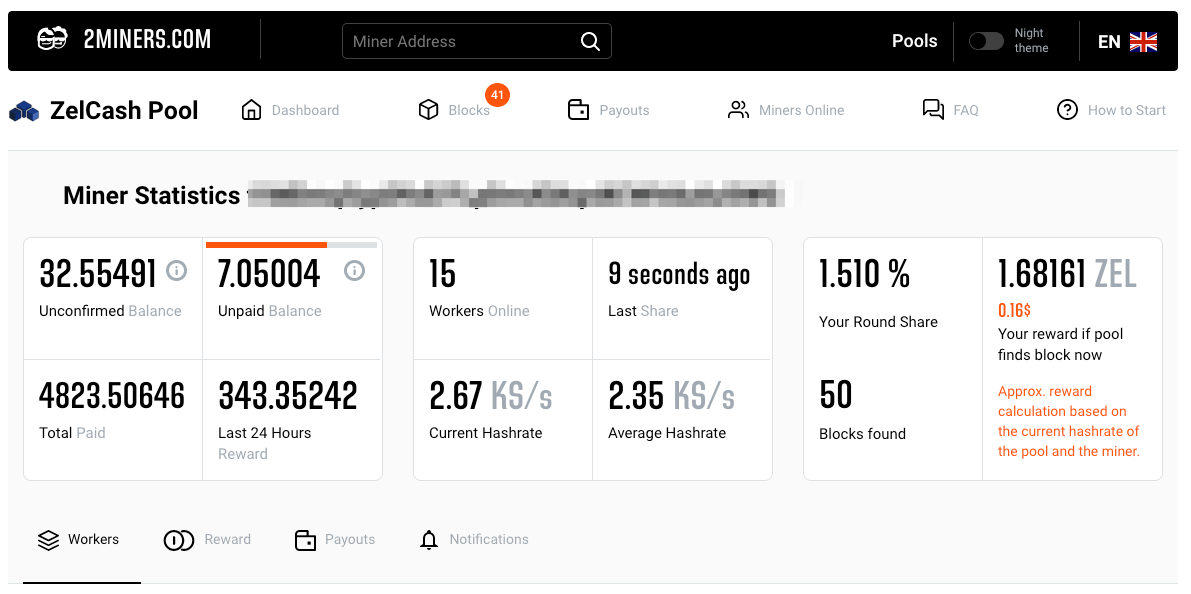 If you have any questions, feel free to ask in the miners crypto chat.