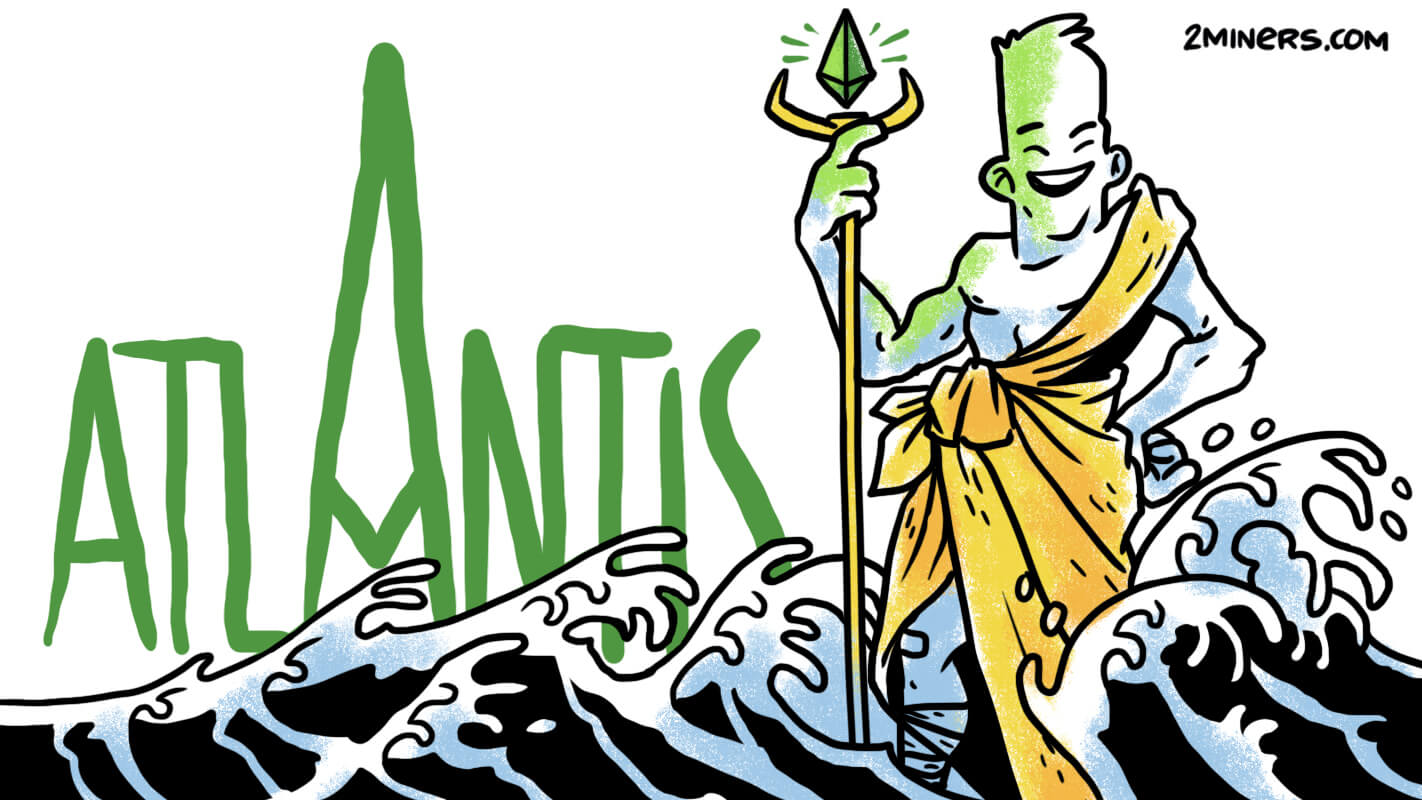 About ETC hardfork
Here are some key points.
hardfork's name – Atlantis
Due on block – #8,772,000
When – September 13, 2019
The goal of Atlantis – to expand ETC functionality
Who worked on the hardfork – ETC Labs, Chainsafe System, ETC Cooperative and other community members
Why Perform A hardfork
Hardfork is the implementation of radical changes into a cryptocurrency blockchain protocol. It allows to cancel transactions, expand functionality and eliminate security risks. Because of the DAO attack, the term triggers bad feelings among ETC users, but this time there is nothing to worry about. No transactions will get canceled. In this case, hardfork is a beneficial update rather than a desperate measure.
According to Ethereum Classic Labs, the upcoming update will improve the compatibility of Ethereum Classic with Ethereum and simplify the interaction between affiliated blockchains. The team will also improve the security of the project, which is especially important after the 51% attack on ETC in January.
That's right, old enemies make peace and now Ethereum Classic is fully compatible with his elder brother by means of the virtual machine and smart contracts. In the end, it will do good to the dapps developers and both communities.
Thoughts About ETC hardfork
Atlantis is the first additional improvement to Ethereum Classic. Terry Claver, CEO at Ethereum Classic Labs, comments on its importance.
Atlantis is an important moment. It delivers technical enhancements to the chain. It reflects the cohesion of the ETC community, and our shared commitment to continue innovating on one of the world's major public blockchains.

It also expresses the goal of ETC Labs to foster interoperability and greater collaboration with the Ethereum Community. We are pleased to be working closely with ETC Cooperative, Chainsafe, community members and numerous stakeholders.
Bob Summerwill, Ethereum Classic Cooperative's Executive Director, states:
The Atlantis hardfork is a huge step forward for Ethereum Classic, bringing much greater compatibility and interoperability with Ethereum, and making it easier to move dApps between the chains.

Coming to consensus across the stakeholders in a decentralized community like ETC is not easy, but we continued communicating, and we got it done. Everybody can be very proud of what we have achieved here.
Which EIPs Are Included In Atlantis
Atlantis upgrade consists of ten EIPs, or Ethereum Improvement Proposals. What they are for:
EIP 100 – blockchain stability enhancement
EIP 140, 211 and 214 – opcodes (operation codes) upgrade
EIP 198 – precompiled contracts improvement
EIP 196 and 197 – zk-Snarks (Zero-Knowledge Succinct Non-Interactive Arguments of Knowledge) improvement
EIP 161 and 170 – better performance
EIP 658 – higher security level
What Miners Should Do
2Miners pool is ready for Ethereum Classic hardfork. Users can join the pool and mine ETC without any problem. If you don't know how to do it, we recommend watching this short and easy video tutorial.
Sergei Grushin, 2Miners pools' Lead Blockchain Engineer, comments on the upcoming hardfork.
Ethereum Classic hardfork changes will be hardly noticeable to network users. Main changes will affect the virtual machine and uncle blocks, while block reward among other things will remain the same. Miners that use hardware wallets must update. Atlantis supports Parity 2.5.6, Classic-geth 6.0.8 and Multi-geth 1.9.2 wallets. 2Miners pool nodes are ready for the hardfork.
Conclusion. Mine ETC without any trouble – no further action is needed.
Will There Be A Blockchain Split?
Hardfork creates the risk of a chain split. It happens when some users are against the update (or just don't have enough time to update their wallets and miners) and continue mining the old chain. It may even give rise to another cryptocurrency.
This scenario is unlikely considering new beneficial features of Atlantis. The idea of hardfork is widely acclaimed. A community member known under the name of BabySocrates comments on the split in the Discord chat.
The community reached a consensus, there will be no chain split, and no new coins coming from this hardfork.
So all we should do is wait for the right block and hope for successful Ethereum Classic hardfork. In the meantime join our chat to talk about cryptocurrencies. And start mining on 2Miners pool without wasting any more time.