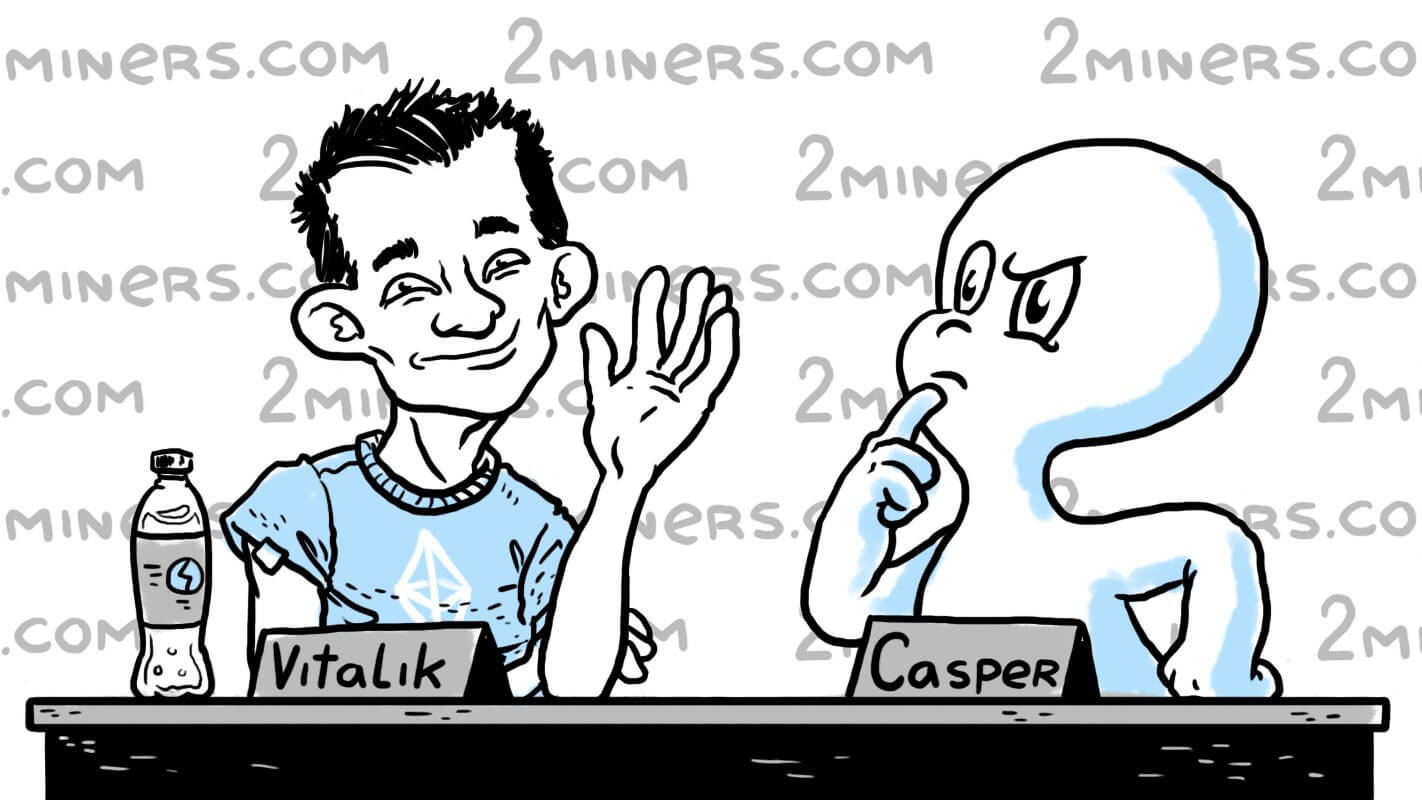 Vitalik Buterin, who is the creator, developer, and architect of Ethereum, the second most popular cryptocurrency, has been a long-time advocate of the PoS concept. Vitalik is one of the most prominent personalities in the cryptocurrency world – he is always dynamic and forward-looking, and people listen to what he has to say. In the past, many believed that when Vitalik was talking about PoS, he meant a very distant future. But here it is: Ethereum Foundation is developing a hybrid PoS/PoW Casper protocol.
How will the cryptocurrency world change when the strongest cryptocurrency Ethereum switches to PoS? This is the question we have asked experts all around the world.
---
The whole idea is to make mining obsolete. Because proof-of-work has always been bad and damaging.

But any consensus mechanism that can be affected by spending resources, will be – the history of economics is people who will spend up to $99.99 to get $100.

So can miners switch to doing something else to bias the mechanism their way?

Proof-of-stake in its simplest form is "them what has, gets." The idea is those with the most resources have the most interest in maintaining the coin. This could be an even more powerful centralizing force than proof-of-work.

The real question is: what will keep Ethereum going?

The market doesn't actually care about the Bitcoin ideology behind decentralisation. It cares about price – "number go up" – and functionality – is the public Ethereum blockchain clogged with cat pictures today?

The market treats centrally controlled ICO tokens, and tokens like Ripple, as the same class of object as bitcoins or ether. The market wants what it wants, not what ideologues want it to want.

Ethereum has the faith of its community, because *so far* the Ethereum developers have kept pulling the rabbits from the hat. So they're a trusted central entity.

As long as the network remains secure enough to function at all, the price of ether doesn't crash, popular dapps don't clog it, and it doesn't have any more expensive disasters than the current public Ethereum chain does – then Casper will be a *good enough* proof-of-stake that the community can live with.

The miners are secondary to this, and may be left out in the cold.
---
The Ethereum Miners know it will switch to PoS long before.
The point of mining these Coins was to prepare yourself to be a part of the PoS system with your mined coins.

Mining just made it possible to gain more coins over time rather than buying them let's say.

Other Ethash/Cryptonight/Equihash/X16R Will suffer from very large difficulty increases at the start.

This will settle after a while when it balances out across all the other GPU Mineable cryptocurrencies.
---
António Madeira, Head of sales and content CryptoCompare
I think moving away from Proof of Work is the right choice as Bitcoin has made it clear that PoW mining on a large scale is not sustainable. However, this change may be extremely complicated as those involved in mining are likely to push back and reject this change in order to protect their monetary interests. Other concerns arise as well such as the security of the network and the "rich get richer" factor in PoS. In my opinion, Proof of Stake may not be the solution but it's clear that Proof of Work has become a problem.

I believe that said change to PoS may result in a price surge for ETH as users try to accumulate a larger stake for PoS mining. I also believe other Ethash coins will be largely unaffected and will most likely keep their PoW system, giving Ethereum miners an alternative coin to point their equipment to.

I think it may help decentralization. PoW seems to follow the same path for all coins which usually leads to the creation of ASICs even in the case of memory-hard algorithms like Ethash. This creates an industrialized mining ecosystem where mining is only available to the few who can afford the expensive mining equipment for large operations. Additionally, miners tend to flock to a small number of pools which further leads to centralization where the pool operators decide the fate of the network.
---
The problem with Proof of Stake is that humans are involved and where ever there is a winner and a loser, there will be those who will try their best to look for advantages to win more of the pie. Satoshi didn't imagine that people would build ASICs for Bitcoin, but they did.

No matter how smart the Ethereum developers can be, given enough time people will find ways to take advantage of the Proof of Stake system, even though it's designed to be fair. Even though lotteries are supposed to be random, there are those who find patterns and win more than others. Developers didn't think ASICs could be built for equihash, but Bitman supposedly figured it out.

For the first 5 or 10 years after Ethereum POS is implemented things will be groovy, but unfortunately, humans are notoriously greedy and will find ways to hold the largest stake. As long as there is money to be made through centralization, the importance of decentralization will always be at risk.

The best solution will be a new type of consensus system that takes the win-lose scenario out of the equation, something similar to IOTA's tangle where the act of using the platform creates proof-of-work because everyone is technically a miner, essentially making everyone a "winner."
---
Chris DeRose, Bitcoin evangelist, public speaker chrisderose.com
What would happen with modern cryptocurrency industry after Ethereum switch to POS
I don't necessarily accept Ethereum will switch to PoS. The claim that PoS could supplant PoW has always been presented as a foregone conclusion to the community. But, for those who understand the limits of computer science that would prevent PoS from withstanding censorship attempts, the PoS claim was met with significant skepticism. And as was expected by the scientists, the PoS implementation has thus far fallen short.

However, over time, it seems that censorship resistance might no longer be needed. And, if this requirement is no longer necessary, it makes the transition to PoS significantly easier. One of the most concerning vulnerabilities for PoS implementations has been the undue influence that Exchanges would have over the blockchain. But given regulatory support for the cryptocurrency, this risk can become a source of security. Should these exchanges be subject to regulatory requirements in their operations, it's conceivable that much of the PoS security risks can be offloaded onto regulated exchange operators, who may be required by law to secure the operations of the entire network.

Given a world without blockchain censorship issues, it does ask the question of what role may still exist for Ethereum's miners or any miners. The politics of mining may actually end up complicating any transition to PoS. Though, it's conceivable that a competing, censorship-resistant blockchain, may offer opportunities to the Ethereum mining industry.

It's hard to say what effect PoS has on 'decentralization' at this stage, as the word has lost much of its meaning in recent months. With so many in the Ethereum community in favor of EIP999 and DAO-hack black-listing, it seems that 'decentralization' means 'democracy' to some and 'unstoppable code' to others. It could be that the community fractures over this belief, with PoW miners taking the unstoppable code adherents into a PoW fork with them. And with the decentralization-as-democracy crowd pursuing the PoS route. Judging by the success of the Ethereum classic, it would appear that the PoW crowd may have the bigger challenge.

Seemingly, whichever group achieves the most liquidity will be the group who claims the 'Ethereum' trademark. Perhaps what's really needed is a fungible, censorship-resistant 'Ethereum 2.0', under a new brand.
---
Nothing will happen. The price of BTC will go the moon. The same as ETH price.
---
Ethereum POS Wrap-up
As you can see, this is a very interesting and controversial topic that caused a great difference of opinion. As creators of 2Miners, we are getting ready for the full-scale advent of PoS currencies all over the world and launching 2Masternodes – the new project that offers an opportunity to buy cryptocurrency masternode shares or entire masternodes.
Ethereum Finally Switches to POS in 2022
Ethereum developers have decided to switch from POW to POS in the middle of September 2022. The event called Merge was planned to happen when the Ethereum Network TTD (Total Difficulty) reaches the value of 58 750 000 000 000 000 000 000. We've explained the transition to POS in detail in our post End of the Ethereum Mining. Since the Merge miners could no more submit new blocks to the Ethereum network.