Nervos CKB mainnet was launched. 2Miners has released an official statement regarding the usage of so-called "proxies" that filters the mining shares. Monero has switched to a new algorithm – RandomX. 5x block reward on Ethereum pool and other news.
Nervos CKB Mainnet Launch
Nervos Network is an open-source, public blockchain ecosystem. This is one of the most anticipated cryptocurrency projects of 2019. Nervos mainnet was launched on November 16th. The mining algorithm is called Eaglesong. Block reward is dynamic; each mining epoch it changes from 1527 to 1115 CKB.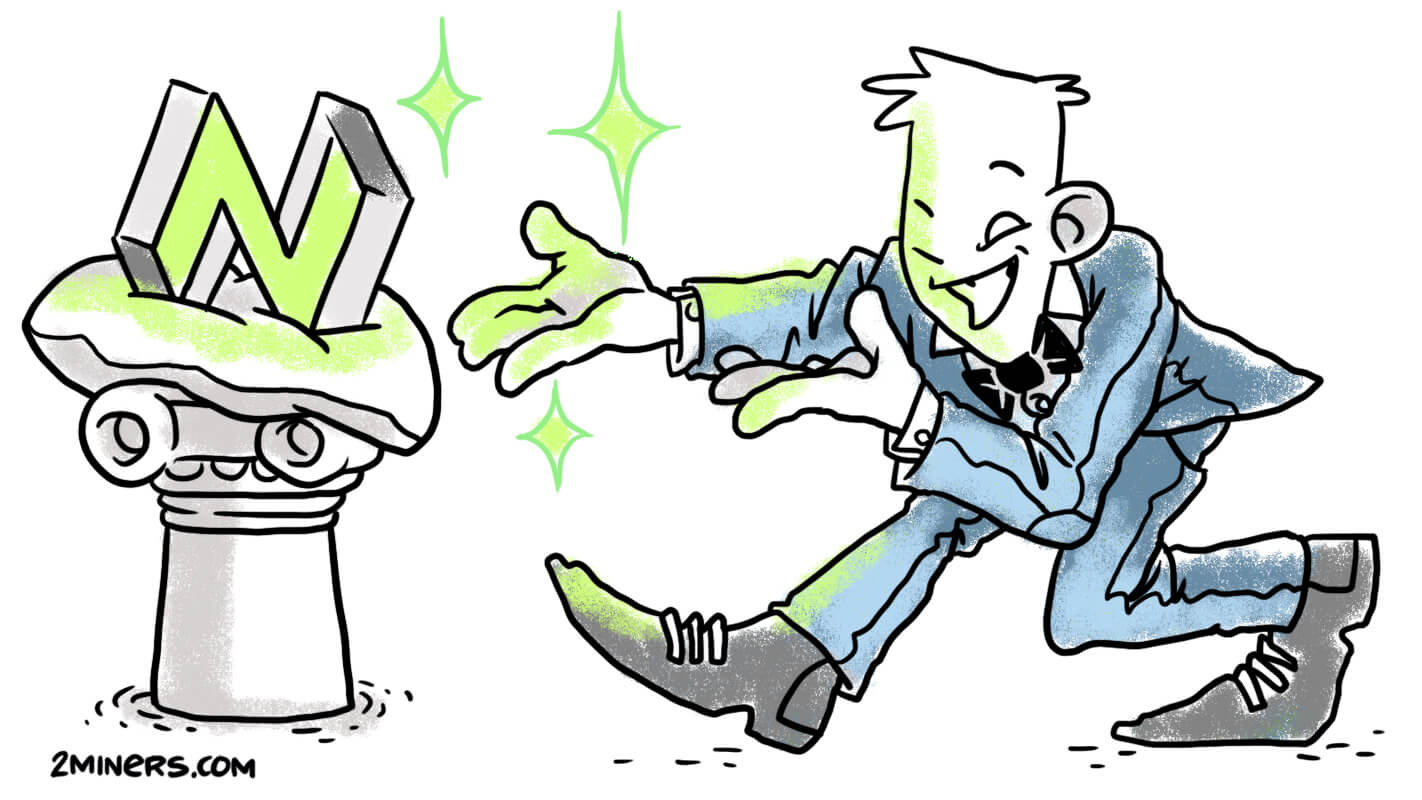 2Miners have both PPLNS and SOLO pools for Nervos.
PPLNS: ckb.2miners.com
SOLO: solo-ckb.2miners.com
The Eaglesong mining algorithm is still not supported by Nicehash yet. You could calculate the CKB mining profitability using 2CryptoCalc.com
Thanks to the Nervos marketing team, CKB is supported by many of cryptocurrency exchanges. If you want to mine CKB, you could generate the wallet address on one of the exchanges, for example, BitForex, Hotbit, MXC. We highly recommend reading our article How To Mine Nervos (CKB)? Coin Features, Wallet & Miner Setup.
Monero XMR RandomX Hardfork
Everybody was waiting for the Monero hardfork. It was told that Monero was mined mostly using ASICs and FPGAs, so developers wanted to get rid of them, letting the CPUs and GPUs to mine XMR. Check our blog post RandomX: New Monero Mining Algorithm.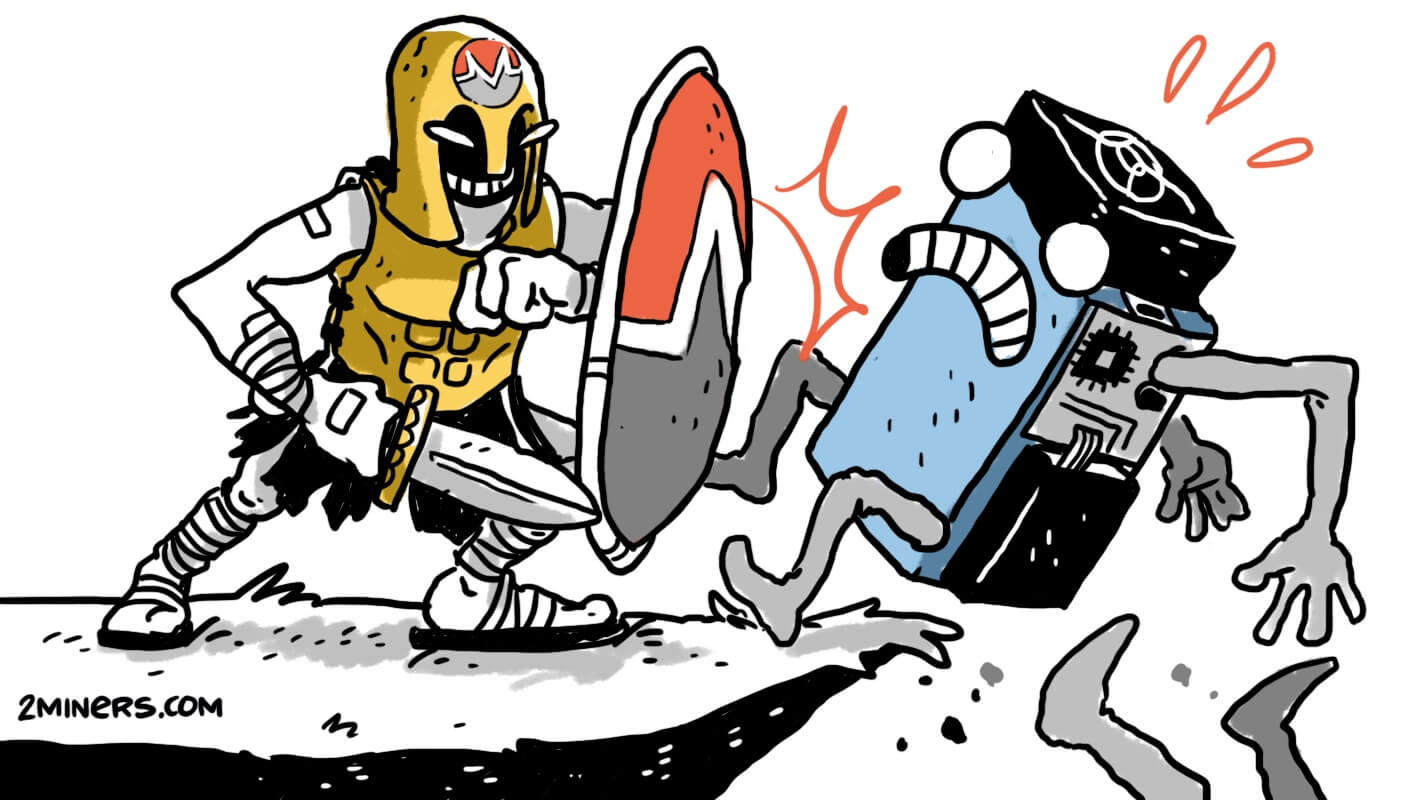 Monero (XMR) hardfork was successful on block 1978433
Join our Monero pools!
PPLNS: xmr.2miners.com
SOLO: solo-xmr.2miners.com
Wallet addresses with Payment ID are no longer supported. We have disabled these addresses.
We recommend new XMR-STAK mining software. It is already included in our Quick Start archive.
Zcash and Ethereum New Node Software
Zcash (ZEC) pools have been updated to the latest version of node software. 2Miners are now ready for Blossom Hard Fork.
All Ethereum nodes have been updated to Geth v1.9.8 (Thessian Temple). A complete list of the changes applied could be found on github.
x5 ETH Reward
Thanks to 2Miners' fair PPLNS reward system, November 22nd was a lucky day for our Ethereum Pool. Due to the high transaction fees included in blocks, miners got much more profit. For example, one of the blocks was as expensive as 9.6 ETH!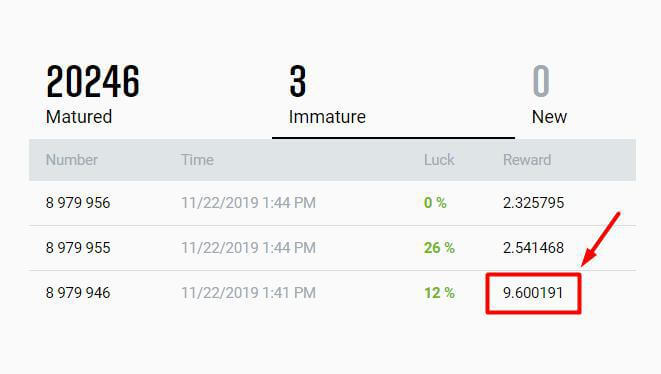 2Miners Official Statement on Proxies
Because of ongoing witch-hunt among mining pools, regarding the customers using so-called "proxies" that filters out solutions not leading to the block resolution, 2Miners would like to issue an official statement. We are not going to limit or restrict such customers in any way (other than marking the proxy-using addresses as such for other users' information).
We believe this reduces the pool servers load as well as increases the chances of block finding for the miners with substantial mining power but on a slow Internet connection.