What Is RaveOS
According to the main page of the RaveOS website, RaveOS increases hash rate performance and stability with less downtime and power consumption.
RaveOS is an operating system that allows you to configure, monitor, and administer your rigs and ASICs. The platform supports a wide range of graphic cards. You can manage 3 devices for free.
Here are key RaveOS features that every miner needs:
Advanced monitoring. The system displays hash rates, power consumption, errors, and much more. RaveOS has a built-in watchdog that tracks errors and reboots the miner or the whole rig. You can also have multiple user accounts for monitoring, each with different access rights.
Easy system installation. Simply burn the image to a disk or USB flash drive and connect to the rig. The system will automatically detect your hardware, apply settings, and display the settings on the control panel. It also allows you to set up firmware and overclock cards.
Mobile app. It will help you monitor your rigs. You'll receive important notifications when a card overheats or gives out a low hash rate. Plus, the mobile app allows you to reboot a rig, change the cryptocurrency wallet for rewards, and change the coin to be extracted.
Referral program. The system allows you to get passive income by bringing in new people. The more people you invite, the more you earn.
How to Set Up Mining on RaveOS
Before you start using RaveOS, make sure your device matches the system requirements. You can check them on the installation page.
Here are the minimum system requirements.
Intel® Core™ 2 / AMD am2+
4GB RAM (for ETH mining on RX Vega 56, RX Vega 64, Radeon VII, RX 5700 you will need 6GB RAM)
4GB drive (HDD/SSD/M2/USB)
Here are the recommended system requirements.
Intel® Core™ i3-3220 3.3 GHz / AMD FX-6300 3.5 GHz
8GB RAM
8GB SSD drive
Here is the list of RaveOS supported hardware.
Nvidia: 1050, 1050ti, 1060, 1070, 1070ti, 1080, 1080ti, P106-090, P106-100, P104-100, P102-100, 1650, 1660, 1660ti, 2060, 2060 Super, 2070, 2070 Super, 2080, 2080ti, 3060, 3060ti, 3070, 3070ti, 3080, 3080ti, 3090.
AMD: 460, 470, 480, 550, 560, 570, 580, 590, RX Vega 56, RX Vega 64, Radeon VII, 5700, 5600, 5500, 6600, 6700, 6800, 6900.
ASIC: Antminer S9, L3+, D3, T9+, Z9/Z9-Mini, Z11, S17, T17, Innosilicon A9 ZMaster.
If your device matches the system requirements, download the installation file. To do that, you need to create an account and log in.
We were testing on MacOS, but the setup process is the same for all operating systems.
Once you are logged in, you should add a new rig. Indicate a rig name, description (we recommend adding your GPU models here), choose a password and specify the number of GPUs.
Then go to the System Info tab and copy the Worker's token. On the screenshot below it's at the bottom.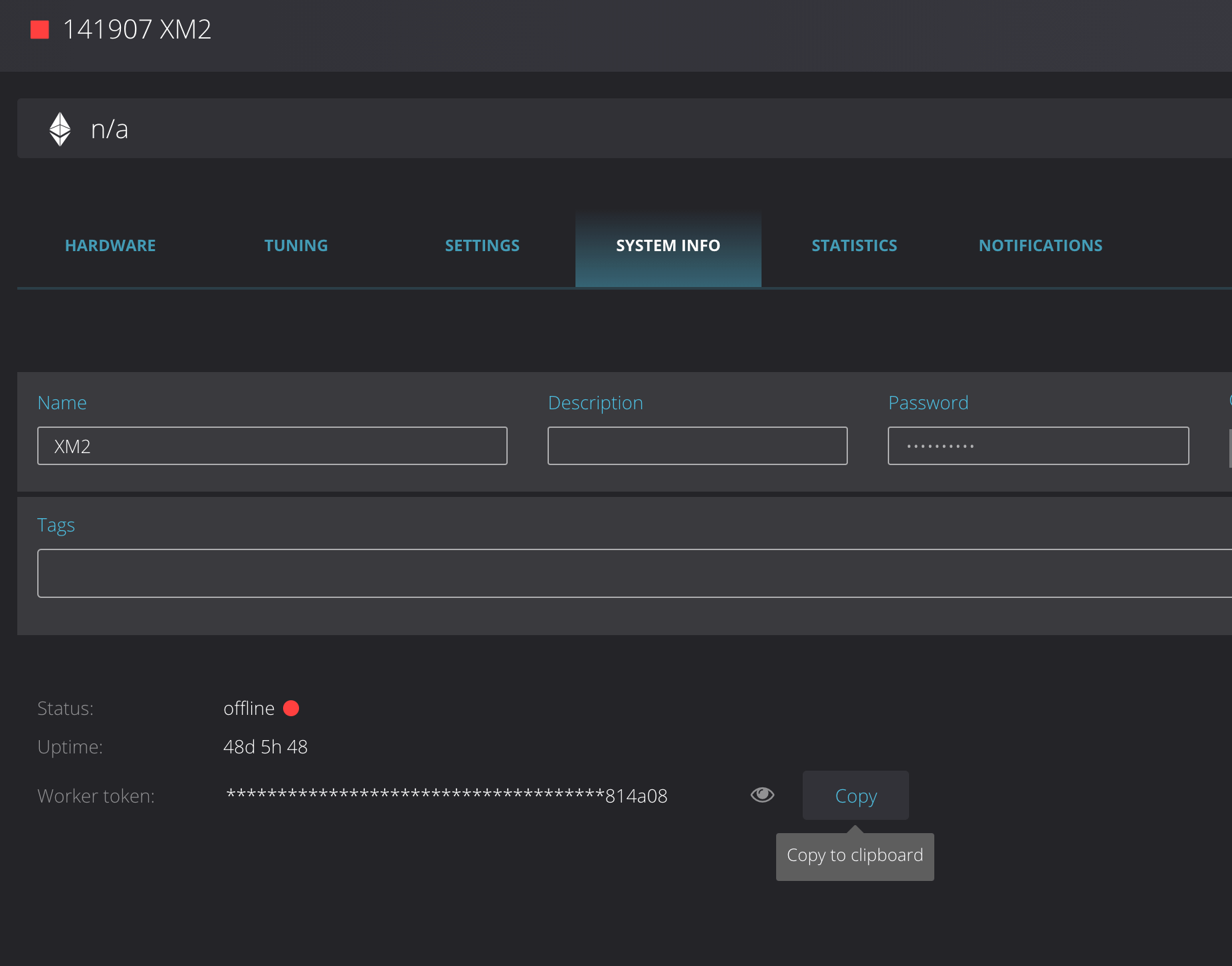 Download RaveOS image. The file size on MacOS is 1.68 GB.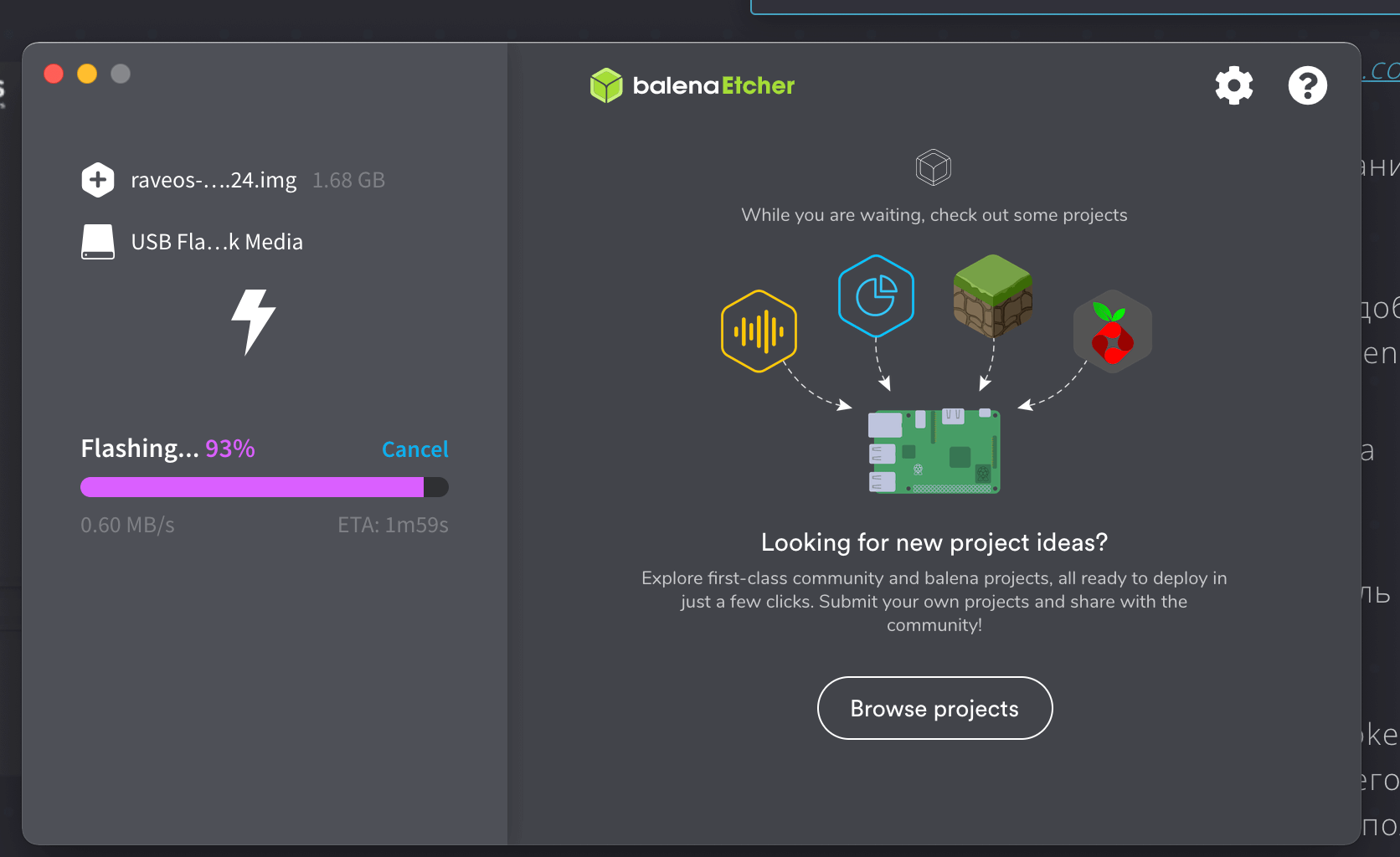 Go to the file manager, find the mining system folders and go to the config folder.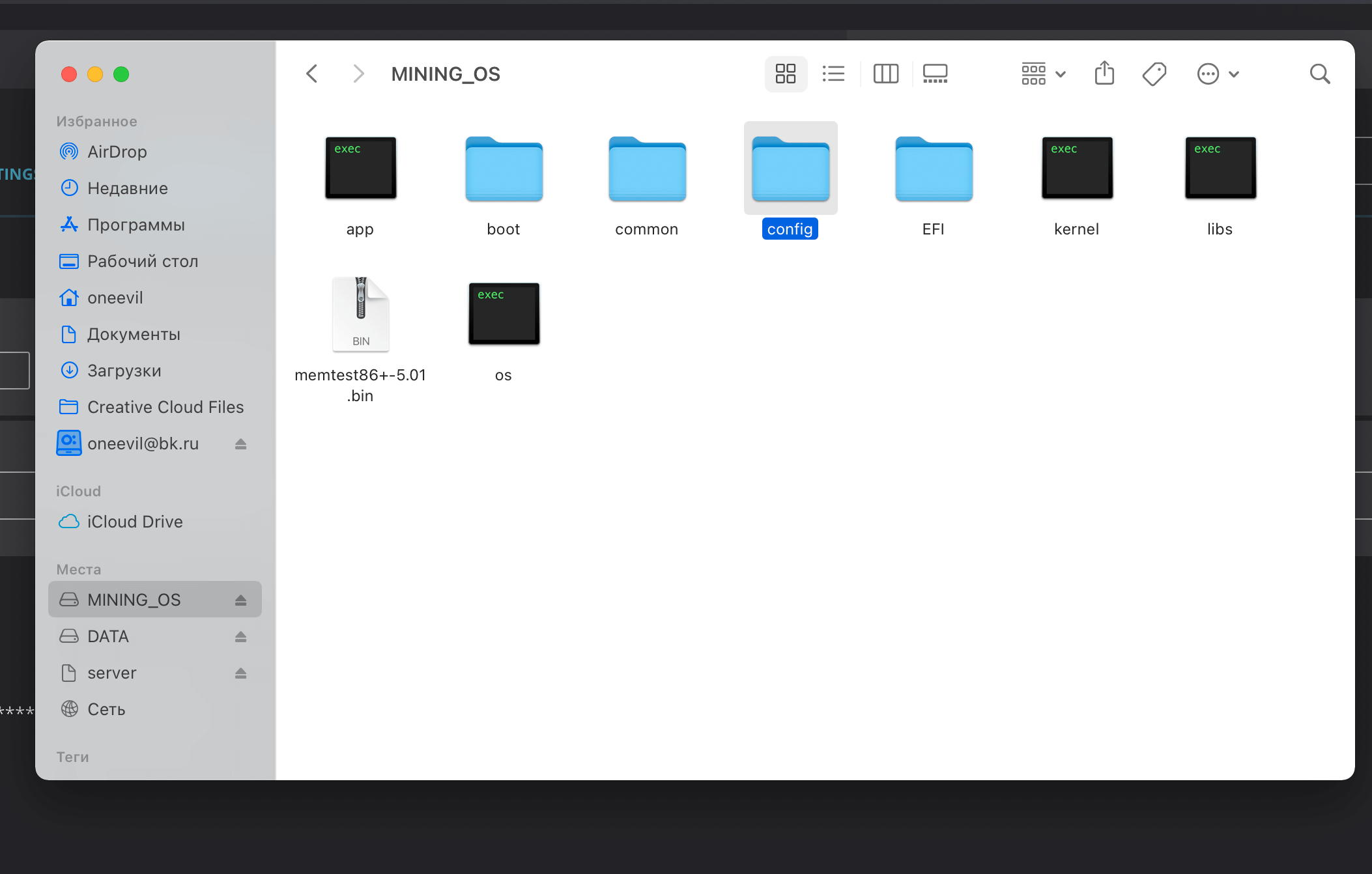 Open token.txt and paste the Worker's token.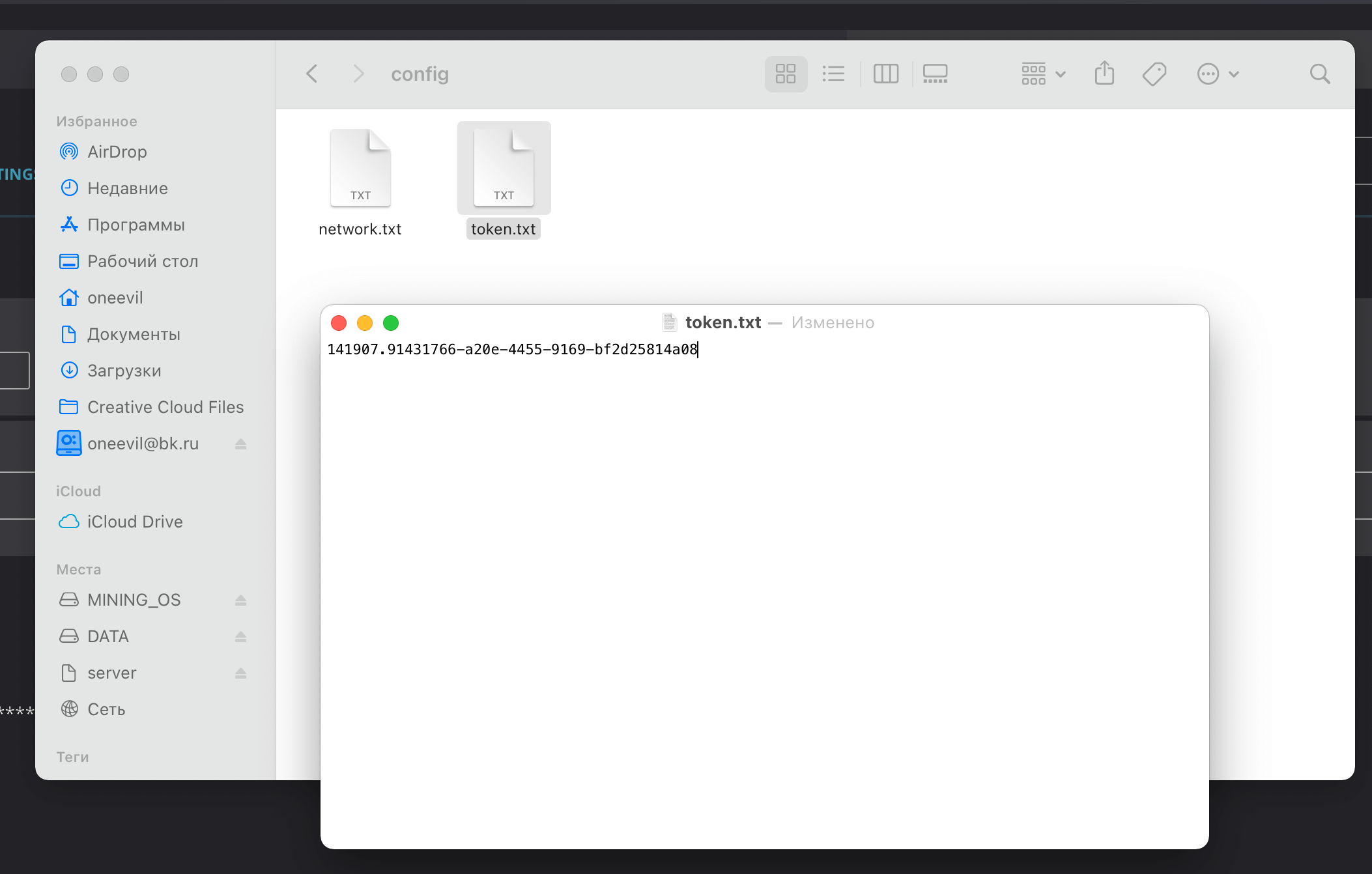 Then boot the rig and go to the dashboard that has all the information.

The next step is to add your cryptocurrency wallet address where you want to receive rewards. Go to Wallets in the menu on the left to do that, then choose a coin, mining pool (we recommend 2Miners), and the wallet address.

Click Save.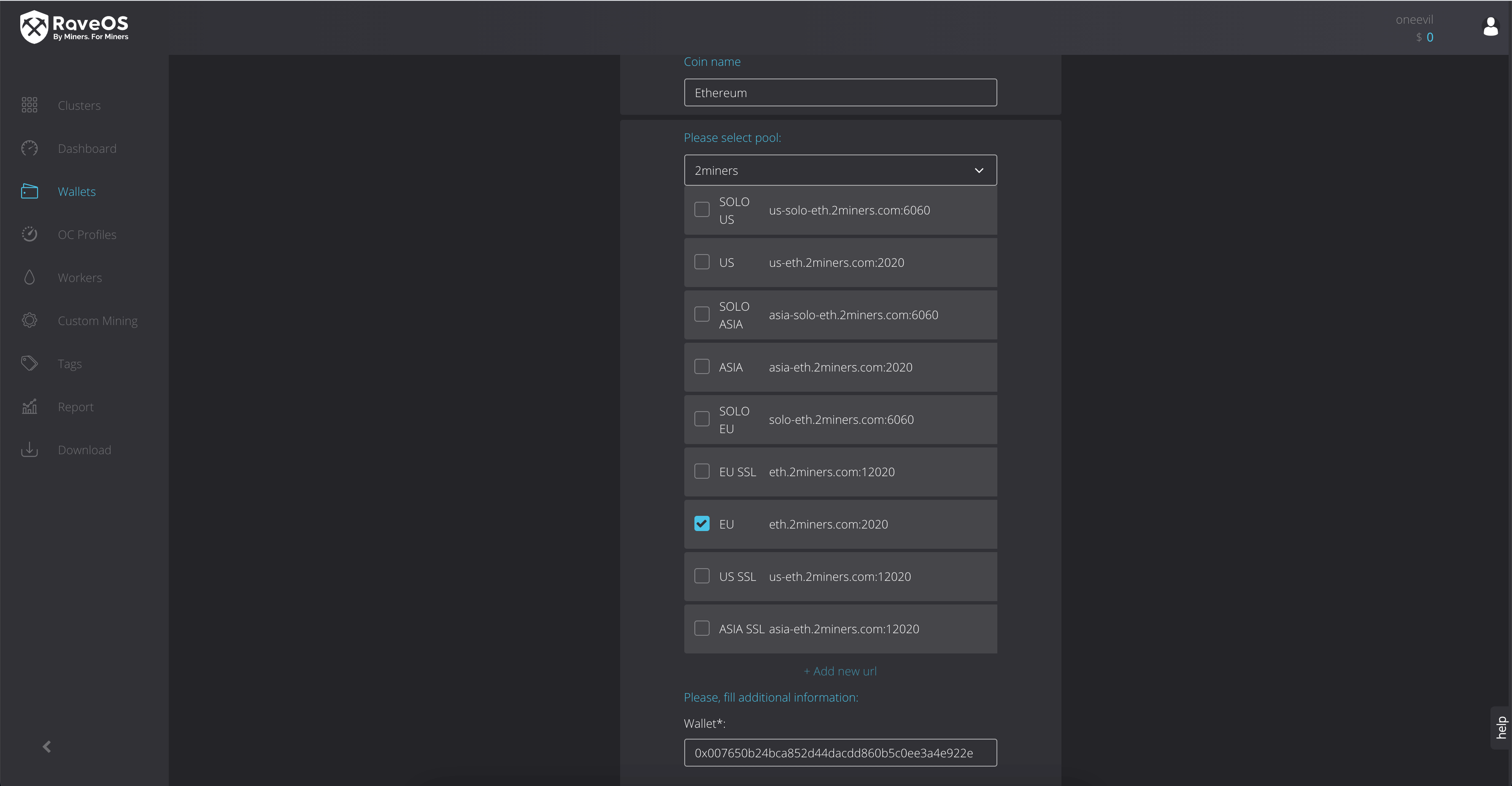 The next step is Tuning. You can choose clock, voltage, temperature, and fan activity.

Then go to Console and enter login and password.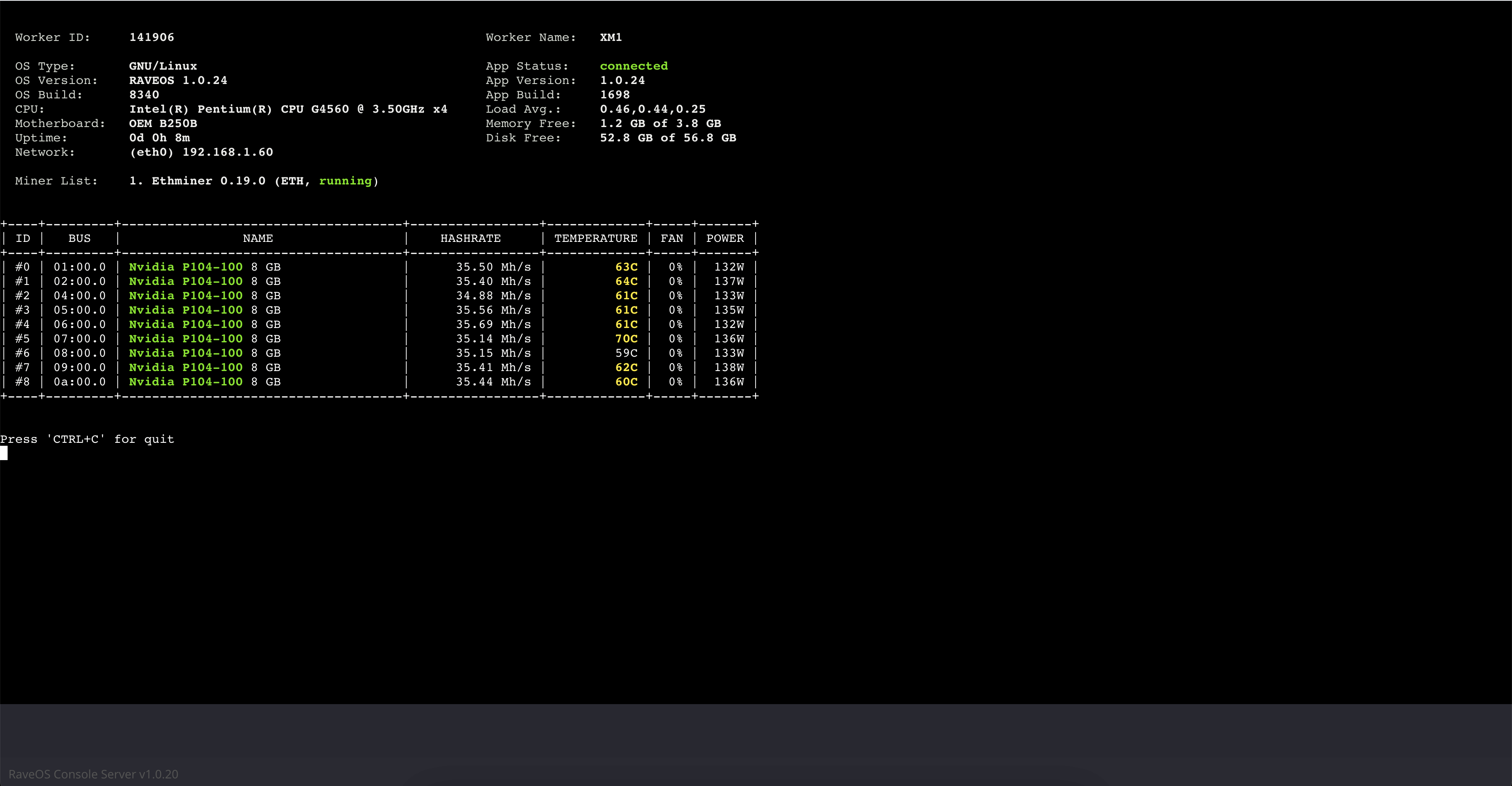 The system will display available commands.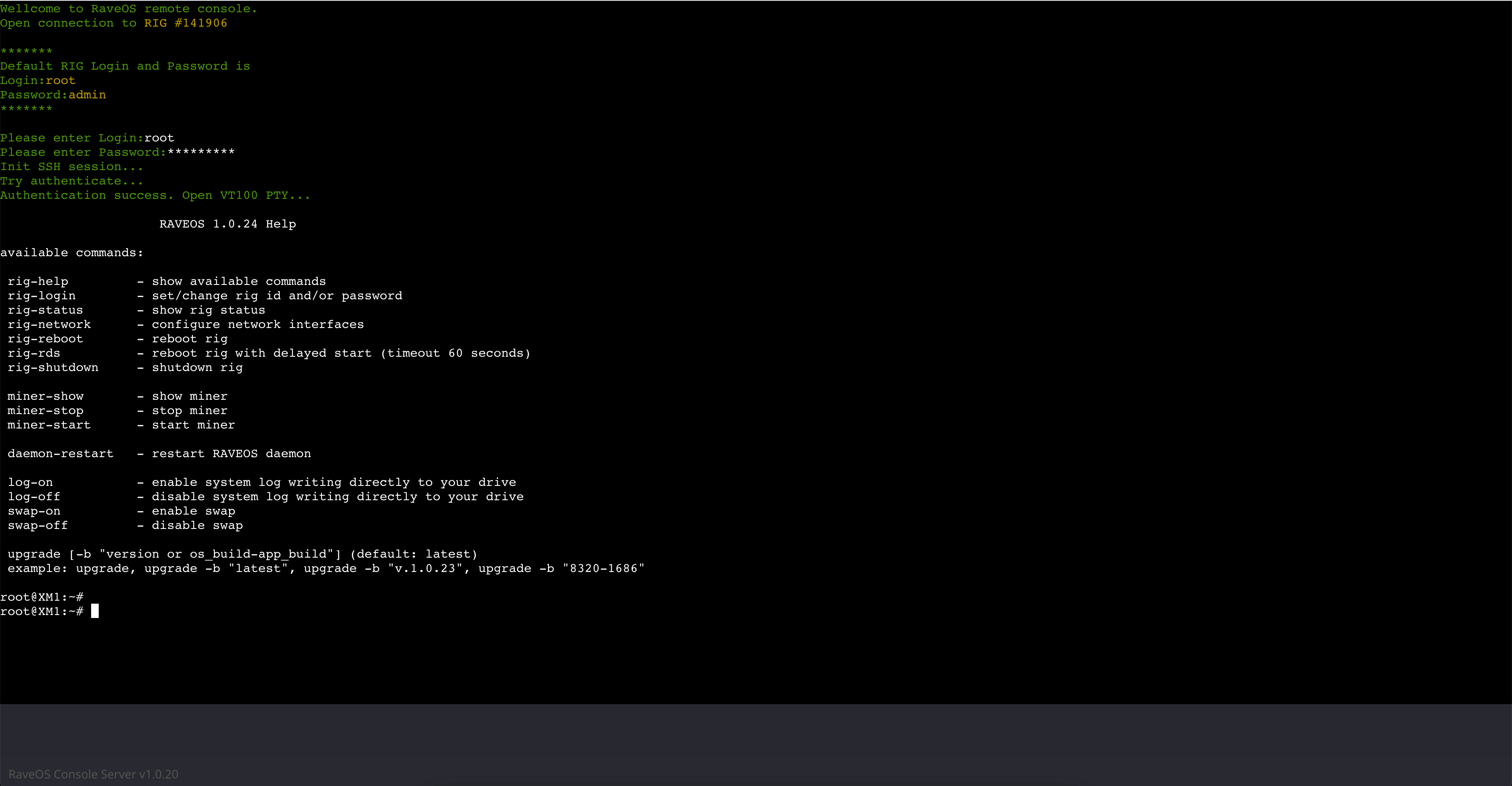 Enter miner-show to get all the information about your rig: hash rate, temperature, etc.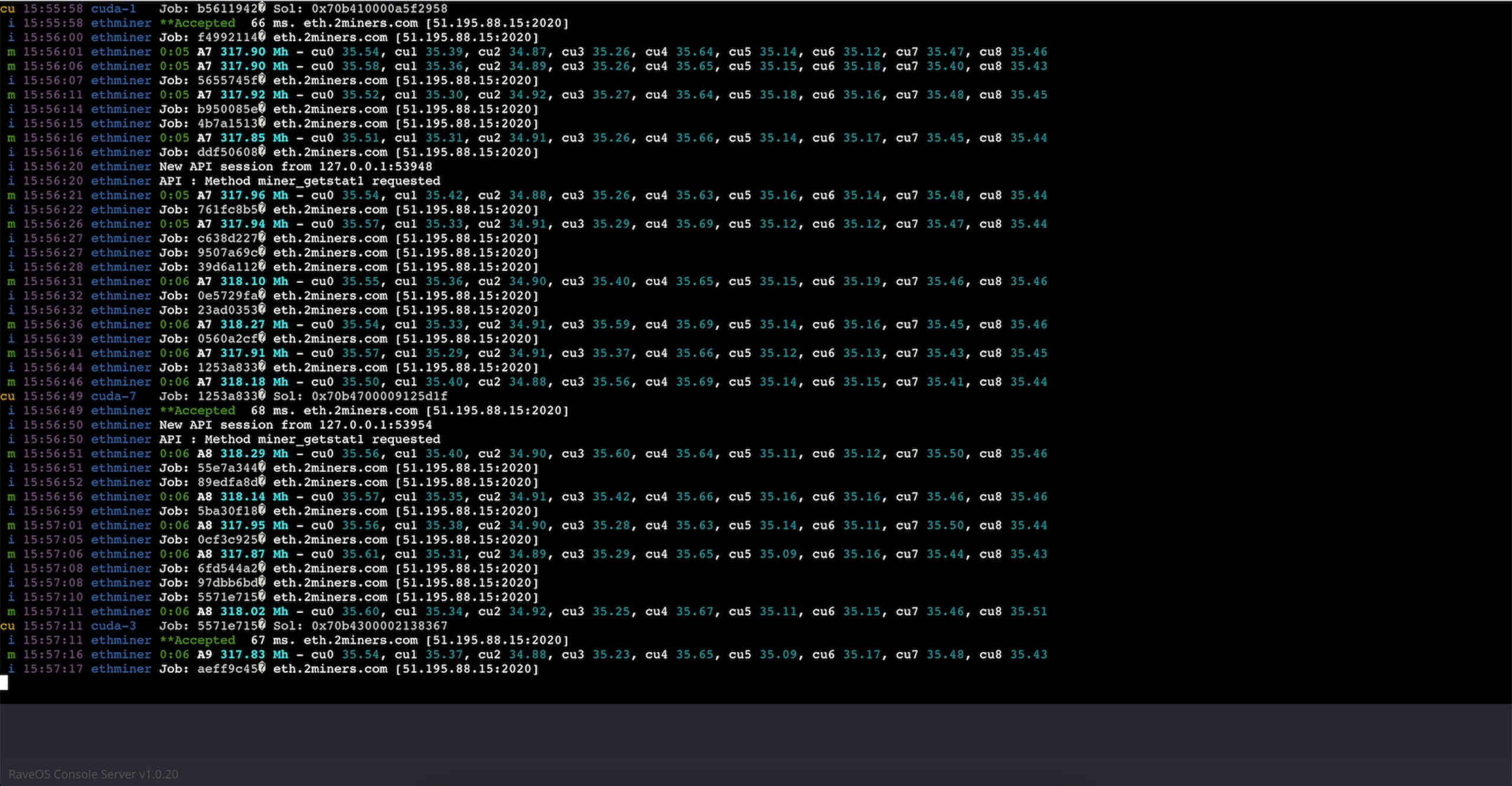 You can also look up the information about GPUs on the website. Here's what it looks like.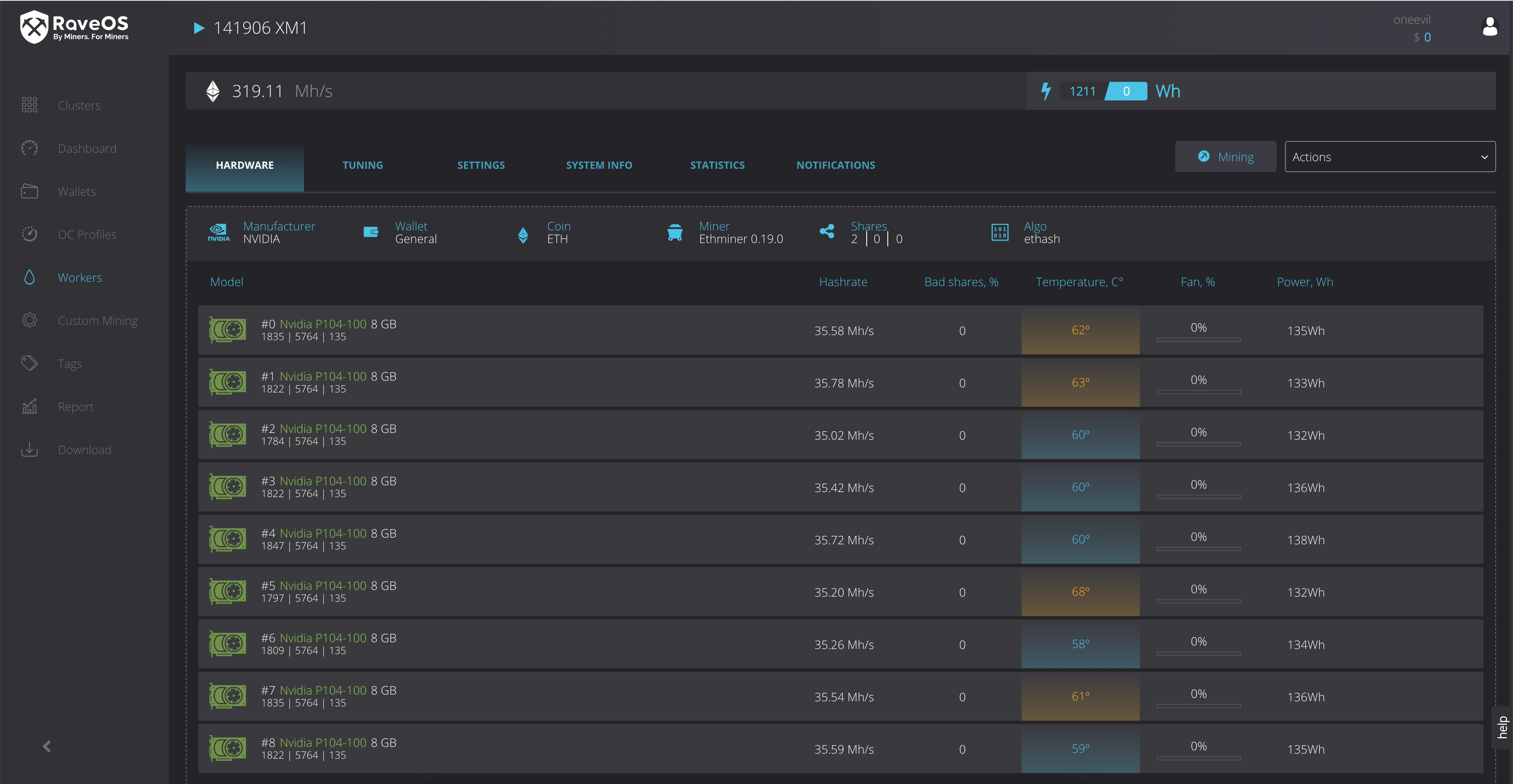 Users also have access to stats.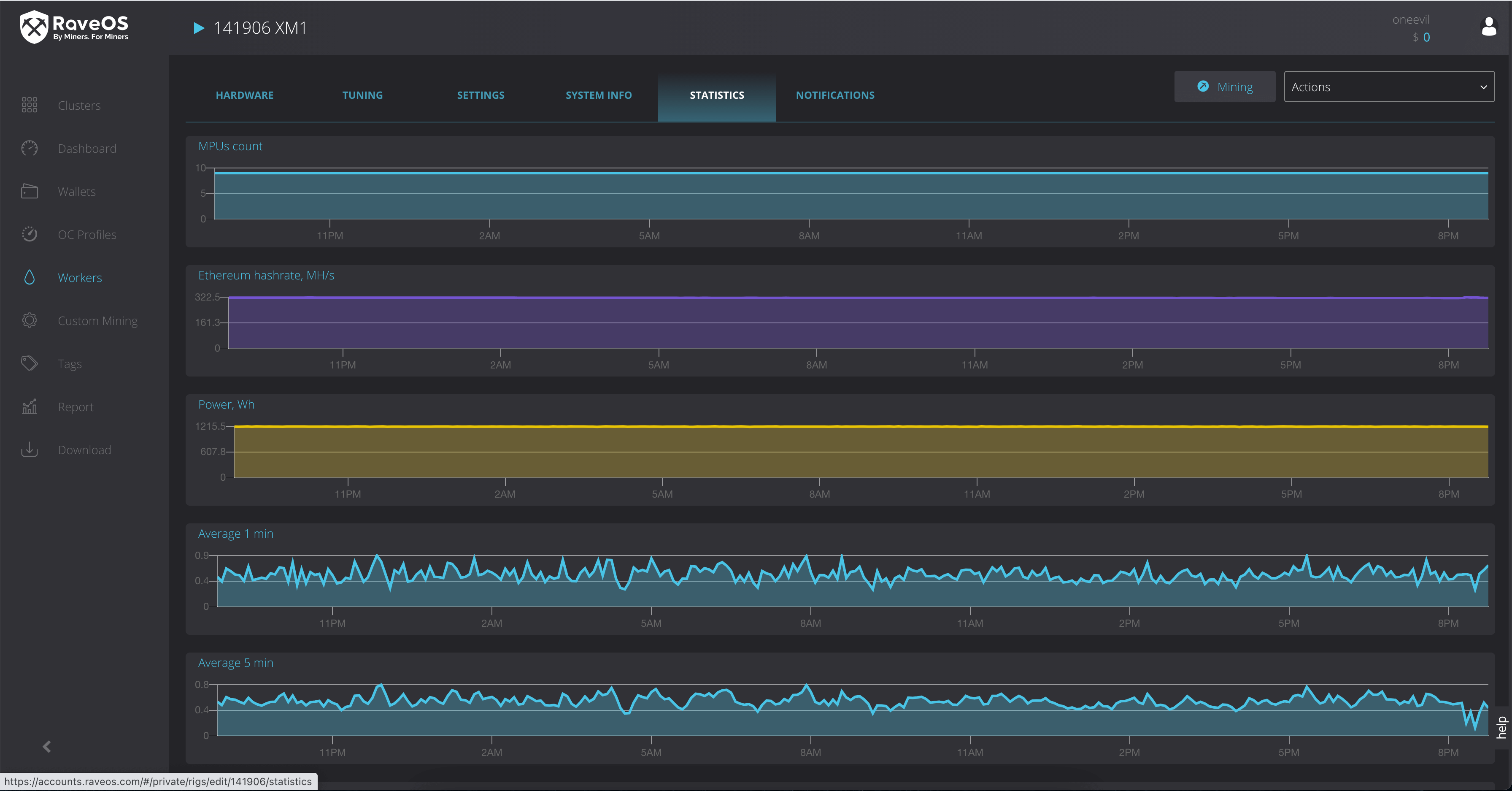 And system information.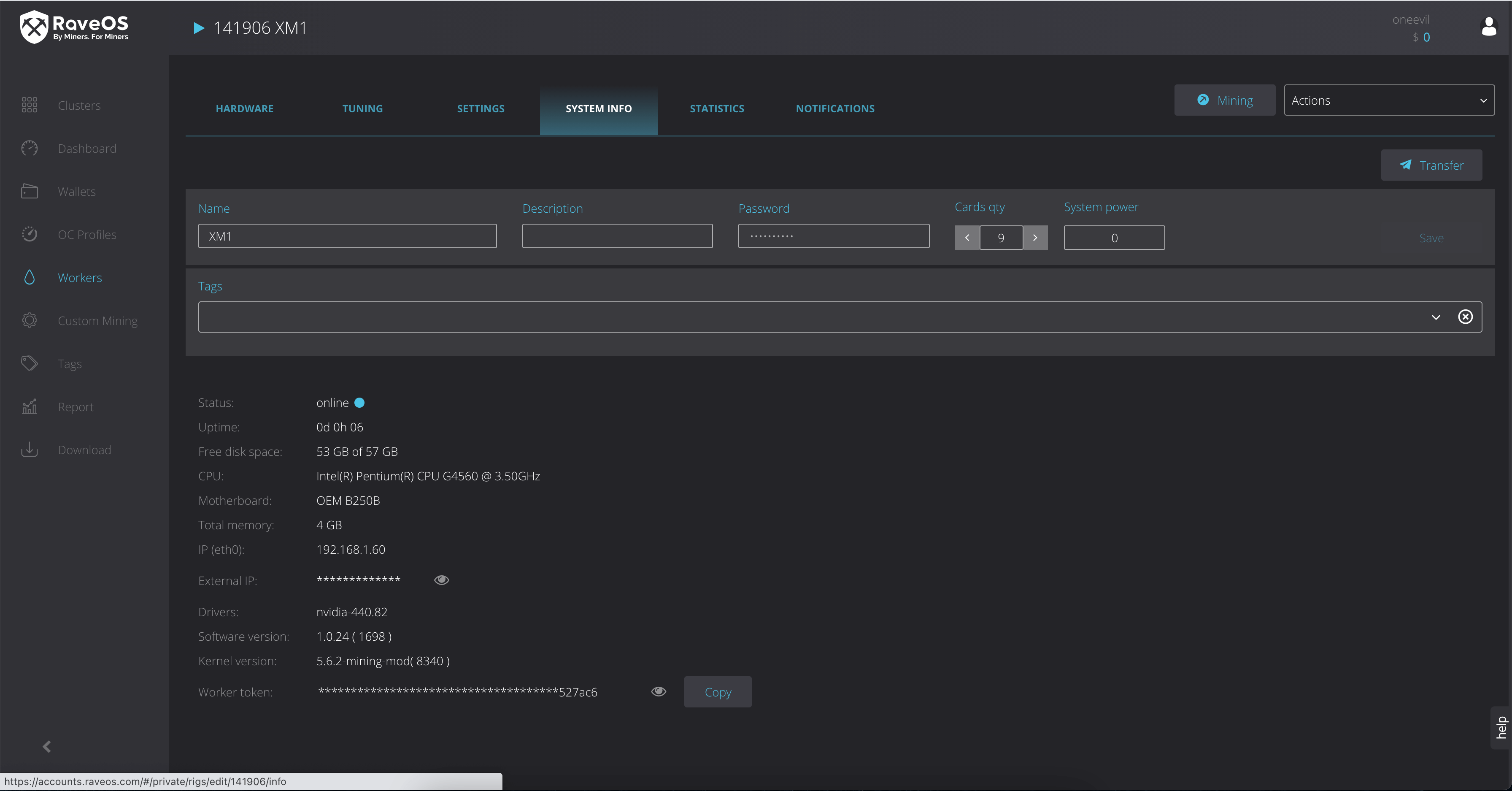 RaveOS Pricing
RaveOS is free for up to 3 running devices. Plus, users get access to the basic online support.
If you have more than 3 devices, you pay $2/month for each. Users get all their devices running and can fully access system functionality.
RaveOS also offers special business conditions for users with at least 100 devices. Conditions are discussed individually.
It should be noted that another mining platform HiveOS is free only if you mine in their Hiveon pool, but that charges a 3% fee.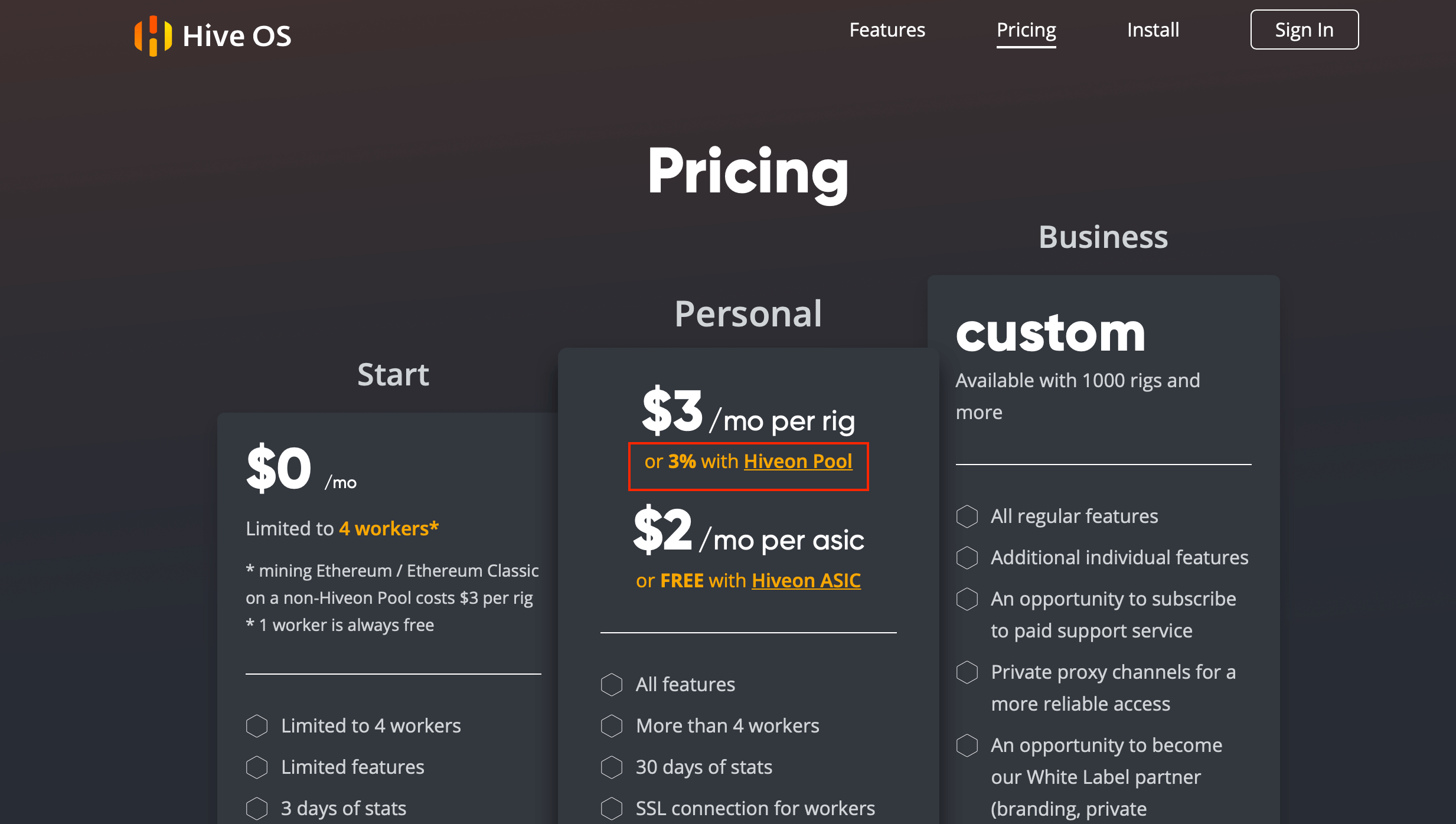 Conclusion
RaveOS is a great tool for miners that want to control mining processes from anywhere in the world. The system is easy to set up, auto-detects mining hardware, and even knows mining pool settings. You are guaranteed to spend little time on learning the system functionality as it's super easy.
You just install the system on your rig and add your mining information. And then you can enjoy the process and make corrections as needed.
Remember to follow us on Twitter to get all the news as soon as possible.