By the way, NEOX is not the only recent addition to the 2Miners pool. After Ethereum's upgrade, third-party developers launched the blockchain fork on the Proof-of-Work consensus algorithm, and you can already mine this network's coin called ETHW in the pool.

As of today, over 18,000 people are mining ETHW. Meanwhile, Neoxa is also growing in popularity, so let's get into it.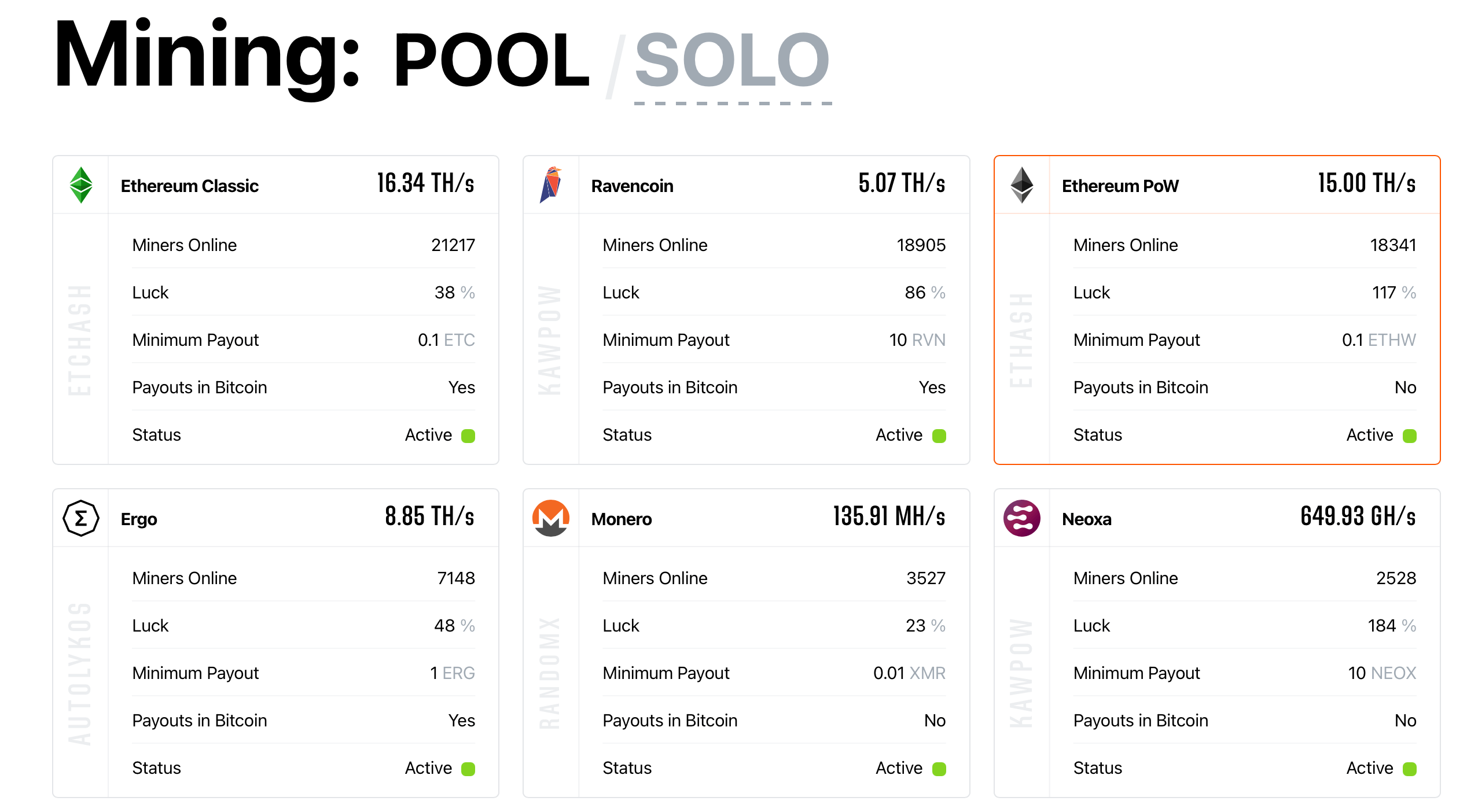 What Is Neoxa NEOX? Cryptocurrency Specs
According to the main page of the project's website, Neoxa is a secure decentralized blockchain for gamers, developers, and miners. Neoxa launched in the second quarter of 2022.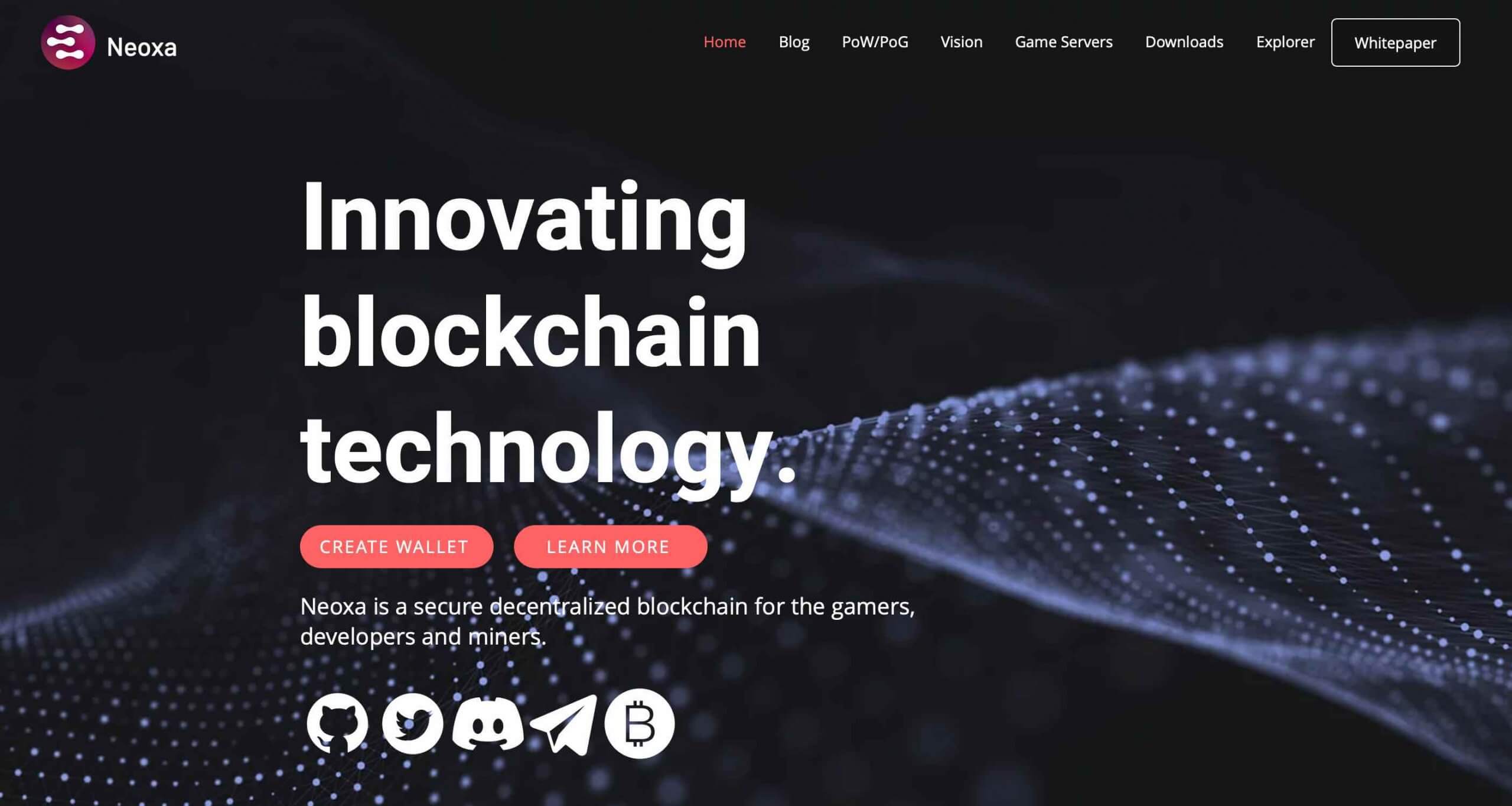 The focus on gamers is intentional. Neoxa claims to be revolutionizing the gaming industry using decentralized blockchain technology. The goal of the project is to ensure that users get rewarded for playing and developing games.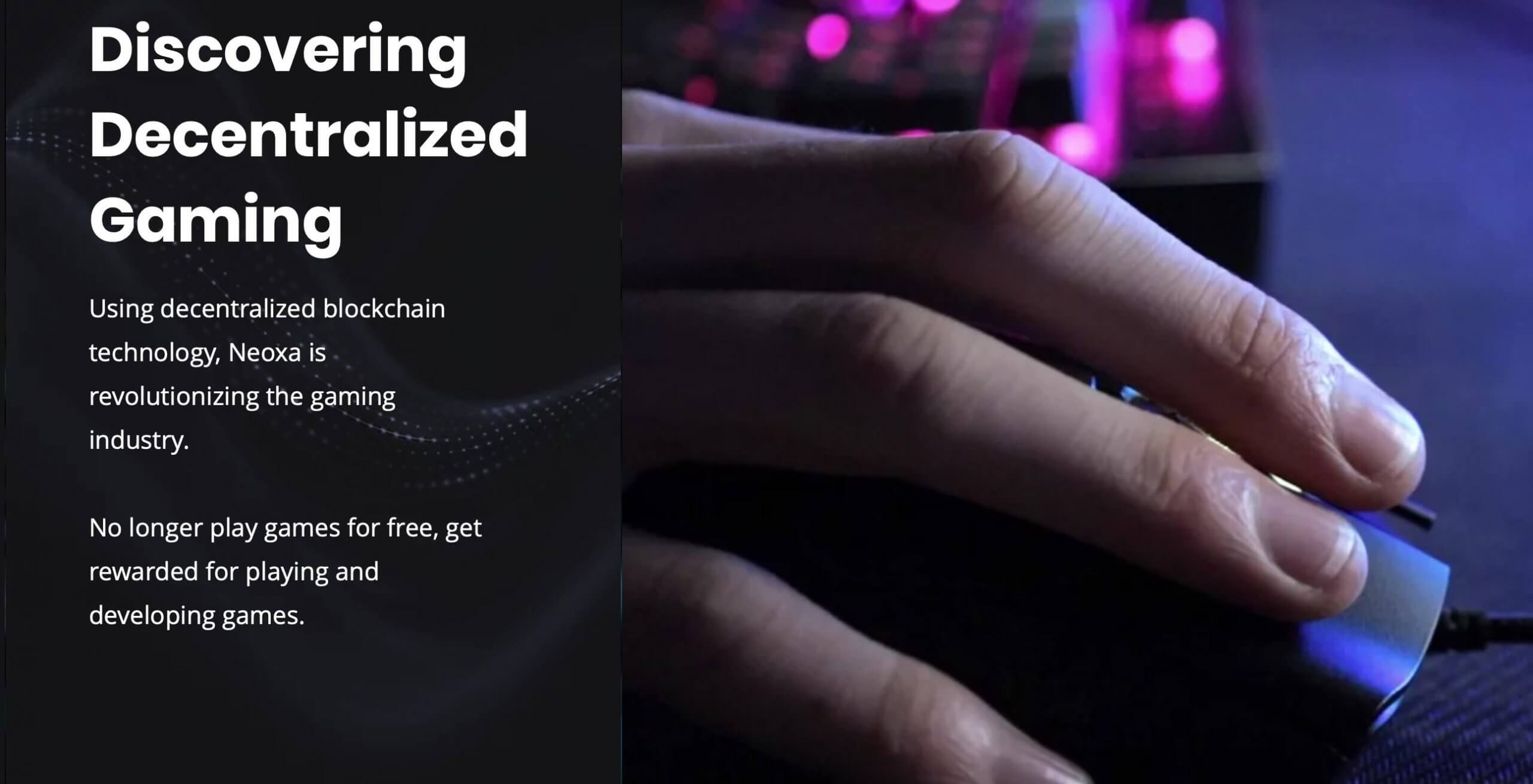 Let's look at the vision of the developing team. They say that the Neoxa Ecosystem depends on various aspects. To keep the blockchain functioning Neoxa relies on miners. 5% of the block reward structure goes to marketing and developer funding for current and future gaming developers listed in the NEOX Marketplace.
The main thing that makes Neoxa different is that you can earn the cryptocurrency not only by mining, but also by playing games. It is possible thanks to the combination of the popular Proof-of-Work consensus algorithm with the newly implemented Proof-of-Game (PoG). Simply put, a part of the block reward will be redirected to gamers.

The developers say that miners and gamers used to be separate communities, which among other things resulted in a graphics card shortage. Now, these worlds can unite and get their share.

How much of a share? The official website says that during the first year, 85% of the block fee will go to miners and 10% – to gamers. During the second year, it will be 75% and 20%, and during the third year – 55% and 40%, respectively.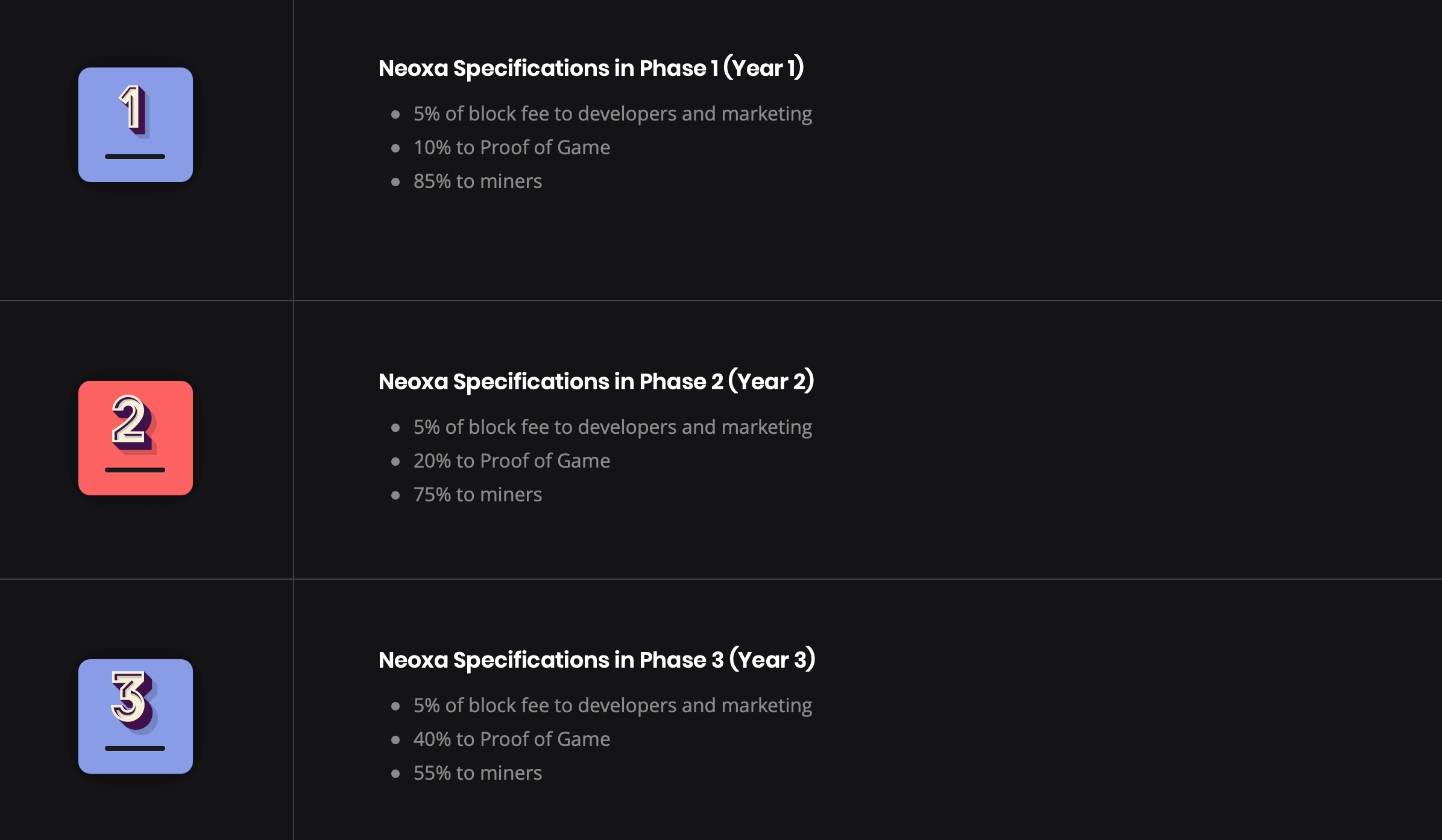 During the fourth year, gamers will get 60% of the block fee, while miners will get 35%. Developers and marketing will get 5% of the block fee during the whole four-year period.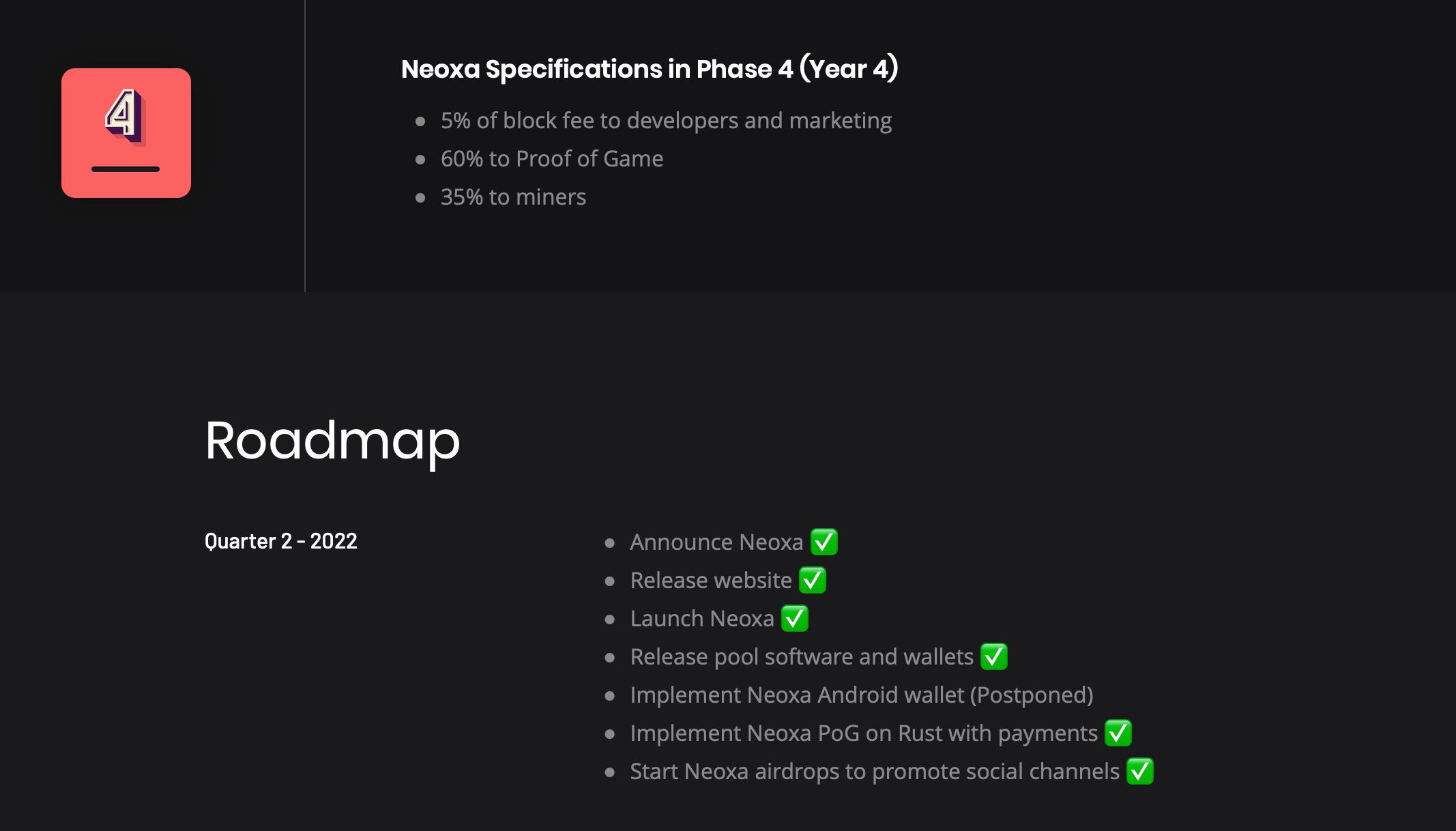 Neoxa's developers say that this is the first project to use such a reward distribution mechanism.
Today you can earn NEOX by playing two games: Rust and Minecraft, and you will get coins only if you are active on specific servers.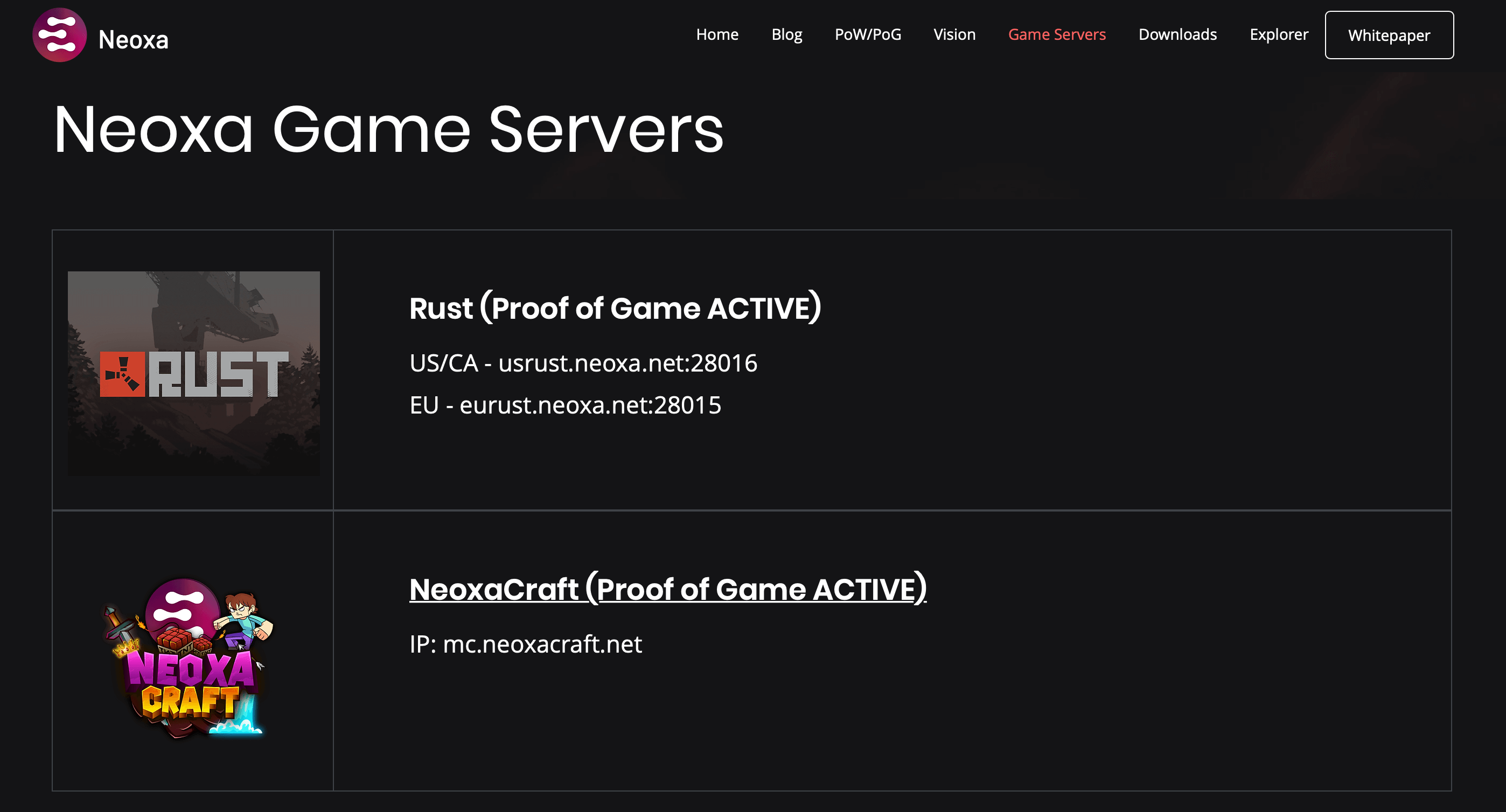 Also, to become part of the so-called NeoxaCraft (Neoxa's Minecraft server), you need to create an account and indicate your wallet address. You can find more details about getting paid for playing games here.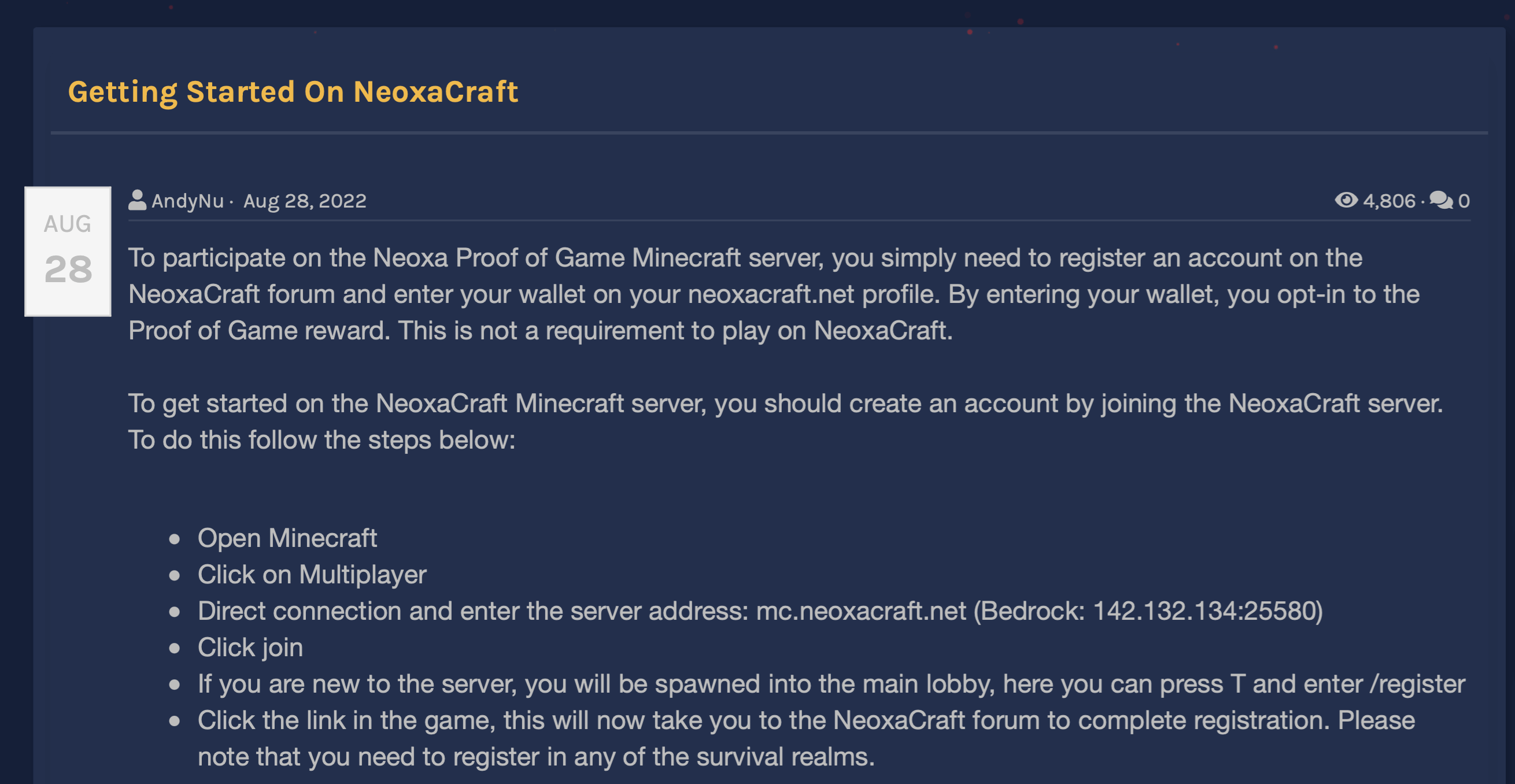 If you want to learn more about the project, follow this link to read Neoxa's white paper.

Neoxa NEOX Exchange Rate
NEOX coin is the cornerstone of the Neoxa ecosystem that allows miners and gamers to earn money. The cryptocurrency was also launched in the second quarter, and you can use it just like any other coin.
Miners and gamers can sell it to fix the profit, while traders can speculate on NEOX exchange rate.
Today NEOX is traded at $0.00378640 and ranks #1267 in the CoinGecko chart. The max supply is 21 billion NEOX, and the circulating supply is 926 million NEOX.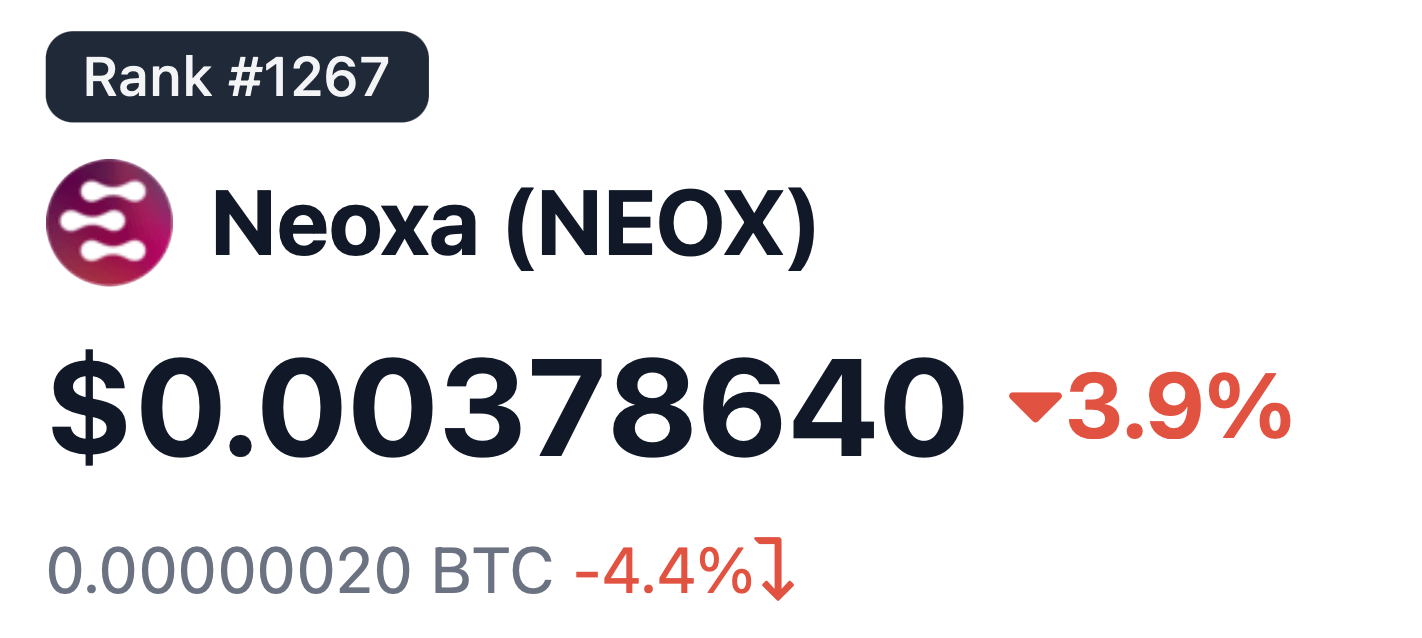 The circulating supply is just 4.4% of the max cryptocurrency supply. So the circulating supply will be gradually growing, which in theory could result in sellers putting the asset price under pressure. However, this should mostly concern long-term investors.

The cryptocurrency chart is available starting from August 24 – see below.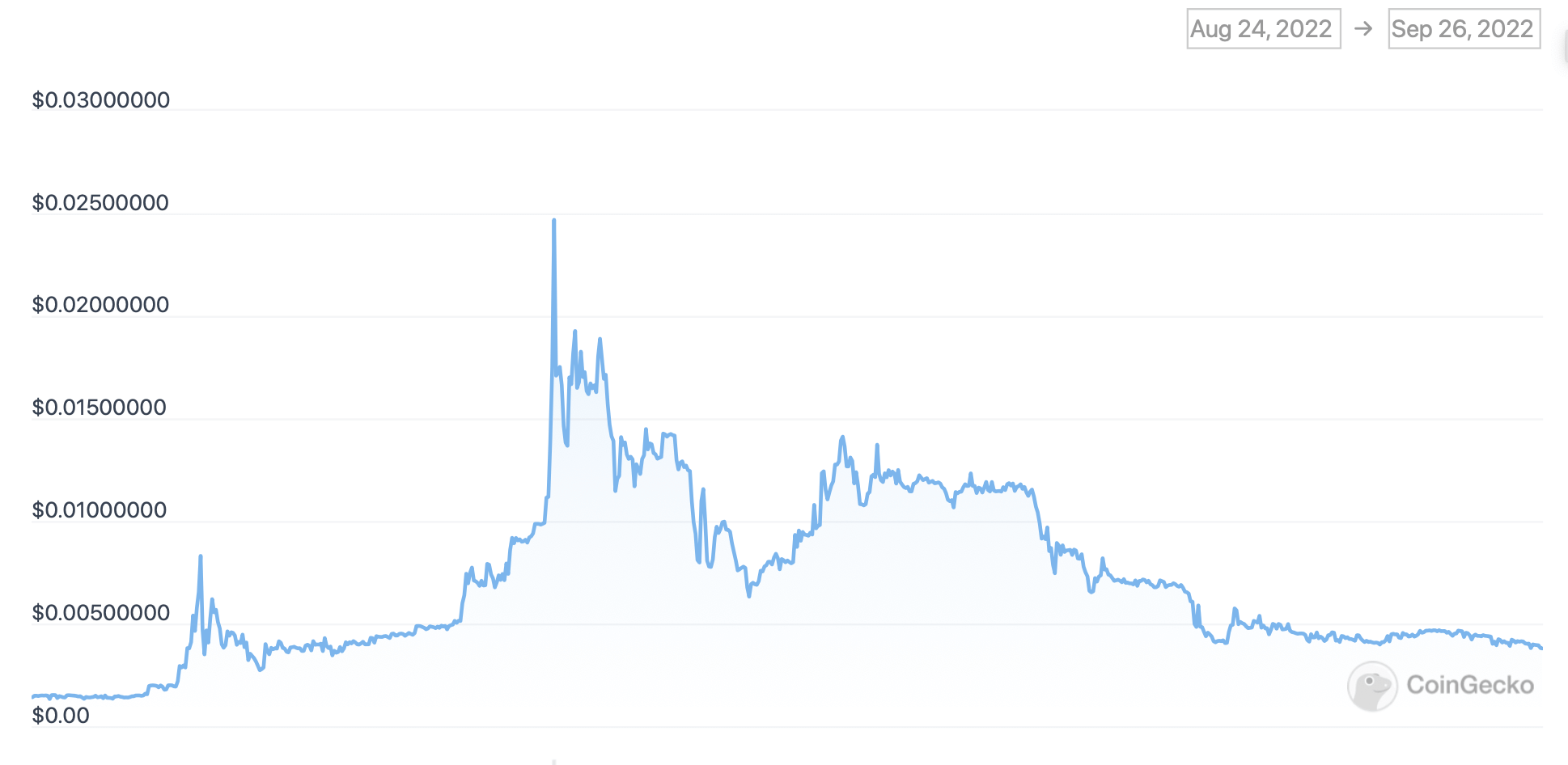 And some more stats. Today NEOX is 84% behind its all-time high price and 190% ahead of its all-time low price.

Where to Buy Neoxa NEOX
There are three exchanges that trade NEOX: Txbit, XT-com, and TradeOgre. Txbit accounts for 88% of all transactions, even though its trust score on CoinGecko is lower than that of the other platforms.

NEOX is usually traded in pair with USDT. TradeOgre also allows you to trade it in pair with Litecoin LTC.
The 24-hour trading volume is $686 thousand, which is rather low. Liquidity on the above-mentioned exchanges is also low, as you can see in the two rightmost columns.

It means that for the NEOX exchange rate to grow on XT-com, it would be sufficient to buy $133 worth of the cryptocurrency. So the coin holders must be ready for sharp spikes in the price.
Cryptocurrency Wallet for Neoxa NEOX
Today NEOX official wallet is available on Windows, as well as on Linux in two versions – you can find them by following this link. ARM Wallet is going to be released later.

You can also hold the coin on the above-mentioned exchanges.
How to Mine Neoxa NEOX
Neoxa network uses the KawPoW mining algorithm, just like the more popular Ravencoin. The average block find time is 60 seconds, and the block reward is 4,250 NEOX, or $16.

For mining, you will need specific programs. If you use Nvidia GPUs, we recommend Gminer or T-Rex, and if you use AMD – NBMiner or TeamRedMiner. All these programs are available in our universal archive with the password '2miners' – without any capital letters, dots or other symbols.
In the 2Miners pool, you don't pay anything for NEOX reward payouts – the fees are covered by the pool. It will make you save money and maximize profits.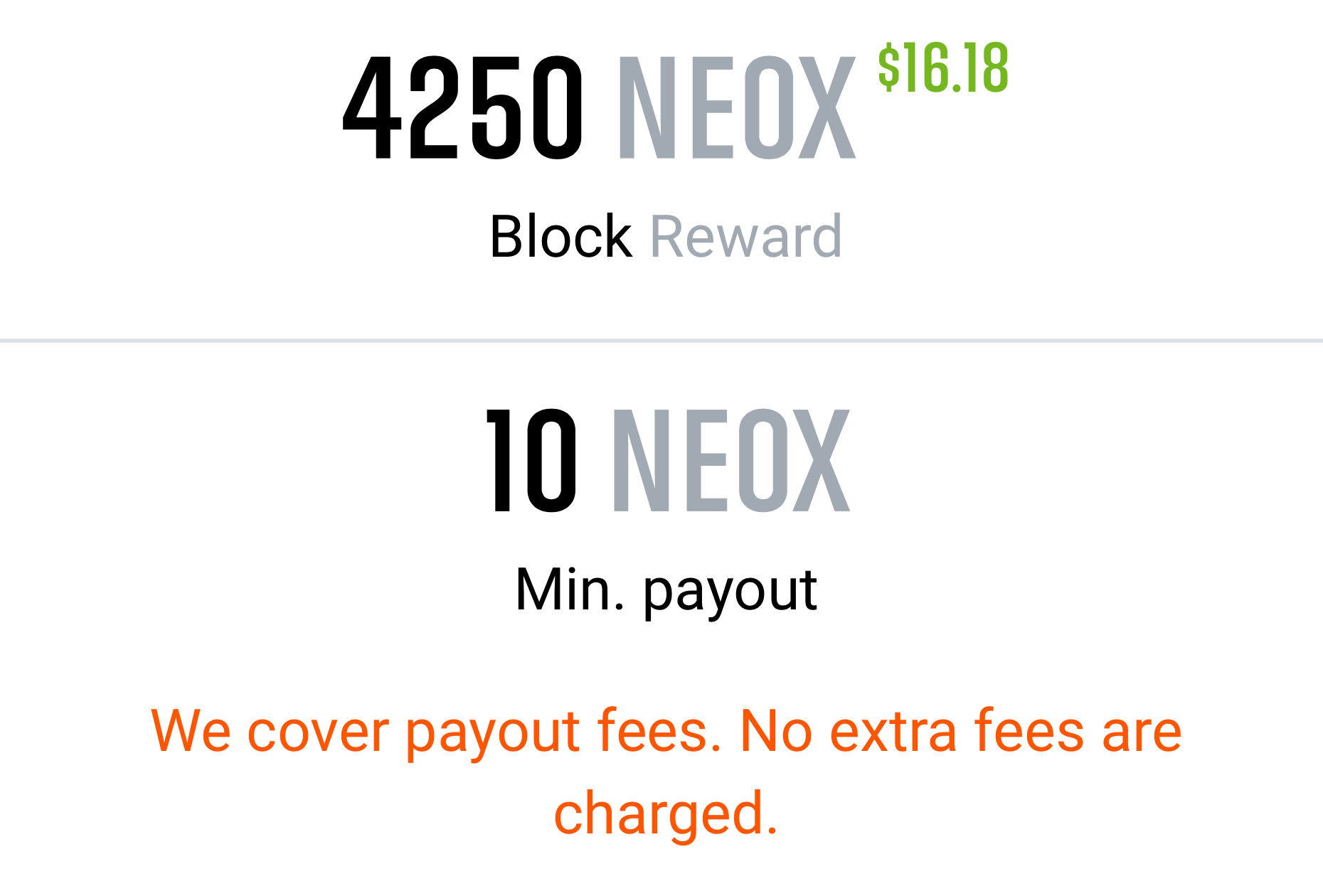 In the archive, you will also find bat files needed to start mining. Remember to replace YOUR_WALLET_ADDRESS in the bat file with your wallet address so that the reward ends up in the right wallet.
Overall, here is what bat files for NEOX mining look like. This one is for Gminer.
miner.exe --algo kawpow --server neox.2miners.com:4040 --user YOUR_WALLET_ADDRESS.RIG_ID
pause

This is a bat file for T-Rex.
t-rex.exe -a kawpow -o stratum+tcp://neox.2miners.com:4040 -u YOUR_WALLET_ADDRESS.RIG_ID -p x
pause

This one is for Team Red Miner.
teamredminer.exe -a kawpow -o stratum+tcp://neox.2miners.com:4040 -u YOUR_WALLET_ADDRESS.RIG_ID -p x
pause

There is also a bat file for Xmrig.
xmrig.exe -a kawpow -o neox.2miners.com:4040 -u YOUR_WALLET_ADDRESS.RIG_ID -p x
pause

And the last one is for NBMiner.
nbminer.exe -a kawpow -o stratum+tcp://neox.2miners.com:4040 -u YOUR_WALLET_ADDRESS.RIG_ID
pause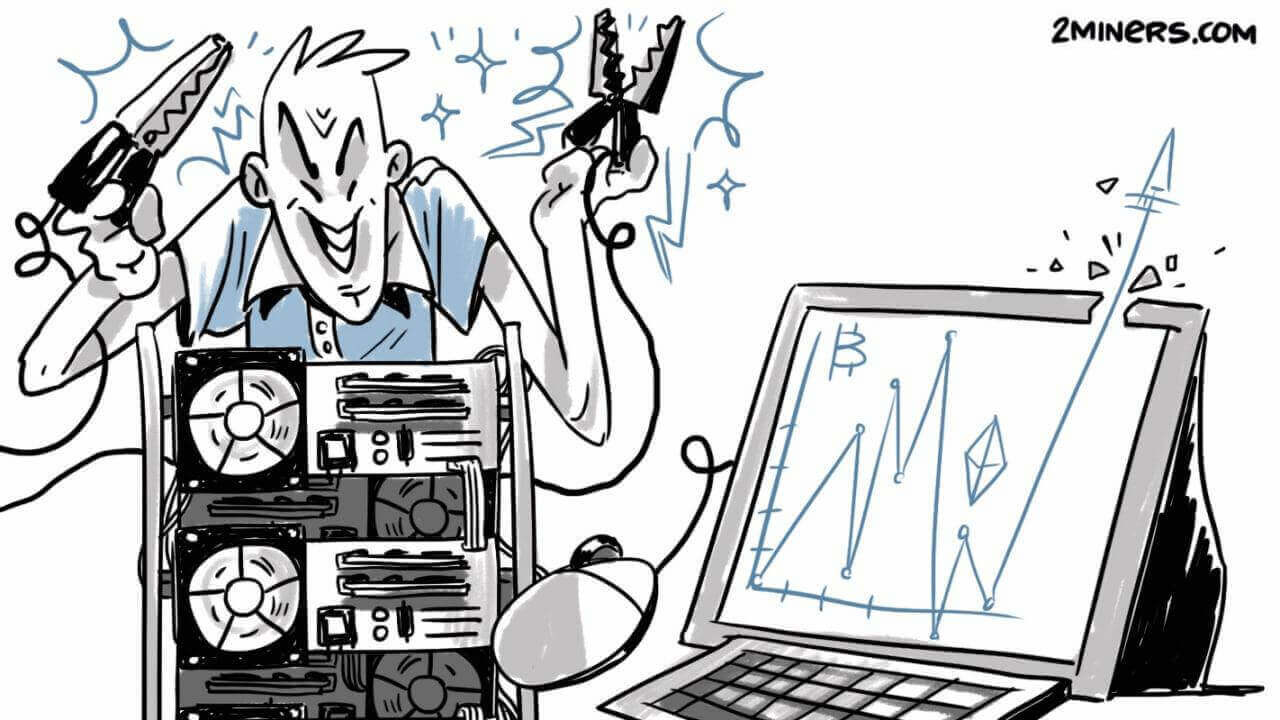 If you want, you can also replace the rig name RIG_ID with another name. You can only use up to 32 symbols, Latin letters, numbers from 0 to 9, and symbols '_' and "-".
Neoxa NEOX Mining with Miningrigrentals and NiceHash
Miningrigrentals and NiceHash platforms support Neoxa mining.
Here are the settings for Miningrigrentals.
Name: 2Miners NEOX
Type: KawPOW (RVN)
Pool Host: neox.2miners.com:4040
Workername (-u): YOUR_WALLET_ADDRESS
Password (-p): x

These are the settings for NiceHash.
Custom pool name: 2Miners NEOX
Algorithm: KAWPOW
Stratum hostname or IP: neox.2miners.com
Port: 4141
Username: YOUR_WALLET_ADDRESS
Password: x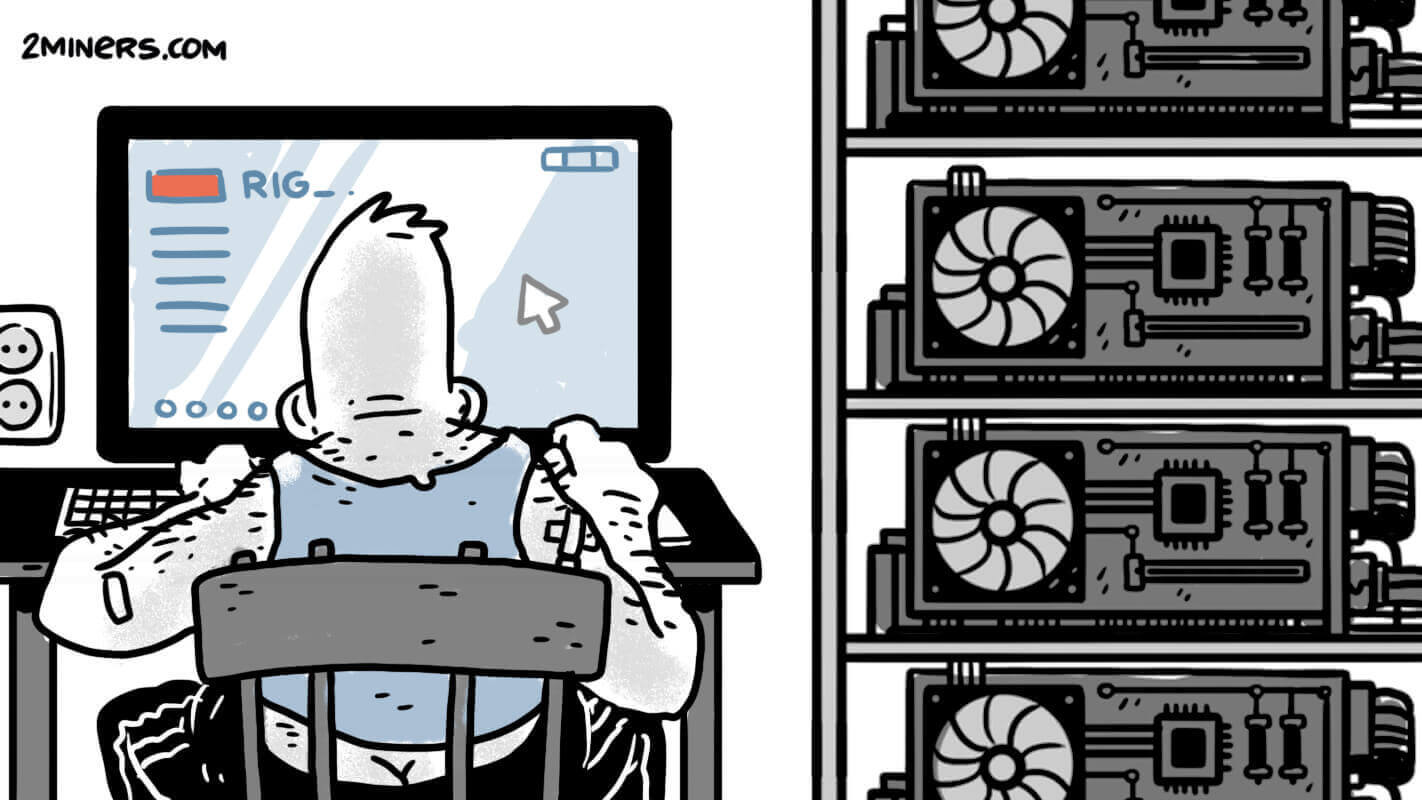 Neoxa NEOX Mining Profitability
After Ethereum's recent switch to PoS, there is a surplus of computing power in the cryptocurrency mining industry. In part, it has switched to mining other coins, which has a significant impact on mining profitability.
It's worth noting that the cryptocurrency industry is in a bear market now – most coins fall behind their all-time high values by 70–90%. When the situation in the industry gets better, there will be more opportunities for mining and for making a profit from it.

Let's estimate NEOX mining profitability using 2CryptoCalc. Below you can see the result of mining with eight Nvidia GeForce GTX 1080 Ti graphics cards – the equivalent of $1.88/day.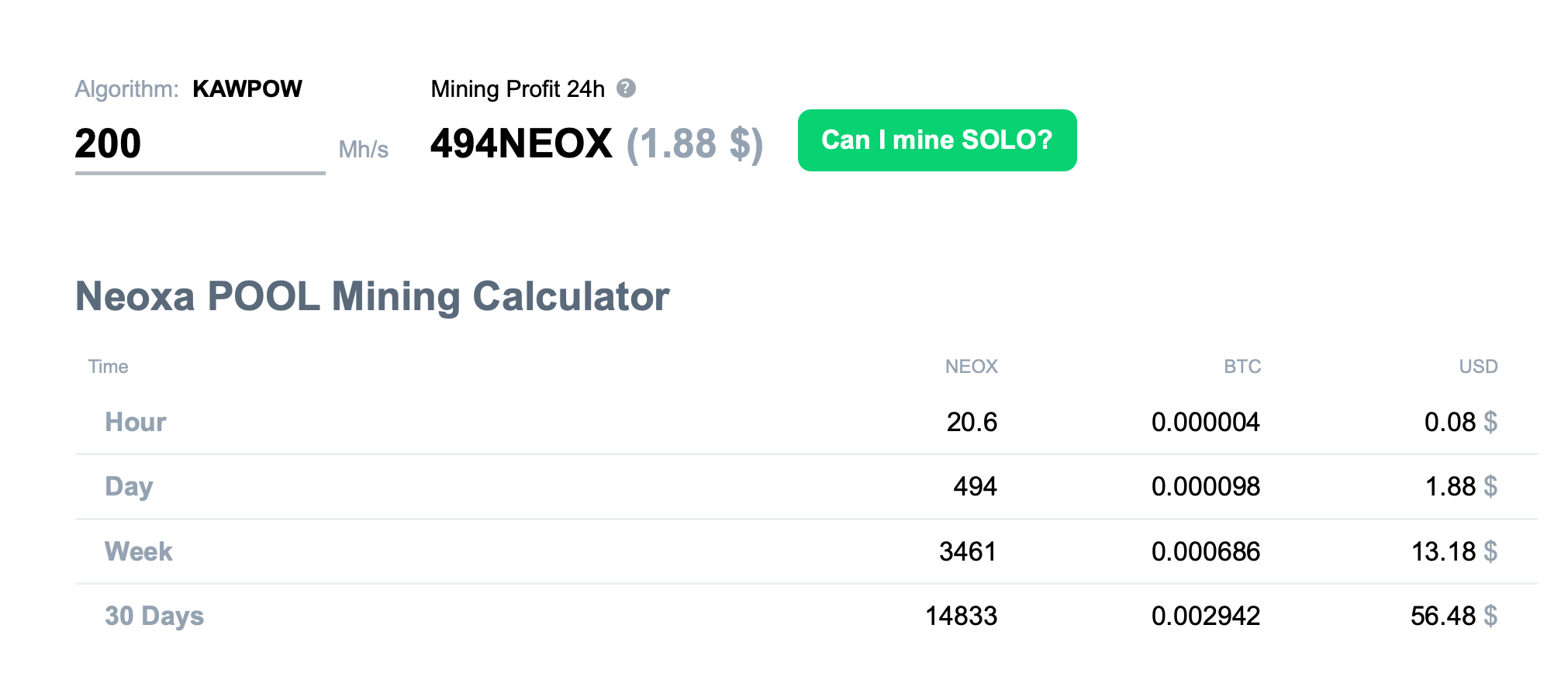 Keep in mind that the results are not adjusted for electricity costs.
Mining on eight high-end Nvidia RTX 3080 Ti graphics cards would bring $4.44/day.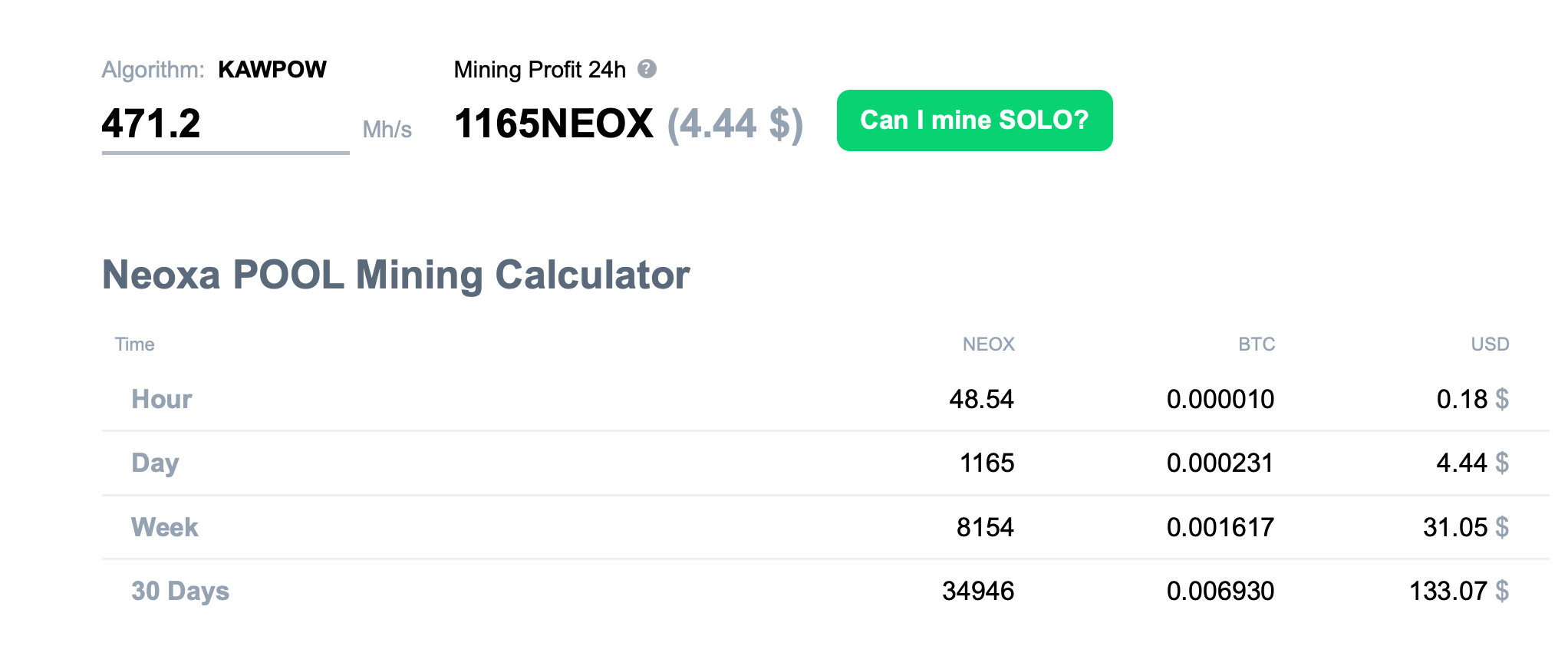 Conclusion. Should You Mine NEOX?
The concept of blockchain games used to be one of the most popular before a bear market began at the end of 2021. So in the future, Neoxa might attract a lot of investors, especially if it manages to make gamers interested in the crypto world.
For now, we can only follow the activity of Neoxa's developers. By the end of the year, they are planning to launch the Neoxa App trading platform for independent developers, which could be a good publicity opportunity.
We highly recommend you to join our miner community in Telegram or one of the local chats in Russian, Turkish, Spanish, Chinese, and Persian.