Let's start with a short video.
What is Beam
Beam is an anonymous cryptocurrency based on the Mimblewimble privacy protocol. Grin uses the same protocol, that's why the two coins are often mentioned together.
The main Mimblewimble feature is the ability to get rid of the major part of data about old transactions. This feature lets the blockchain remain private and light, so users don't have to spend several days to download it.
Beam developers point out other advantages of their cryptocurrency. It's user-friendly, has a capped coin supply and was launched without funds from ordinary people, that is without ICO. Let's dig deeper.
Beam Key Features
There is a dedicated tab on the project website that lists Beam key features.
Confidentiality – all transactions are anonymous, no information about transactors is stored in the blockchain.
Versatility – Scriptless Script technology allows for various transaction types beyond simple transmissions of value. For example, atomic swapping, escrow, time-locked transactions, etc.
Opt-in Auditability – specific auditors can get access to the complete list of transactions and all the attached documents. This is useful for cooperation with regulators.
Scalability – Mimblewimble technology makes Beam blockchain light and capacious.
Sustainability – guaranteed by open-source implemented from scratch, support for the community initiatives, and the Beam Growth Pool. The pool gets 20% of block mining rewards for development and promotion of BEAM.
Usability – user-friendly wallet with a built-in stats page that makes budget control easy.
Compatibility – Beam mining is available on most existing GPUs.
Beam also has an informative website. Just look how cool and smart everything is.

Expert Opinion
We asked 2Miners founder John Smith to comment on the future of Beam.
Along with Grin, Beam has become the most popular coin of 2019. And for good reason. They managed to launch in the condition of bear market without ICO, offering an original solution in the form of Mimblewimble protocol, and are already showing some results.

They could have chosen the beaten path: perform a useless fork and collect money from users. But they decided to create something new. And for that they deserve respect.
Beam Today
Let's talk about numbers. Beam ranks 131st in the world cryptocurrency chart. The rate is $1.07 and 24-hour trading volume exceeds the market cap by half. The circulating supply is 31.46 million, while max supply is 262.80 million.

According to CoinMarketCap, BEAM exchange rate peaked on January 28, 2019 – it reached $3.18. It's interesting that at the end of June the coin rate came pretty close to the max value. On June 23 it was $2.52. Unlike Bitcoin that is a billion miles away from $20,000. At least that what it seems like.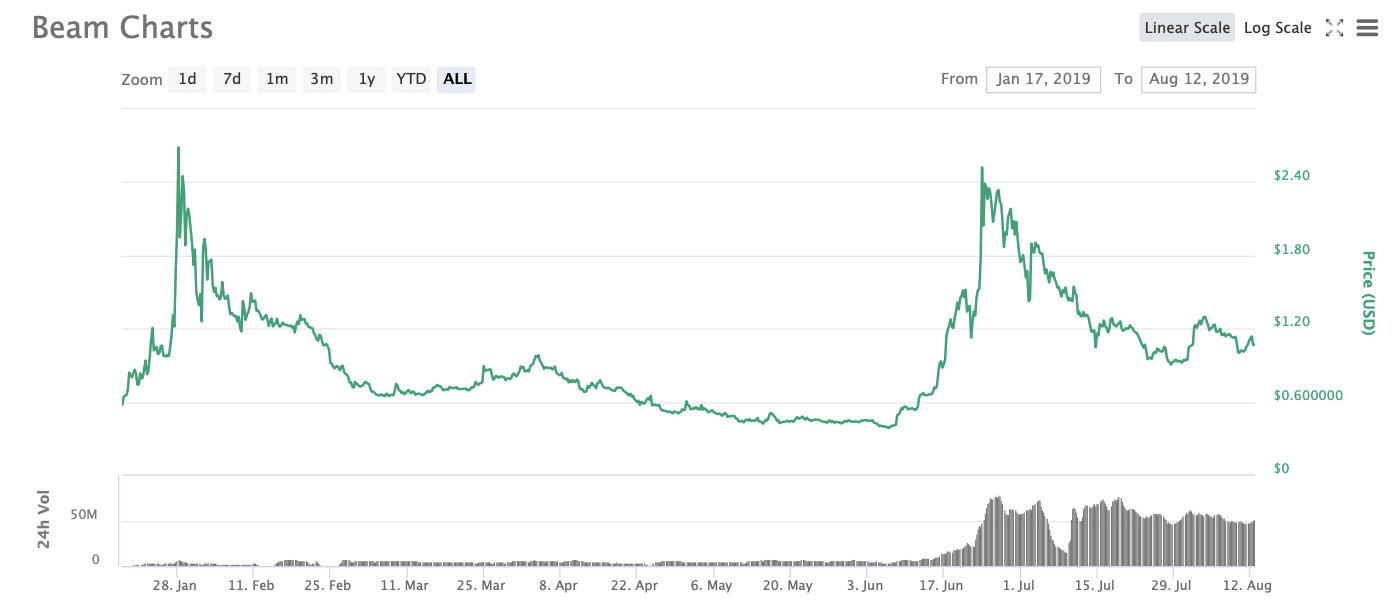 Where To Buy Beam
Beam is traded on many relatively popular exchanges. Hotbit accounts for over 90% of all transactions. The coin is paired with ETH, USDT, and BTC.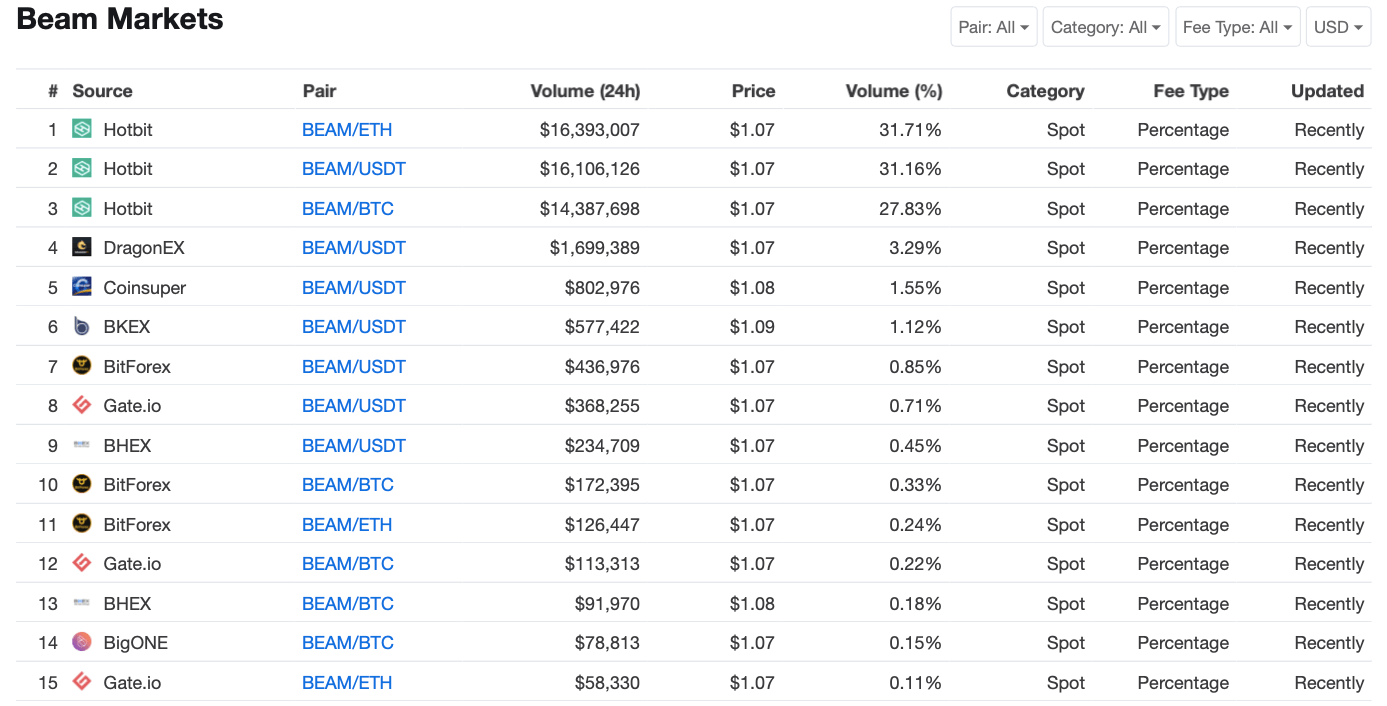 There are also Gate-io, BitForex, BKEX, and other platforms, though their share in transactions is tiny.
Beam Wallet
The developers are proud of the official wallet. They call it "beautiful, easy-to-use and packed with features". And it's truly so.
Here are the links to download Beam wallet.
Here's what the wallet for iPhone looks like. Fingerprint passcode for entrance – just like in ordinary apps for budget control or mobile banking.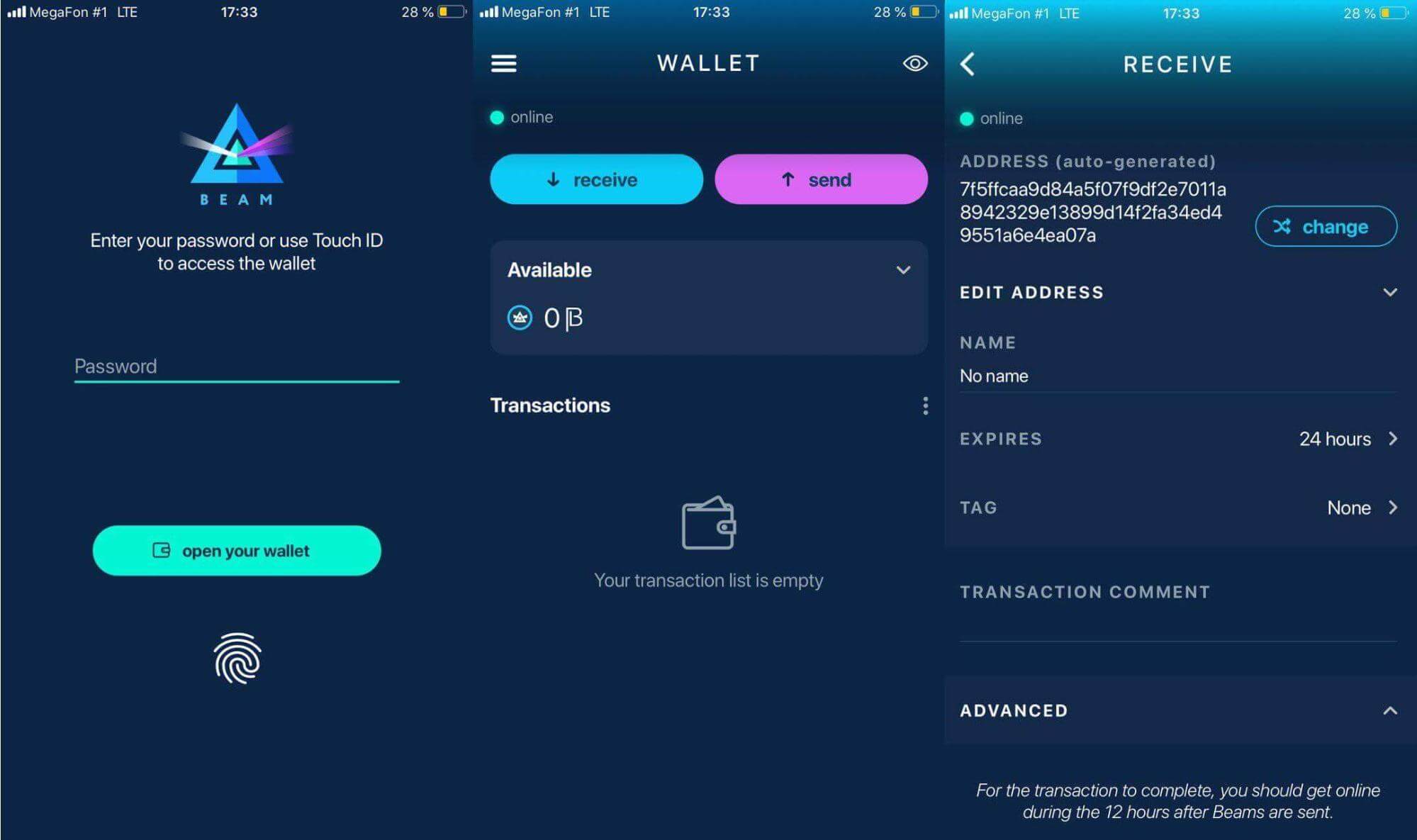 Beam Mining
Beam works on Beamhash – a modified PoW algorithm for Equihash 150.5 mining. One block is created approximately every minute. Each block is about 1MB and contains around 1,000 transactions. Since the network is encrypted, Beam is mined using an SSL connection.
BEAM has a capped total supply, so miners should expect halvings – that is a decrease in reward. Here's how much block reward will be.
Year 1 of Beam existence – 80 coins per block
Years 2–5 of Beam existence – 40 coins per block.
Year 6 of Beam existence – 25 coins per block.
Every fourth year till year 129 – decrease by 50%.
Year 133 of Beam existence – emission stops.
Beam will be ASIC-resistant for the next 12-18 months. This will be ensured by one or two hardforks. The first one is going to be on August 15, 2019, the other is due in about one year.
What To Use For Beam Mining. GPU Hashrate
While the network is protected against ASICs, mining will be available only on GPUs. Nvidia and AMD with at least 4 GB memory will work, although GTX 1060 with 3 GB can also mine Beam for now. Here's the performance of different GPUs.
Nvidia Beam Hashrate:
Nvidia GTX 1050 Ti 4 GB – 8.5 Sol/s
Nvidia GTX 1060 3/6 GB – 14 Sol/s
Nvidia GTX 1070 8 GB – 24 Sol/s
Nvidia GTX 1070ti 8 GB – 28.5 Sol/s
Nvidia GTX 1080 8 GB – 31 Sol/s
Nvidia GTX 1080 ti 11 GB – 41 Sol/s
Nvidia GTX 1660 6 GB – 14 Sol/s
Nvidia GTX 1660 ti 6 GB – 16 Sol/s
Nvidia RTX 2060 6 GB – 26 Sol/s
Nvidia RTX 2070 8 GB – 32 Sol/s
Nvidia RTX 2080 8 GB – 41.5 Sol/s
Nvidia RTX 2080 ti 11 GB – 48.2 Sol/s
And here is AMD Beam Hashrate:
AMD RX 470 4/8 GB – 7 Sol/s
AMD RX 480 4/8 GB – 10 Sol/s
AMD RX 570 4/8 GB – 10 Sol/s
AMD RX 580 4/8 GB – 11 Sol/s
AMD RX 590 8 GB – 14 Sol/s
AMD Vega56 8 GB – 18 Sol/s
AMD Vega64 8 GB – 20 Sol/s
AMD Radeon VII 16 GB – 24 Sol/s
You can find GPU hashrate for other algorithms in our chart by clicking on this link.
GPU Setup For Beam Mining
If you have Nvidia or AMD graphics cards, we recommend using lolMiner. Bat file is presented below.
lolMiner.exe --algo BEAM-III --pool beam.2miners.com:5252 --user YOUR_ADDRESS.RIG_ID --pass x
timeout 10
NiceHash And MiningRigRentals Settings For Beam Mining
You can also earn Beam without rigs thanks to hashing power rental services. Here are settings for Nicehash.
Algorithm: BeamV3
Pool Host: beam.2miners.com:5353
Workername: YOUR_ADDRESS
Password: x (!LETTER 'X'!)
Here are settings for MiningRigRentals.
Algorithm: Equihash 150,5
Pool Host: beam.2miners.com:5252
Workername (-u): YOUR_ADDRESS
Password (-p): x (!LETTER 'X'!)
Beam Mining Profitability
Let's see how much profit Beam brings today. We are going to use 2CryptoCalc. As you can see, Beam is on the first place by profitability.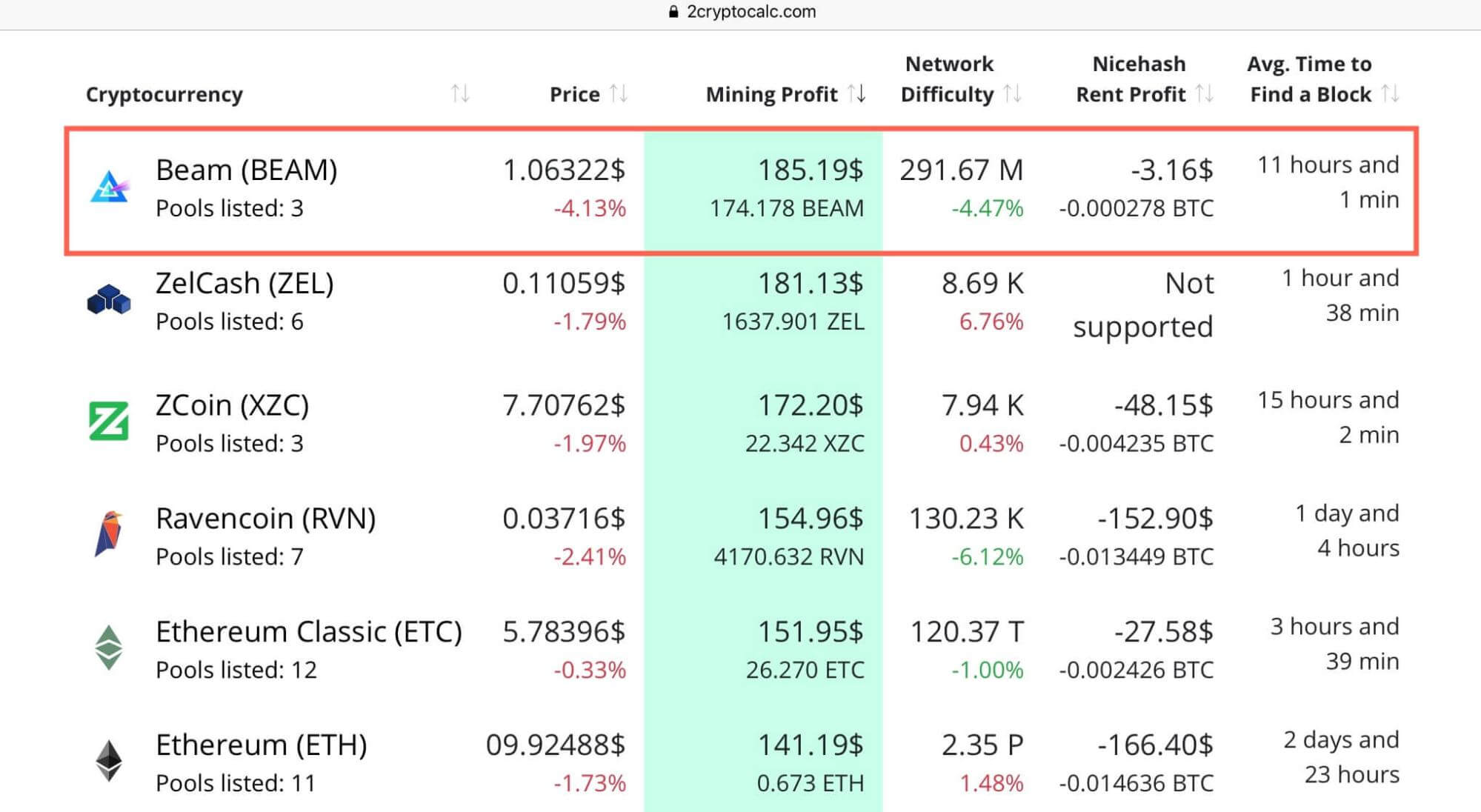 For example, let's take the hashrate of a rig with eight Nvidia GeForce GTX 1070 cards. It's 192 Sol/s.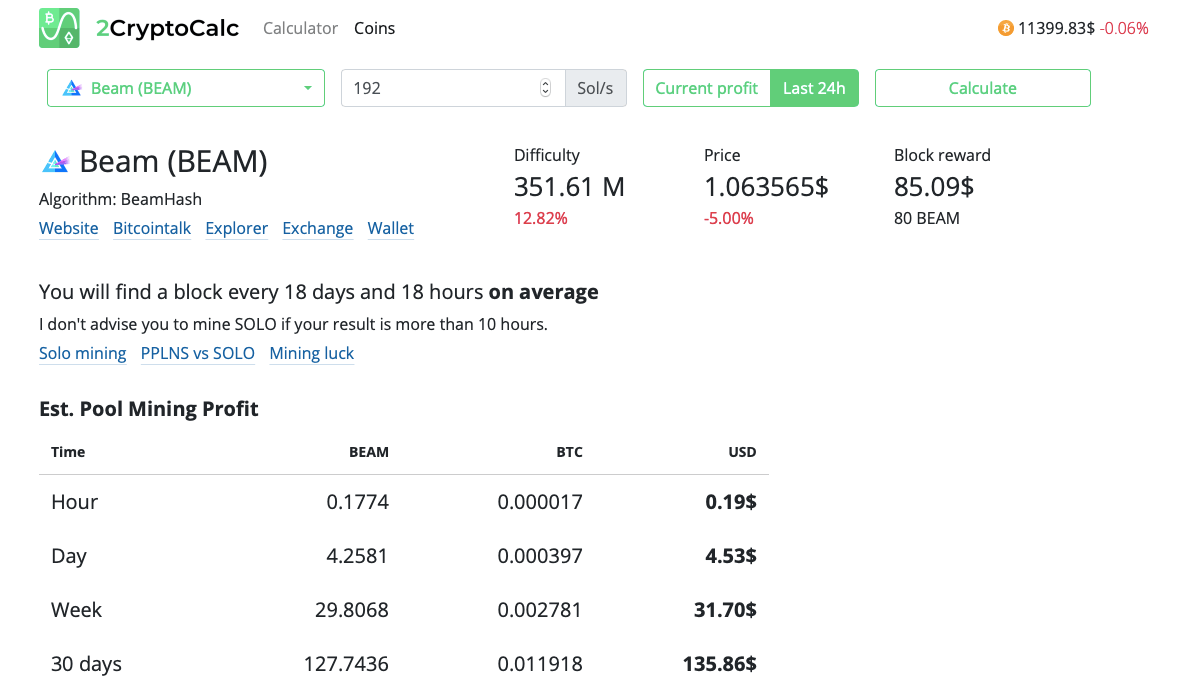 The rig brings $4.53 per day. The result doesn't include expenses on electricity because they may vary from user to user. But the overall result is great. Moreover, the network will be out of reach for ASICs in the near future, so you can easily mine on GPUs.
Hardfork Beamhash III
BEAM second hard fork is executed on block 777 777 (approx. June 28, 2020). Please update your mining software. All the details regarding the fork could be found in our post Beam Hard Fork. What Will Change and How to Get Ready for BeamHash III?
Join us to mine Beam and other cryptocurrencies on 2Miners pool.